When Caregiving Gets Tough
|
By Natalie Scott
When Frank was diagnosed with Parkinson's disease in his 50s, his wife, Evelyn, was overwhelmed. As Frank became more fragile, she needed more help than she ever anticipated. Thankfully, she found Easterseals Community Outreach Program and the many supports for caregivers. 
Easterseals connected Evelyn with answers and resources to help her navigate the challenges of caregiving. Not only did Easterseals help her find support from other caregivers walking the same path, it also provided respite grants which have allowed her to take a break knowing Frank was in capable hands.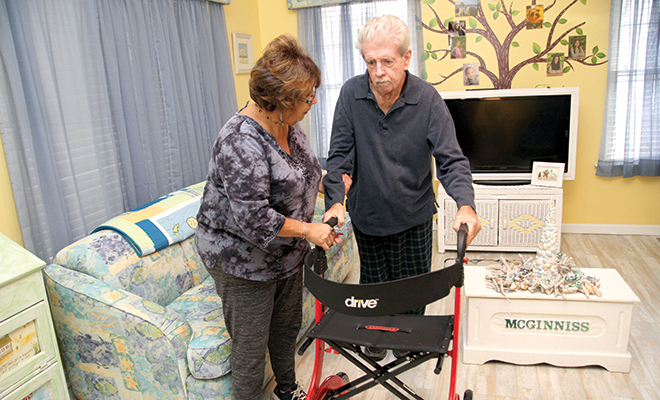 "Some days I am so busy taking care of Frank that I forget to even brush my teeth," Evelyn says with a laugh. "Respite is like heaven. I love it because I can go away and not worry. I am happier when I am able to take a break and it is something I look forward to. I couldn't survive without it." 
Caregiving can be an exhausting job, especially when the caregiver does not get time to recharge. Respite is an option through Easterseals Lifespan Respite Program, which provides funds to support family caregivers providing care to a person of any age or disability.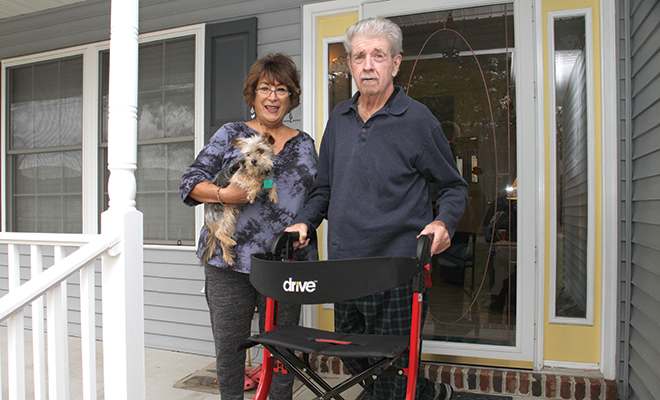 Using the respite grant to pay for Frank's care, Evelyn was able to go away with her friends to Florida on a trip she dubbed "Grannies Gone Wild." The group was able to enjoy the beach, the pool, staying in their pajamas all day and eating on their own schedule. She was also able to visit her sister, who she is not able to see often, in Myrtle Beach. During these trips, Evelyn is able to take a break from not only the mental exhaustion, but the physical demands of caregiving.
Evelyn also took advantage of Easterseals Savvy Caregiver series where she met other caregivers living with a similar situation. The Savvy Caregiver series provides knowledge and skills essential to those who are caring for a loved one living with Alzheimer's or dementia. 
"I think it is important to see how others are dealing with the same thing as you are. You learn more resources from others," Evelyn says. "It is great to know you are not alone."
Also housed in Easterseals Resource Center is Assistive Technology, or "tools for independence." There are hundreds of pieces of assistive technology on display, like pill reminders and smart home devices, which promote independence and quality of life. This gives individuals the opportunity to try out products prior to purchasing. A virtual tour of the Technology Demonstration Center can be found at: https://tinyurl.com/u4y5bx3. 
The Caregiver Resource Center and Lifespan Respite programs are partially funded by Division of Services for Aging and Adults with Physical Disabilities through the National Family Caregiver Support Program, Title III-E of the Older Americans Act. 
For more information about any of the services provided through the Community Outreach Program, please contact the Case Manager at 302-221-2076 or          [email protected] Visit our site: www.de.easterseals.com.
Easterseals Kent County center is located at 100 Enterprise Place, Suite 1, Dover, DE 19904
Easterseals in New Castle County is located at 61 Corporate Circle, New Castle, DE 19720
Please visit our website and see all of our services for people of all ages and abilities: www.de.easterseals.com