What Is Dental Sedation?
|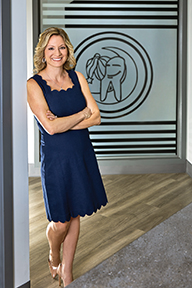 By Dr. Morgan Morrow
Sedation dentistry is the use  of pharmacological agents either prior to or during a dental appointment. Sedation dentistry is frequently used in pediatric dentistry for children who experience dental anxiety or have difficulty tolerating lengthy procedures. What is noteworthy is that sedation in pediatric dentistry has proven to be a valuable method of treating children who are extremely anxious or who have behavioral disorders that make dental treatment challenging. Dental sedation should only be performed by dentists trained and qualified in the sedation technique being used. The most common forms of sedation are minimal sedation, moderate sedation and deep sedation/ general anesthesia. 
What are the types of dental sedation?
Dental sedation – Nitrous Oxide 
Nitrous Oxide, also known as laughing gas, is a minimal sedation used to help the child relax and increase comfort during a procedure. A positive feature of nitrous oxide is that it quickly wears off and has minimal side effects. Although nitrous oxide is a great resource, it may prove to be ineffective in some patients who do not experience optimum relaxation during a procedure. In this case moderate sedation, also known as oral conscious sedation, would be the recommended  approach. 
Moderate sedation –  oral conscious sedation
Moderate conscious sedation is a safe technique used to reduce anxiety related to dental  treatment. This technique is achieved by having a patient drink a medication. The patient is awake and able to respond to verbal instructions but is relaxed enough to go through the treatment he/she might otherwise avoid. If either minimal or moderate sedation proves to be ineffective, then general anesthesia can be utilized.
Deep IV sedation – general anesthesia:
An anesthesiologist performs both IV and general anesthesia in the dental office. IV sedation is a deeper form of sedation where the patient is not easily aroused but can respond after repeated verbal stimulation. This form of sedation is achieved with medication being administered through an IV. General anesthesia is a type of sedation that requires an airway to be placed to maintain a safe level of oxygen flow throughout a procedure. General anesthesia also prevents a patient from being aroused from an unpleasant stimulation. Both deep sedation and general anesthesia allow a dentist to complete more dental work in less visits. 
For more information please call us at 302-434-9034 or visit www.WestownDentalDE.com
Bio
Dr. Morrow was born and raised in Delaware but pursued her undergraduate degree from the University of Southern California. While at USC, Dr. Morrow served as captain of the women's  soccer team while obtaining a degree in Global Health. After graduating, she went on to pursue her passion of dentistry, graduating from Howard University College of Dentistry. During her years at Howard University College of Dentistry she developed her love of pediatric dentistry and went on to further study the  specialty at the University of Pennsylvania and Children's Hospital of Philadelphia during which she served as chief resident. During her training, Dr. Morrow dedicated a considerable amount of time training with children with special health care needs and completed research on the treatment of children on the autism spectrum. 
Dr. Morrow is a board-certified pediatric dentist who provides restorative dental treatment with or without sedation and is also trained in laser treatment for tongue and lip ties. She is currently a member of the American Dental Association, American Academy of Pediatric Dentistry, American Laser Study Club, and the Delaware State Dental Society.