The Newest Trend In Facial Rejuvenation
|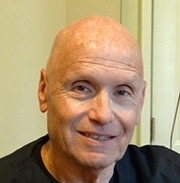 By Nadiv Shapira, MD, FAC, FACPh
PDO Threads have rapidly become the most asked about, non-invasive alternative to a surgical face lift, brow lift, or neck lift! This revolutionary technology allows instant, yet profound, results while minimizing pain and trauma. It allows clients to benefit from a short recovery time and is less expensive than going under the knife.
What are PDO Threads?
PDO Threads are absorbable sutures that are threaded underneath the skin through a delicate cannula aimed to lift the skin and induce collagen production. While the threads get absorbed over time, they stimulate collagen synthesis that further lifts and improves your youthful and natural appearance. PDO (polydioxanone) sutures have been used extensively for decades in surgery, as an alternative to permanent sutures. Their strength and capacity to induce collagen prompted their use in anti-aging applications and are now approved by the FDA.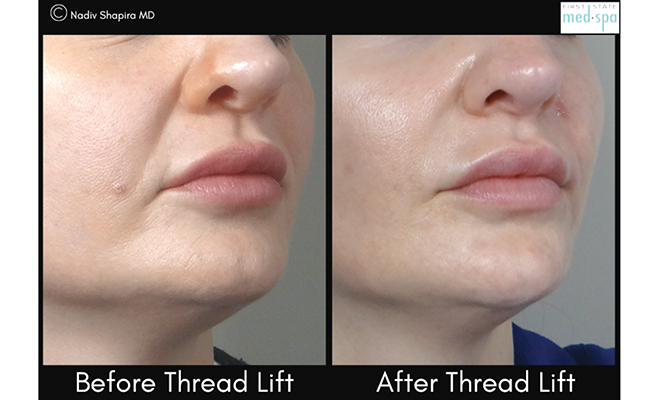 New anti-aging procedure
They produce excellent results for those seeking a non-invasive, anti-aging procedure. Some PDO threads have tiny, barb-like protrusions that can be used to suspend and lift the skin. These threads anchor onto loose tissue, and the thread is lifted upwards to achieve an instant, rejuvenating and contouring effect. 
Lips, eyes & nose too!
Small spiral-shaped threads are utilized to enhance your lip border for that extra luscious lip. Threads can also be used to lift the tip of the nose, giving a youthful profile. In addition, there are smooth threads that help to thicken and rejuvenate the skin. These threads improve skin texture and help fine lines and thin "crepey" skin to look smoother and younger; ideal for crow's feet around the eyes, "smoker lines" around your lip, the lines around your neck, or on the loose skin above your knees.
PDO Threads are effective for:
Redefining the contour of the face
Reducing the look of a round shape face
Reducing wrinkles
Lifting sagging skin

 

Enhancing the volume of the lips
Stimulating collagen production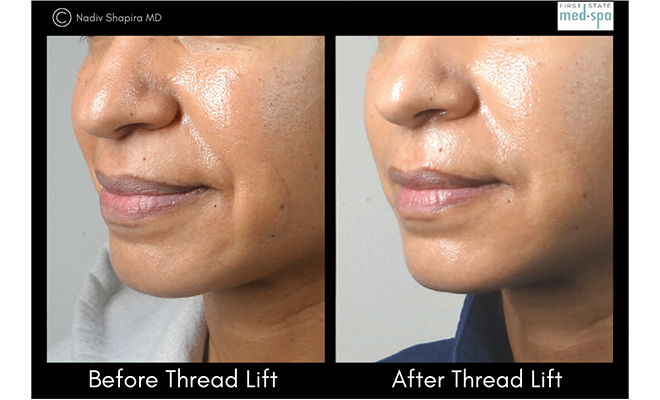 Is Thread treatment painful?
Insertion of PDO threads is a 60-90-minute office procedure. It is not usually painful, but to ensure your comfort we administer ProNox, the new combination of oxygen and 'laughing gas' (nitrous oxide). You will be able to drive right after the procedure and resume everyday activities. You should wait a couple of days before you do strenuous exercise, and you might feel swelling or tightness in your skin for about a week.
Where do we use threads?
Forehead (Brow lift)
Upper and lower cheeks
Lips
Jawline
Neck
Arms
Décolleté
Abdomen
Buttocks
Knees
Thighs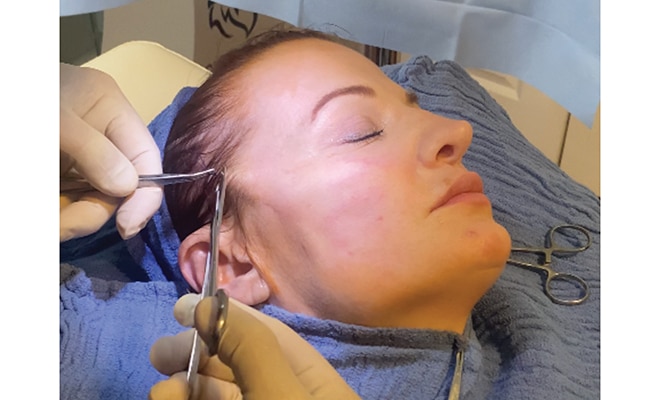 How long will my results last?
You will notice immediate lift after placement. Results will continue to improve over 3 months when new collagen forms around and between the inserted threads. By months 4-6 the threads will be safely absorbed, but collagen production will continue to provide further lifting and tightening. A recent study by The American Society for Dermatologic Surgery showed that by month seven, the collagen present in the treated area increased by 100%. Results can last from one to two years, but "touch-ups" may be needed.  
Testimonials
⭐⭐⭐⭐ "Dr. Shapira is the best!! He takes so much time ensuring he's doing exactly what you want and need. He is so knowledgeable and caring. His whole staff are wonderful!" ~ Marybeth T. 
⭐⭐⭐⭐"Wonderful office! First State Med Spa is a beautiful, friendly place. Everyone I have encountered there has been knowledgeable and helpful. I always feel like I am important and my questions get answered."  ~ Karen M.
⭐⭐⭐⭐"Dr. Shapira is the best, he examines and designs your face like no other. He really cares and puts a lot of thought into every injection to get the best outcome for you. I recommend him highly and trust him completely."  ~ Madelyn M.