What Causes Unusual Swelling In The Body Following Breast Or Ovarian Cancer?
|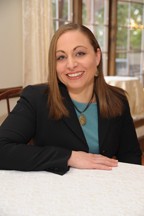 By Joanna Mikhail, DPT, ATC, CLT, Doctor of Physical Therapy, Certified Lymphedema Therapist
Lymphedema is the accumulation of lymph, the protein rich fluid, in the tissue of body parts, often extremities, due to damage to the lymphatic system that results in unusual swelling of the body.  As the lymphatic fluid can no longer travel freely through the lymph system, this causes swelling of the affected limb or limbs, hardening of the skin, and eventually seepage and infection.  There are a number of causes of lymphedema, but one primary cause is cancer – both the disease and the treatment for the disease.
Cancerous tumors can begin in the lymph system or metastasize to the lymph nodes.  When these lymph nodes are surgically removed or damaged by radiation treatments, lymphatic fluid becomes stagnant in affected body parts, resulting in lymphedema.  In women, two common cancers that may result in lymphedema are breast cancer and ovarian cancer.  Breast cancer can affect the lymph nodes in the armpit, resulting in swelling on the affected side of the body in the upper extremities, chest, side, or back.  Similarly, ovarian cancer can impact the lymph nodes in the groin and a common result is swelling in the lower extremities, genitals, buttocks, abdomen, side, or back.
While lymphedema does not occur in every instance of these cancers, approximately 20% of individuals whose lymph nodes are impacted will develop this condition.  However, there are a number of steps that patients can take to reduce the likelihood of developing lymphedema or to limit the progression of the condition.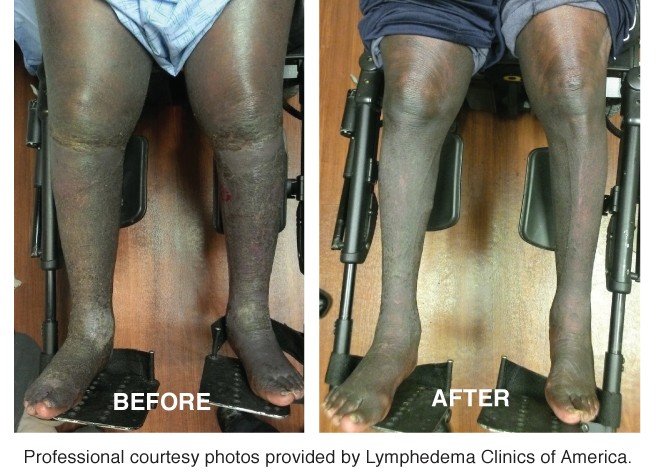 At the Lymphedema Clinics of America, we can help patients learn lifestyle habits that will mitigate their chances of developing lymphedema as well as keep early lymphedema from developing beyond the initial stages.  We will provide you with the Lymphedema Risk Reduction Practices provided by the National Lymphedema Network and help you determine how to best apply this information to your particular situation.  We will also provide therapeutic treatments to address any early symptoms that may be present and thereby, reduce the likelihood of further development.   Since lymphedema sometimes occurs months or even years after your initial disease, we will educate you regarding what symptoms to watch for and to continue to monitor you for early signs and symptoms of the condition.
We encourage anyone who has or has had cancer that has impacted the lymph nodes to schedule a consultation with one of our therapists and to begin a program that will help reduce the impact of lymphedema as you move forward.
My experience at Lymphedema Clinics of America has been absolutely wonderful. From the moment I walked in the door, I was greeted with a beautiful smile and warm reception. My initial consultation gave me the hope I've been longing for.  For several years I have lived in pain, taken medications that did nothing for my lymphedema, and was told there was nothing more that could be done for the chronic swelling in my legs and ankles.   I couldn't believe the results after my first treatment. I was excited, encouraged and hopeful. There are no words to express how grateful I am to the staff at Lymphedema Clinics of America. Star, Joanna and Laurie are the most, encouraging, compassionate, and knowledgeable team I have ever met. I am feeling better mentally, physically and looking forward to the continued success with my program. Having Lymphedema has been painful, stressful, and has impacted my life in a negative way.  Lymphedema clinic of America has changed all of that for me!
~ Shonda L. Johnson, New Castle, DE
Our mission… is to enrich the lives of our patients by treating and restoring hope for those living with lymphedema. We strive to improve the lives of people we touch by understanding their condition. Our goal is to collaborate with others in the community to improve the support and awareness of lymphedema. We are dedicated to providing excellent care in a calm, relaxing environment that meets or exceeds the expectations of those we serve.
LCOA is currently offering educational meetings within the medical community as they campaign for better awareness for lymphedema. Any physician office, cancer society, hospital or individuals who would like to learn more about what LCOA has to offer, can call the clinic and schedule an appointment for LCOA to come and speak about lymphedema. (302) 691-5167
Do you have swelling?  
Free Lymphedema Screenings: 
Tuesday October 28th at  6pm
Wednesday November 12th at 6pm
Thursday December 11th at 6pm
Lymphedema Clinics  of America
  701 Foulk Rd Suite 1B
Wilmington, DE 19803
302 691 5167
Please RSVP, Space is limited