Take Action To Fight Cancer
|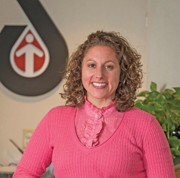 By Christine E. Serio, External Communications Specialist, Blood Bank of Delmarva
 Cancer is no stranger to most people, whether you've battled the disease yourself or had a loved one suffer from it. This unfortunate fact has led many to help raise money and awareness through various organizations and events dedicated to research for finding a cure and resources for cancer patients.
Most people don't realize that there is another way you can have a direct impact on the fight against cancer in our community right now. You can give blood or platelets and encourage others to do the same. Many cancer patients require transfusions during the course of their battle or their treatment.
"Many of us feel helpless as we watch someone we care about fight a terrible disease," said Michael Waite, Director of Marketing and Community Relations. "We tend to feel like there is nothing we can do to help. But we can help. We can give blood."
According to the American Cancer Society (ACS), some cancers cause internal bleeding and some patients develop anemia of chronic disease. This anemia is a result of some long-term medical conditions that affect the production of red blood cells. Both of these scenarios, and others, result in the need of blood transfusions for cancer patients.
For some, the need from blood is a direct result of the cancer treatment itself. Sometimes surgery is required and most chemotherapy drugs affect cells in the bone marrow, according to ACS. Many patients who endure various types of treatment end up needing blood or platelet transfusions. Donating blood or platelets is an easy way to help fight cancer. You are able to give blood every 56 days and platelets every two weeks.
Blood Bank of Delmarva services the Delmarva region with four permanent locations and more than 30 mobile sites—making it as convenient as possible for people to give the gift of life.
"From the time you walk in the door to the time you walk out, the process of giving blood takes about an hour of your time. One hour and you can make all the difference in someone's life," Waite said. "Giving platelets is an automated process which takes a bit more time, but you get to watch a movie and relax as our phlebotomists take good care of you. And you leave knowing you just helped give someone a fighting chance at life. That someone could be your own loved one."
So next time you feel helpless as you watch a friend or family member suffer from cancer, remember that you have the power to take action and directly help them and others in the situation. Be Someone's Hero. Give blood.
For more information about Blood Bank of Delmarva, to schedule an appointment, or to make a financial contribution, visit www.DelmarvaBlood.org, call 1 888 8-BLOOD-8 or download BBD's free mobile app on your Android or iPhone.