We Wish You GODSPEED!
|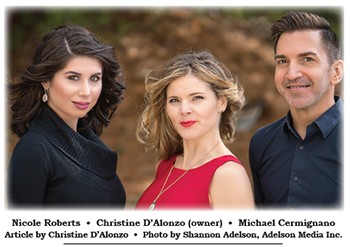 This past Christmas, a client and dear friend, Laura, gave me a ring engraved with a symbol I had never seen before. It had two feathers coming out of a circle with another circle on top. On the inside is an inscription reading: Godspeed, journey, blessing, grace. I never heard the word Godspeed before. When I looked it up the definition read; (exclamation) an expression of good wishes to a person starting a journey. Wow! My heart surged with this new information. I am true believer in Divine Timing and my friend was delivering me a gift from her heart, a confirmation of a blessing that I am watching unfold before my very eyes.
Over the past year, Amelia Paris has continued to make progress in our quest to give our clients a healthier more peaceful environment. We now offer Aveda products, the first product line to pioneer organic, all natural ingredients. We added a meditation room where you can relax in the dimly lit quiet and peaceful privacy while waiting for your stylist or your color to process. We have filled our working space with plants to filter toxins out of the air we breathe. Essential oils diffuse in the air as you are pampering yourself. Our music is playful and peaceful. We have a private area so when we are working on a client with  a hair piece, hair extensions or trimming a wig the clients can relax and feel cared for. We are committed to creating an environment that is mindful of our work and your state of mind, and we are just getting started!
When educators come to our salon on Thursday mornings they are shocked! I always start my meetings with yoga and meditation before diving into each session. They tell me,"We have never seen any meeting in a salon start this way!" And they laugh, and continue with,"Can we come work here? This is great!" I hear this over and over again. Cultivating a mindful staff is very important to me. How we touch people is sacred work. Every aspect is part of our healing environment. Education in body, mind, spirit, techniques, organic whole food facials, mindful touch, and the art of listening are constantly inspiring my amazing staff.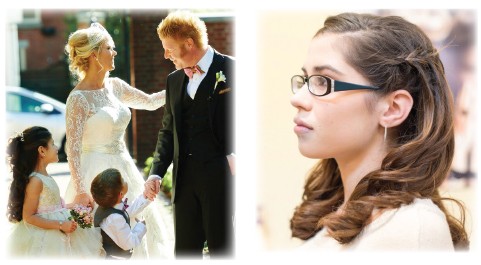 We pride ourselves on doing runway work that is seen in Paris and New York. We look at the whole person and help you to find your authentic style. We have clients that have been sick and lost hair and need the help of hair extensions to make the feel whole again. We also enjoy the trends of using bright fashions colors or a natural look. We will listen and look at you with the eyes of an artist and inventor. Each time you come is just as special as the first.
We are always learning.
We are all on a journey.
We are all blessed,
it's just a matter of looking
for the grace which surrounds us, seeing the signs, and accepting the gifts. 
We invite you to join us! Godspeed!
Visit us today to meet your artist! For more information visit www.amelia-paris.com or call 610-558-4911.
In loving memory of Amelia Paris and Teresa Atkins we proudly cut wigs for anyone in treatment, we cut the hair of people before they lose their hair into a fantastic short cut so they know how fabulous it will be when it grows back and we trim their hair as it grows in, we also hold hands and shave heads, and give huge hugs ~ all free of charge!