Rejuvenate With Fillers & Body Contouring
|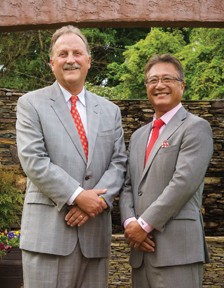 By Dr. Gary Wingate & Dr. Paul Kim
Are you one of the 80 million men and women suffering from baldness or thinning hair? Hair restoration procedures are quickly becoming one of the most sought after cosmetic procedures. Stop hiding behind hats or combovers and ask about the success behind NeoGraft's hair restoration process.
Healthy skin is beautiful skin. Winter is a great time to repair and rejuvenate your skin to prepare for spring and summer. Whether it's minimizing the signs of aging, dealing with underarm sweating or eliminating that bulge in your belly, Paul Kim, MD and Gary Wingate, MD of Plastic & Reconstructive Surgery of Chester County have solutions for you.
Injectable Fillers
As we age, our faces change. We gain lines and wrinkles and we lose facial volume across our cheeks and in our lips. Allergan, the makers of Botox and Juvederm, offer injectable products to give a natural look while restoring volume to our faces.
Juvederm is a collection of FDA approved injectable fillers. It uses hyaluronic acid to add volume to areas of the face. Already known for its skin care benefits, hyaluronic acid is a naturally occurring substance that exists in our bodies. As we age, we lose moisture and fullness in our skin. Juvederm is used to fill lines and wrinkles and to add volume to the face giving patients natural, long lasting results.
The Juvederm collection consists of Juvderm XC, Juvederm Ultra XC, Juvederm Voluma XC, and Juvederm Volbella XC. Juvederm XC is an injectable gel used to instantly fill and smooth the parentheses around the mouth and nose. Juvederm Ultra XC augments and creates fuller lips while Voluma XC adds volume to the cheek area. Volbella XC is used for subtle lip augmentation. It adds volume to the lips while softening the perioral, or vertical lines.
Juvederm is the number one hyaluronic acid filler. These dermal fillers last up to one year with Voluma having lasting effects in the cheeks for up to two years. With the inclusion of lidocaine, these products are easily tolerated during treatments.
Armpit Sweating
Excessive sweating can cause embarrassment. Hyperhidrosis is a medical condition in which the patient sweats excessively for no apparent reason. If you suffer from excessive underarm sweating, consider PrecisionTx by Cynosure. This minimally invasive laser procedure is used for the ablation of sweat glands to treat Hyperhidrosis. The PrecisionTx procedure uses heat from a laser to coagulate and ablate the soft tissue of the axillary glands. This one time, one hour procedure is done safely in the office. Other treatments for Hyperhidrosis include Botox injections or surgical removal.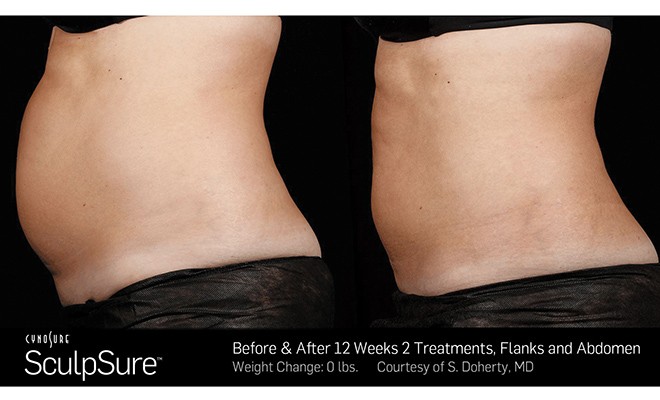 SculpSure
SculpSure by Cynosure is a non-invasive fat reduction treatment. SculpSure's advanced technology is able to target and destroy fat cells. As a non-surgical procedure, patients can avoid the need for anesthesia, needles and downtime. Done in 25 minutes, patients can have the procedure done over lunch and return to work or their normal activities immediately afterwards. More than one treatment may be required to get the desired results.
SculpSure is a safe, effective body contouring treatment. It is used to reduce pockets of fat on the abdomen and flanks. Laser energy is used to heat and damage the structure of the fat cells without affecting the skin. Over the next three months, the fat cells die off, are permanently removed from the body, and do not reform. Results can be seen in six to twelve weeks. Adults who are struggling to shed the fat that has been resistant to diet and exercise are good candidates for SculpSure. Continuing a healthy lifestyle helps to improve results.
Improve yourself this spring with the help of Plastic & Reconstructive Surgery of Chester County. Make an appointment today 610-524-8244.
Plastic & Reconstructive Surgery of Chester County
460 Creamery Way, Suite 110
Exton, PA 19341
Testimonial
"I have been a patient of Dr. Paul Kim for 12 years. He has injected Botox, Juvederm,Voluma and Volbella. Being a board certified plastic surgeon assures me that he is well informed of my facial anatomy and does not over inject. He is very honest and even though I sometimes think I need Botox or a filler he does not do it and is careful to explain why. Therefore I continue to look refreshed and natural looking. He is not just a good plastic surgeon but his pricing is less than many other physicians who do Botox and injections in the area who are not Board Certified Plastic Surgeons. Dr Kim is truly an artist with faces!" – Diane
About Dr. Paul Kim
Dr. Paul Kim, a graduate of Columbia University, completed his medical training at the University of Massachusetts. After completing his residency in Plastic Surgery at Northwestern, he went on to complete a fellowship in Microvascular Surgery and Replantation at the Microsurgery Unit of St. Vincent's Hospital in Australia.
About Dr. Gary Wingate
Dr. Gary Wingate is a graduate of the University of Utah. He completed both his medical school training and his residency in Plastic Surgery at Northwestern.
Doctors' headshot by Shannon Adelson of Adelson Media, Inc.