We Understand
|
The Personal Injury Group Attorneys of Morris James LLP understand that being injured in an accident can be a frightening experience, especially when someone else's negligence caused your injuries. You may be facing medical bills, lost wages, and other significant expenses, all because of someone else's carelessness. We frequently see victims who are injured because another driver was using a mobile device, disregards a red light or stop sign, is distracted by passengers, speeding, or is otherwise inattentive.
At the Delaware Personal Injury Group of Morris James LLP, our compassionate attorneys understand how difficult it can be to live with an injury. That is why we have dedicated ourselves to getting our clients the money they and their families need and deserve. If you have been injured in an accident, we will carefully review with you all insurance benefits to which you are entitled.
Being injured in an accident can have wide-range repercussions. You may be unable to work and face medical bills you cannot afford. Any financial problems you may be facing could be magnified by the often significant costs associated with living with an injury. You and your family should not have to handle these responsibilities alone if someone else is responsible for your pain and suffering.
We handle a wide range of cases on a regular basis, including those involving:
Personal Injury
Auto Accidents
Trucking Accidents
Motorcycle Accidents
Workers' Compensation
Dog Bites
Product Liability
Slip and Fall Accidents/Premises Liability
Wrongful Death
Personal injury is a broad field, and if you have been injured in an accident, it can help to know that your attorney has a wealth of experience handling a diverse range of cases. In the past, our Morris James Personal Injury Group Attorneys have successfully helped clients with cases involving:
Brain Injuries
Burn Injuries
E. Coli and Contaminated Food
Workers' Compensation
Fractured Bones and Scarring
If you or a loved one is injured due to another person's negligent or reckless conduct, you need to know exactly what claims you can present to insurance companies under Delaware law. Do not let your rights be taken advantage of. Discussing your case with a dedicated Delaware personal injury attorney to become educated concerning your rights may be your first step towards securing justice and compensation.
Here are what past clients have to say:
"You and your staff have always treated me with respect, kindness and have always helped steer me in the right direction and always told me to never give up." – T.B.
"My attorney was accommodating through my illness by coming to my home. Also, he and his staff always kept me updated." – C. K.
"I found the group to be very friendly and involved. They settled the case in a timely manner and always consulted me before doing anything that involved my case. Also, everyone was up front and honest." – J. H.
Visit our website for more information depersonalinjury.com
Download our phone app, available for iPhone and Android users, that provides access to the tools and information you will need in the event of an accident. The app features a Live Chat component, allowing you immediate contact with a live person 24 hours a day, 7 days a week. Locate our app by searching "Morris James" in iTunes or Google Play.

Susan D'Alonzo Ament is a partner with Morris James LLP and has practiced for 33 years representing personal injury victims. Over the years, Mrs. Ament has found that some women don't understand the crucial need to have adequate automobile insurance coverage in the event of a serious accident. Susan Ament educates women on these needs every day in her practice and in seminars that she presents throughout the year.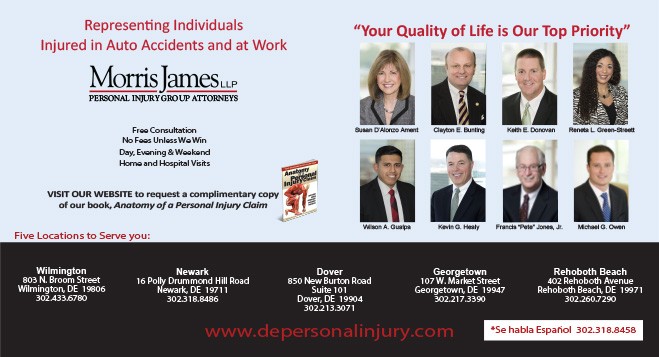 Wilmington | 302.433.6780 | 803 N. Broom Street | Wilmington, DE 19806
Newark | 302.318.8486 | 16Polly Drummond Hill Road | Newark, DE 19711
Dover | 302.213.3071 | 850New Burton Road | Suite 101 | Dover, DE 19904
Georgetown | 302.217.3390 | 107 W. Market Street | Georgetown, DE 19947
Rehoboth Beach | 302.260.7290 | 402 Rehoboth Beach Avenue | Rehoboth Beach, DE 19971