Vision 2020: Invest In Yourself
|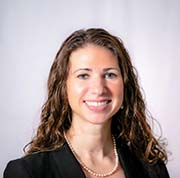 By Jaclyn Quinn, Esq.
Deputy Director at DCRAC
These days, if you want to learn about something you don't know, you Google it. There, you will find hundreds of articles, some better than others, that mention your search terms. What if there was a better way to learn about important matters such as money, banking, investing, insurance, and estate planning? Well, keep reading because THERE IS! The Money School is your source for education about all things money throughout Delaware. 
The Money School is 19 years old, started by Governor Jack Markell when he was State Treasurer. In 2019, DCRAC took over the school and is currently in expansion mode, working to expand class offerings, diversify topics, and increase the number of volunteer faculty members and students who attend. The Money School is a source of information for anyone who wishes to learn, taught by dedicated professionals who volunteer their time to teach. 
This year, The Money School has a full calendar of classes ranging from basic budgeting to estate planning. Selected topics such as Medicaid Basics, Planning for Divorce, Starting a Small Business, and even Extreme Couponing will come up throughout the year. There are also financial classes available for the youth about fundamentals of finances; it is never too early to start talking about money.
We asked Money School Coordinator Jasmine Lilly what she loves about the Money School, and her response was clear and to the point: It is Free, Important, Local, and ABOUT MONEY. What can be better? 
We interviewed our longtime volunteer Lisa Spellman, about her passion for teaching and this is what she shared with us: 
Jaclyn: What motivated you to become involved with The Money School? 
Lisa: After attending my first money symposium in 2008, I fell in love with the concept of helping women move their money from their pocketbooks to investments. After hearing that I taught money classes from a friend, Ronnie Cohen asked me to volunteer to do some of the classes for the Money School. I never looked back!
Jaclyn: What is your favorite topic to teach about and why? 
Lisa: My favorite topic to teach is "No Money. Know Money!" You have to understand how money works to get it to work for you.
Jaclyn: What is your hope for your classes in 2020?
Lisa: My hope for the classes in 2020 is that people get tired of being broke and decide that 2020 means to get clarity. See yourself debt-free. See your dream home. See your retirement. See yourself building a financial foundation for your family and then do something about your situation.
The Money School is a place where everyone is welcome. Our dream is to spread the word about personal finance so that everyone is savvy and able to make the best decisions with their money. Prospective students register on line at  www.moneyschool.org or call 877-307-6858.  We always welcome walk-ins.
Over the next couple of months, we are collaborating with Capital One and the New Castle County Libraries to pilot "READY, SET, BANK." The curriculum, developed by Capital One, is designed to teach how to use online banking tools. Comprised of two courses, one is geared toward seniors who want to learn to use technology to their benefit, while the other is geared toward those who use technology but want to enhance their skills with tools to manage personal finances. We will teach the series at Claymont Library, Newark Library, and Appoquinimink Library and then expand to other sites. 
Money School classes are taught in most libraries and some community centers statewide. If you check out the calendar, you will likely find a class to attend near you in a given month. We are always interested in growing our volunteer faculty. If you have a passion for teaching and working with your fellow Delawareans please consider joining our roster. Volunteers are highlighted on social media, on our event calendar, and on our website. We can be reached at 302-298-3254 and you can check out our classes at       www.moneyschool.org. 
Jaclyn Quinn is licensed to practice law in Delaware. In addition to the Money School, DCRAC offers a nonprofit law firm and credit union. For more information, or to schedule a consultation, please call (302) 298-3251 or email Jaclyn at [email protected].