Use of Lasers in Diagnosis And Treatment of the Eye
|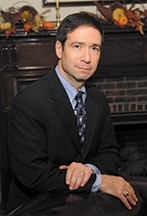 By  Jeffrey B. Minkovitz, M.D.
LASER
(Light Amplification by Stimulated Emission of Radiation)
was invented in 1960 and by 1963 was put to valuable use in medicine. Dermatology and Ophthalmology were first to utilize this technology, and Ophthalmology remains by far the specialty with the most diverse and frequent use. New diagnostic and therapeutic uses continue to emerge, dramatically changing medical practice.
Lasers are well suited for surgical applications as they are high energy, highly focused, are precisely regulated and manipulated and may serve multiple purposes, such as cutting while simultaneously stopping bleeding. There are different types of lasers, each with unique properties dictating their suitability for different purposes.
The first lasers used in patients were thermal (heat producing) and treated abnormal blood vessels (such as hemangiomas on the skin – "port wine stain") or abnormal tissues. Now, uses in ophthalmology range from creating new drainage holes in glaucoma, shrinking  abnormal blood vessels in retinal diseases such as diabetic retinopathy, sealing retinal breaks, destroying intraocular tumors, and cleaning opacified intraocular lenses months or years after cataract surgery.
In 1983, the Excimer laser (previously used in industry for etching silicone chips, because it removed material without creating heat) was first used in reshaping the cornea (the clear front layer of the eye), thereby altering the refractive power without causing scars. Laser refractive surgery was born, a successor to the less precise Radial Keratotomy. FDA approved in 1995, Laser vision correction (PRK, LASEK, LASIK, epi-LASIK) has become one of the most common ophthalmic surgical procedures performed, due to its efficacy, accuracy and safety, in addition to its dramatic results. Continued evolution of the technology has made results even better. Most recently, laser assisted cataract surgery was developed, lending laser accuracy and computer control to an already modern procedure.
Diagnostic applications have more recently been found, including high resolution scanning of the retina and other intraocular structures, and laser measurements to accurately select intraocular lens powers for cataract surgery.
It has been an exciting privilege and opportunity to practice at a time when such amazing technology has advanced the field of Ophthalmology. Participating in the early FDA trials of excimer laser refractive surgery from 1992 – 1995, and subsequently witnessing further refinements in technology and technique through the present, I have come to expect results not possible in the early days. Laser treatment of glaucoma and retinal disease has rendered certain conditions curable. Surgical outcomes are better, diagnoses more accurate, and safety and convenience are enhanced. But just as ophthalmology changed with the invention of lasers in the 1960's, technology continues to evolve. Our newest laser for laser vision correction (Laser Vision Delaware 2016) is 8x faster and more accurate than the early models (many of which are still in use), and new laser platforms continue to evolve (such as laser assisted cataract surgery which was introduced to Delaware in 2012). I look forward to further advances in technology, including new laser applications.
Jeffrey Minkovitz, MD is an ophthalmologist with Eye Physicians and Surgeons in Wilmington, Delaware. Dr. Minkovitz specializes in cataract and refractive surgery, and is one of only a few Delaware surgeons specially trained in corneal transplantation. He completed a cornea and refractive surgery fellowship at the renowned Wilmer Eye Institute of Johns Hopkins. Previously, he graduated magna cum-laude from Harvard, earned his medical degree from the University of Massachusetts, completed internship at Harvard's Mt. Auburn Hospital, and served his ophthalmology residency at Washington University.
Dr. Minkovitz participated in the early research on Excimer Laser refractive surgery, and has offered this procedure to Delawareans since FDA approval in 1996, before Delaware had its own laser. These early pioneering individuals travelled to Wilmer Institute with Dr. Minkovitz, where he maintained his teaching and clinical appointment.  In addition to introducing laser vision correction to Delaware, he also introduced NearVision CK to eliminate reading glasses, DSAEK (a newer, less invasive type of corneal transplant) and recently the newest advance in cataract surgery: laser assisted cataract surgery. In 2016, Dr. Minkovitz founded Laser Vision Delaware, llc and brought the newest and most advanced refractive laser to Delaware.
Dr. Minkovitz is a co-founder of the Center for Advanced Surgical Arts and serves on its medical advisory board. He is also on active staff at Christiana Care. While on staff of Wilmer at Johns Hopkins University, Dr. Minkovitz received the Outstanding Teacher award. He was also named Top Doc in ophthalmology by Delaware Today Magazine six consecutive years, and has been an invited instructor at American Academy of Ophthalmology Annual Meetings.
For further information or to schedule an appointment please call 302-652-3353.