Unique Spaces
|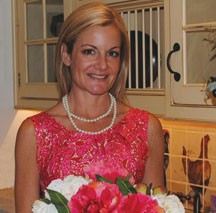 Katy Wolfington, President
Kitchens:
Open Shelving – Want to add interest to the walls in your kitchen? Instead of doing closed door wall cabinets consider doing open shelving. Whether it is cabinets that are open or some really cool brackets with old wood shelves, keeping open storage on your wall space can add a lot of interest. The shelves themselves could add the interest, or what you decide to put on them.
Lighting – A chandelier or pendants over an island can make or break a kitchen design. It is important to take your time in selecting any decorative light fixture in regards to the style, finish and size. It can make a statement and help with the overall look and feel of your new space.
Backsplash Tile – These days most kitchens have cherry stained cabinetry or a neutral paint color and the counter tops tend to go in either a lighter or darker direction, but remain neutral as well. If you feel brave enough your backsplash is a great place to add color. There are so many options in forms of color, sizes and even decorative tiles with patterns can make the backsplash a focal point in your kitchen.
Hardware – Keep an eye out for unique hardware for your cabinets. The finish does not have to match your stainless appliances or the finish of your faucets – think outside the box. There are so many amazing finishes and designs out there for cabinet hardware. You may even be able to find some antique hardware that you can put on a feature piece in your kitchen.
Faucets – Instead of getting that standard single lever pull out spray faucet; think about a really pretty bridge faucet with a side spray. It will still have the functions you are looking for in a faucet, but will actually make people look and ask, "Where did you get that beautiful faucet?" There are many styles and finishes from traditional to modern. You can also add interest and convenience by adding a pot filler behind your range.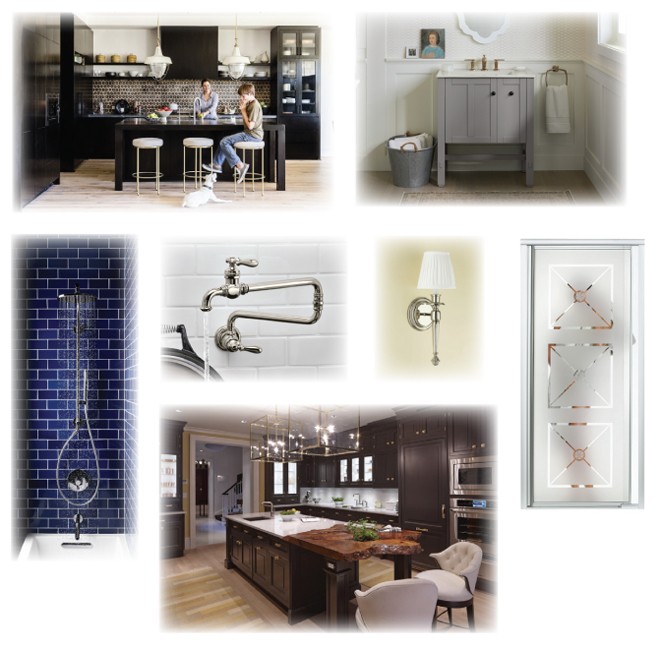 Bathrooms:
Tile – Add color and texture with tile. Mosaic stone tiles come in a variety of shapes and colors and can add texture to bathroom floors, shower floors or a featured area on your shower wall. Instead of doing white subway tile, think dark blue or a pretty grey/green tile.
Decorative Shower Door – Instead of clear glass, try a patterned or etched glass for your shower door. Frameless clear glass is beautiful and lets you see everything in your shower, which could be a good or bad thing. There are many pretty patterned, frosted and etched options that can make your bathroom unique.
Lighting – Pretty wall sconces with shades can add warmth to your bathroom. You can even add a pretty decorative flush mount light (or chandelier if you have the height) in the ceiling.
Trim Work – The trim work you decide to do gives you many options to make your bathroom space unique. It could be adding beaded board or paneled wainscoting on the walls or crown molding around the room. You have additional options by choosing a specific pattern with the wainscoting; details in the trim work or you can paint the trim an interesting color.
Testimonials
"Waterbury Design offers expert design and quality craftsmanship from start to finish. The staff takes price in their work that results in a beautiful product. Katy listens to her customers, producing a design project that compliments and enhances our home."  ~ Marie D.
"My kitchen and master bath have both been redesigned by the team at Waterbury. I am an avid reader of Houzz and home magazines and Katy and her team took my initial ideas and wish list and turned them into beautiful, functional rooms that elevate the spaces. I enjoy every minute cooking and entertaining in my kitchen/gathering room or pampering in the bathroom. Many thanks to the team at Waterbury who were great to work with and deliver above and beyond expectations."  ~ Fiona K.
"Thanks to Waterbury I have my dream kitchen. I love to be in my kitchen and I truly enjoy how it all turned out.
The design was exactly what I wanted and Katy turned it in to a reality. I enjoyed the process and have many friends who admire it."   ~ Adrian D.
If you would like our help in designing the bathroom or kitchen of your dreams, visit our website at www.waterburydesign.com, call us at 610-444-9190 or visit our showroom at 818 East Baltimore Pike in Kennett Square, PA.