Trendy Vs. Traditional?
|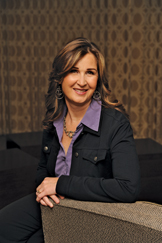 Microblading Vs. Shaded Brow?
By Melisa A. Ferriola, CPCP
Microblading is the hot new trend in permanent eyebrows. It has hit the internet by storm – Facebook, Pinterest and Instagram all have thousands of pictures of gorgeous hair stroke brows done by a technique called "Microblading."
What is this new trend? Microblading is an advanced technique of " stroking" the pigment into the skin instead of "pushing" the pigment in. There are no blades used in this procedure, but it IS tattooing and it IS permanent. The result is very fine lines that closely simulate brow hairs for a more natural finished look.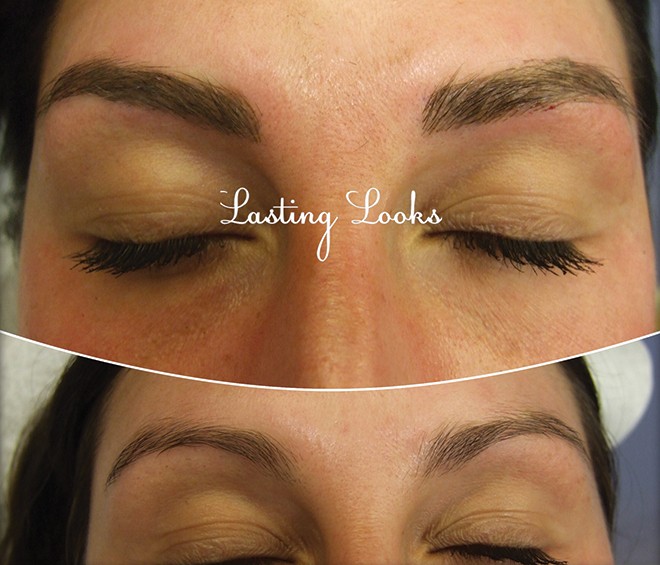 What is a traditional Shaded brow? Shading is a tattooing technique that gently lays pigment into the skin to create a brow similar to a soft powdered brow. This is also permanent. The best representations of a shaded brow have soft edges and natural blonde and brown color tones.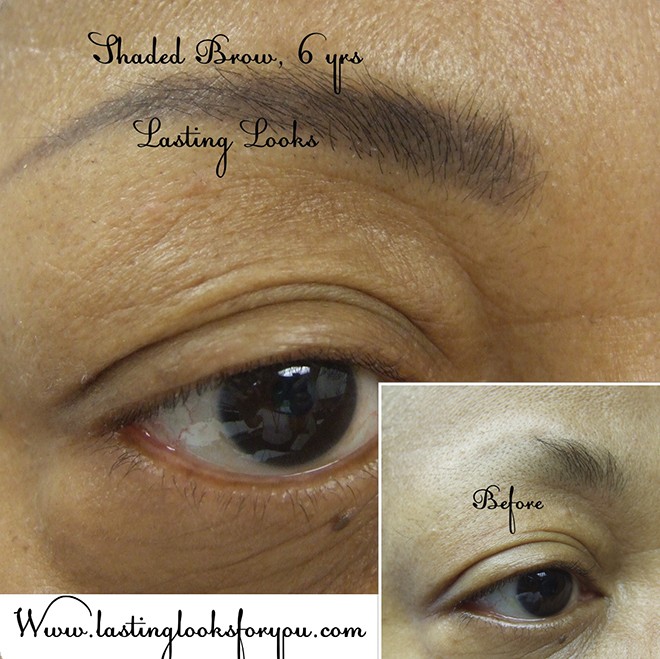 Many clients come into my studio requesting microblading by name. In fact, they are sternly against the traditional shaded brow because "the microbladed brow looks so natural!" Microblading has attracted a much younger clientele to permanent cosmetics. Instead of waiting for the natural brow hair loss that may come with aging, twenty-somethings are looking for the larger, wider, fuller brow enhancement that is popular at the moment.
Comparison of Microblading and Shaded Brows
Color:  The color of any object as seen by our eyes, is created by the reflection of light. With a shaded brow, the entire surface of the brow area has pigment laid into the skin and when the correct color is used in combination with your unique skintone, a beautiful blonde or brunette brow is created. With the fine lines of microblading, very little pigment is implanted in the skin and the fine slivers of pigment have very little opportunity to reflect light and create color for the eye to see. As a result, most microbladed brows heal to a more cool color tone. If a warm brown tone is desired long term, a shaded brow will produce a better result on most people.
Longevity:  With a shaded brow, there is an opportunity to place as much or as little pigment into the skin as desired (too much and the brow is too solid; too little and the brow may fade quicker). A soft, gently shaded brow, done well, will simulate the look you are achieving now with your brow powder and makeup brush. Depending on the original look created, color used and homecare, shaded brows will last 2 to 3 years before a color and shape boost appointment is needed. For a microbladed brow, very little pigment is placed in the skin. Strokes can only be reinforced 2 to 3 times during a session. With such little pigment placed in the skin, the hair strokes will need a refresh every 8 to 18 months. (This doesn't mean they are not permanent, as there will still be pigment there, but these color and shape boosts will be needed more often.)
Natural Looking Esthetics:  A technique that is simulating a hair will look more natural, like the brow hairs that you have (or don't have). A microbladed brow will simulate this look from day one. This look will be fresh for up to about 8 to 10 months when each hair stroke goes through a light fading. Some strokes will fade more than others and with some skin types, the strokes will blur into one another and show less definition. A well-done shaded brow will simulate the makeup look that you are achieving with your brow powder. This can be a light shadow behind existing hairs and define a brow shape where there are no brow hairs. When the right color is chosen for your skin tone and quality pigments are used, your brow will hold a soft formation for up to 2 to 3 years with a gently fading of the same color. Good (and great) technique is the best solution for a natural look. Both techniques can achieve this.
Which brow type is right for you?
Always visit your permanent cosmetic artist for a consultation well in advance of making a final decision of having your brows done. Your technician should be able to provide a variety of options to you – shaded, ombre, hair strokes, or any combination of these. One size does not fit all and different skin types, medical issues, age, medication, and lifestyle are all contributing factors for determining which technique will provide the best long term result. Your technician should be able to consult to your specific situation.
Getting your brows done with permanent cosmetics is a wonderful and very convenient procedure. Clients have exclaimed, "This is the best thing I have ever done for myself. I should have done it sooner!"  However, please choose a technician that is highly trained with at least 100 hours of basic training and can demonstrate proof of regular continuing education classes. Please beware of Spa Estheticians that are taking 2-Day classes and offering the microblading service. While having your brows done is a big step, working with the right technician will make it a safer and better experience. Hope to see you soon at Lasting Looks!
Profile:  Lasting Looks is a unique day spa in Hockessin Corner – next to the Back Burner Restaurant and Jennifer's Bridal. Our mission starts with the desire to empower women to take charge of their appearance and to put their best image forward. Our staff of estheticians can help meet all your skincare needs, as well as our unique services like eyelash extensions and permanent cosmetics.