The Wine Store Of Character
|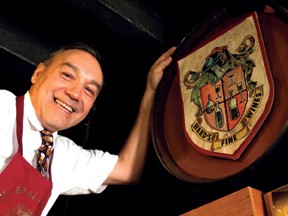 Oscar Zelaya, Owner of Ward's Wines
"Many people think that tasting wine is only for the wine professional, and that is not true; I always remind my customers "you know what you like". The thing to remember is it's all about figuring out what the main components of the wine are, and knowing what to look for when you taste the wine. Furthermore, it is not a question that food is the perfect vehicle to understand what the wine world is all about. Therefore, there is no right or wrong when it comes to tasting wine, it is all about knowing a handful of components that you learn as you experience every glass of wine. 
Here at Ward's Fine Wines our primary job is simply that, to educate our customers in the best way possible, because the more they know the better they drink. We know your time is valuable, especially as the holiday season draws near, so let us help you find the perfect bottle. Cheers!" – Oscar
"My grandfather used to come to Wards before Oscar's time. However, he kept the same service as always and at my daughter's wedding Oscar was able to give us the best wine and service at the best price possible.  I won't go any other place but Oscar's when it comes to wine."   ~ Laura
"Oscar won't carry any wine without trying and making sure it is up to his level to be in his wine-shop, and that is what I call a first class service" Keep it-up Oscar."  ~ Robert
"When I moved to the area I purchased my wine at Wards, now that I have moved out of the neighborhood I still return to Wards."  ~ Larry
"Not because I am a women but I feel very special when I come to Wards, Oscar takes time to give me the right bottle of wine."  ~ Susan
Ward's Fine Wines
1704 North Lincoln Street
Wilmington, Delaware 19806
302.656.8548
Like Us on Facebook!