The Power Of A Hot Beverage
|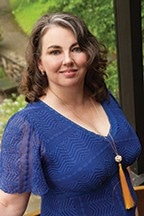 By Heather Love
There are moments weaved in my daily life that are pure bliss. My favorite moment is my first sip of hot coffee in the morning. If I'm at home, I will find my favorite mug and fix my cup and sit down at the dining room table. I'll open the blinds and look out at my tree. I observe my cobalt blue chair that's just waiting for me, tucked right up next to the trunk. Once I've taken a moment to appreciate today's view, I take that first sip.  
A moment of pure, uncomplicat-ed bliss. A moment filled with routine and reflection. A moment of quiet meditation. A moment of simple perfection. 
I inherited my love of coffee from my mom's mom – Grandma M. I grew up watching my family gather around the kitchen table for cups of coffee – several times through the day. Everyone that stopped by shared a cup with Grandma while they discussed their lives and worries. I watched Grandma use her coffee as a way for her to deal with the stresses in her life.  
I would watch her use getting a new cup to remove herself from the conversation, or if she was really annoyed – she would make a fresh pot. This mini break stopped a ton of petty arguments and gave everyone a moment to settle their emotions. She would make new pots of coffee to give people a chance to reflect. This simple two-minute break into her coffee routine was her moment of self-care before she shifted her focus to the person wanting to talk. Grandma knew the power of a hot beverage and she always had a pot of coffee available for anyone who needed to talk with her.  
Every day, I see these moments repeated by my customers. Friends excitedly greet and order their drinks. Some make their coffees together at the coffee bar. Some like to make their drinks perfect alone. I love watching the loners. They usually go to the table and put down everything while they wait for their friend to get her drink. Once all the friends are settled, the loner will go to fix their cup. They approach the coffee bar and carefully read the current selections. Some take a few samples before they find the perfect flavor. Then, they make their cup of coffee their way. Once they are satisfied, they take one massive sip and usually smile. Once they are settled, they make their way back to their friends.   
As a chronic pain patient advocate with a ton of food restrictions, I get frustrated attempting to order drinks when we eat out. Most places may have two or three choices for coffee and sugar free drinks. I can't do dairy and I can't do artificial sweeteners. Take alcohol off the list, and I'm usually stuck with water. Therefore, our café has an incredibly diverse drink menu.  
Every month, we change our drip brew coffee selections. We always have our house blend and a decaf house blend. We rotate a dark roast coffee, a medium roast, a flavored decaffeinated, and two flavor roasts. Every day, we have eight different drip brew selections.   
In addition to our drip brew selections, we are a full-service espresso bar. Hot and iced espresso drinks can be made decaf and dairy free. We have several sugar free syrup options. We proudly serve Dr. Smoothie fruit smoothies that have no artificial colors, flavors, or sweeteners and no added sugars. Most are lactose and gluten free. These smoothies are a great way to a serving of your daily fruit. We make our own unsweetened iced tea and green tea.   
I am very proud of our loose-leaf tea selection. We have six black tea blends, four green tea, three rooibos, four wellness and herbal blends, and six Ayurvedic blends. Our tea menu is over fifty percent herbal and caffeine free. We love teaching others about the healing properties of herbal teas.  
Bio
Whereabouts Café is located at 214 Peoples Plaza, Glasgow, Newark, Delaware. Purchased in 2007, the Love family (Marcus, Heather, and Marcus) has pushed the limits of their 49-seat sandwich café. Hopefully, they will be expanding soon. Stop by for some goodies, call 302-836-3365 or visit WhereaboutsCafé.com.