The Importance Of Building A Healthy Sandwich
|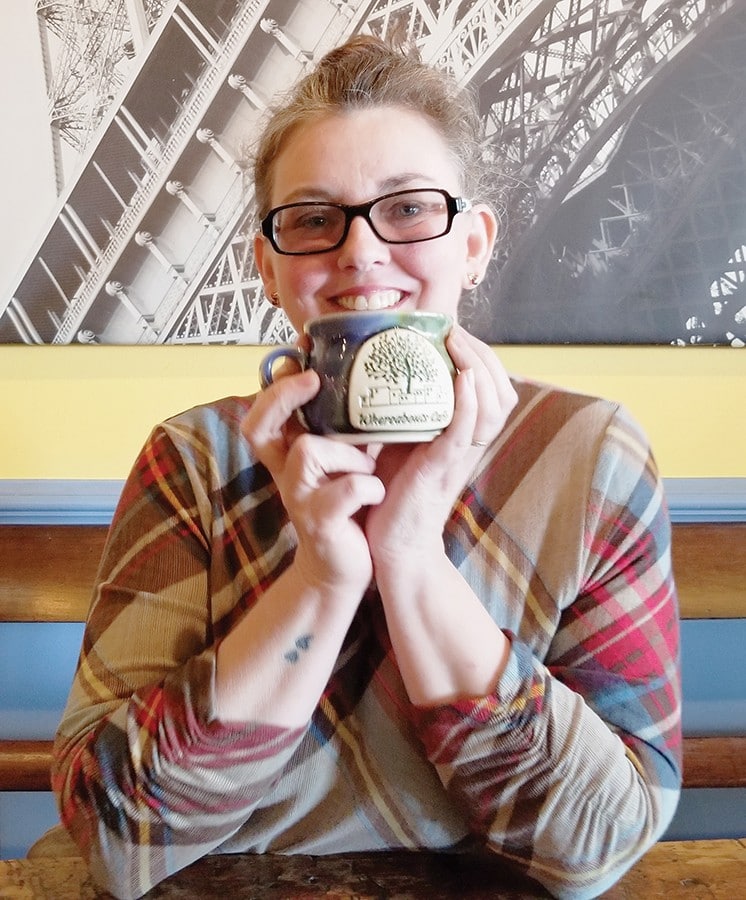 By Heather Love
I grew up in a small farming community in the mountains of southwest Virginia. I was taught the relationship between the earth and the food that it provides. I learned to eat off the land and how the land is one of our most valuable resources. Land provides the soil and the nutrients that keep us healthy. We didn't read labels because we made the food and kept it as close to natural as possible.
My childhood consisted of gardening, tobacco farming, butchering, canning, preserving, and foraging. Imagine my surprise when I left home and started eating processed food. I vividly remember my first Twinkie – it was part of my MRE in basic training and about two months after leaving home. My seventeen-year-old mind was blown!
Fifteen years later, I have been living life and eating a normal American diet. Then, BOOM! I get the classic Lyme bull's eye rash. In order to manage my new health condition, I needed to get back to eating healthy. I needed to remember the ways of my ancestors who farmed the land for generations. I needed to embrace my inner farmer hippie!
Twelve years later, I am still learning and evolving as a "hippie chef" and co-owner of Whereabouts Cafe. As a "hippie chef," I focus on finding the right combination of ingredients to give you healthier options. I could not think of a better example than a staple on every bagel sandwich café menu – bagels and lox with all the fixings.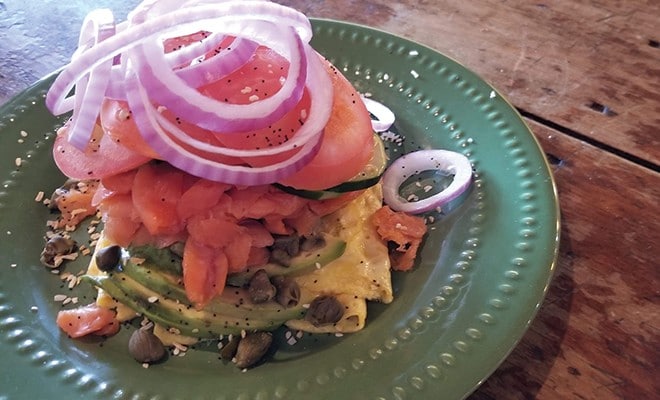 Our Versailles sandwich is whipped cream cheese, smoked salmon, capers, tomatoes, cucumbers, and raw red onions served on a fresh-baked steamed bagel. Let's take a closer look at each ingredient:
BREAD: Read the ingredients and look for the following key words 100% whole wheat or 100% whole grain.
SMOKED SALMON: Buy wild salmon vs farm raised to get the benefits, a source for dietary protein, fat (helps maintain brain function to protect from depression, memory loss and even dementia), and essential minerals like iron.
RED ONIONS: Contain double the antioxidant properties compared to white or yellow onions.
CAPERS: Unexpectedly a big source of natural antioxidants that show promise for fighting cancer and heart disease.
TOMATOES: A terrific source of vitamin C, potassium, folate and vitamin K.
CUCUMBERS: They contain the anti-inflammatory flavonol that can play an important role in brain function. Cucumbers are low in calories, high in fiber.
CREAM CHEESE: Cream Cheese is very high in calcium which improves bone health and helps avoid osteoporosis. PRO-TIP: Use dairy in moderation.
Now, looking thru the eyes of a "hippie chef," let's change a few things:
Hollow out the bagel
Halve the cream cheese
Extra onions, tomatoes, and cucumbers
OR
Scrambled eggs instead of bread
Avocado slices instead of cream cheese
Add extra onions, tomatoes, and cucumbers
Whereabouts Café is located at 214 Peoples Plaza, Glasgow, Newark, Delaware. Purchased in 2007, the Love family (Marcus, Heather, and Marcus) has pushed the limits of their 49-seat sandwich café. Hopefully, they will be expanding over the summer. After the expansion, the café will be a 169-seat restaurant open for breakfast, lunch, and dinner. Plans include a coffee roasting room, a stage, a full bar, and a community event room.