The HydraFacial
|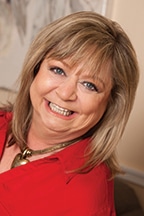 By Joanne Graves, Owner of Sanctuary Spa
Have you experienced the HydraFacial yet? If you haven't, let me walk you through the simple, 3 step process that is transforming skin one treatment at a time! 
Step one in a HydraFacial is the "cleanse & peel process," which uncovers a new layer of skin with exfoliation and resurfacing using a mild combination of glycolic and salicylic acids. Next is the "extract and hydrate step," and that is the process of painless sucking to remove oil, dirt and cellular debris from the pores, followed by intense moisturizers to nourish and quench dryness. Finally comes "fusing and protecting" by saturating the skin's surface with antioxidants and peptides to maximize glow. The HydraFacial treatment, in and of itself, is an effective way to bring intense healing to all skin types, gently and noninvasively. 
What makes the HydraFacial genuinely remarkable is its versatility. It treats all skin types and conditions. And if you find yourself in need of a boost for your skin, HydraFacial has just what you need!
You can add one or more of the following HydraFacial Boosters to customize your treatment:
Britenol brightens and balances skin tone while minimizing the appearance of dark spots and sunspots.
CTGF minimizes the appearance of fine lines and wrinkles through naturally derived growth factors and improves skin health and vitality by bringing skin to a more youthful state.
DermaBuilder helps smooth the appearance of fine lines and wrinkles and enhances skin elasticity.
Lip Replenishing Serum lightly plumps lips, gently exfoliates to smooth lips, and hydrates lips.
Perk Total Eye hydrates and brightens the eyes, reduces puffiness and dark circles, and smooths fine lines, and wrinkles.
When you include LED Light Therapy, it takes the HydraFacial to a whole new level of results obtained. How Does LED Light Therapy Work? The cells in your skin convert the energy produced by the red LED light into a substance called ATP (adenosine triphosphate) – the fuel your cells need to do their job. Cells in the dermis layer of your skin then use ATP to produce more collagen and elastin, which plumps up the skin and reduces the appearance of fine lines and wrinkles. Blue LED light works slightly differently – it kills Propionibacterium acnes, the bacteria that live below the surface of the skin and causes acne breakouts. 
How many sessions will I need? You'll likely need at least four treatments before you see results, but the benefits are cumulative, and once you're happy with the effects, you can scale your procedures right down to maintain them. Ask your esthetician for more information if you want to see the results for yourself. Give us 30 minutes; we'll give you the best skin of your life!
P.S. HydraFacial is the #1 facial requested by brides and mothers of the bride to get skin looking its best for the big day. 
Call Sanctuary Spa at 302-475-1469 for your appointment today for $25 off your first treatment, or exclusive savings on a series of HydraFacials!
Testimonial
"Besides a little tingling when the mix of acids is applied to the skin, all I felt was a little suction from the surface of your skin—it was painless and extremely gentle. And to put this in perspective, I commonly classify my skin as ultra-sensitive. In less than 30 minutes, I was finished and ran over to a mirror to inspect. I was shocked at my skin's glowing, revitalized look. It looked even in tone, the texture was smooth even to the touch, my skin didn't feel tight or uncomfortable anymore, and I even had a little glow that only my dewy highlighter palette can usually achieve." ~ Victoria 
HydraFacial is registered in the United States Patent and Trademark Office by Edge Systems LLC. Copyright © 2017 Edge Systems LLC. All rights reserved. P/N 19716-03-A
Contact us at www.mysanctuaryspasalon.com or call us at 302-475-1469 for a personalized consultation!