The Hottest Health Regimen Is Cool As Cryo
|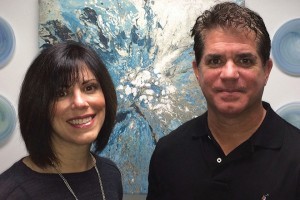 By John and Ann DiStefano, Co-Owners
Peak Cryotherapy and Massage
Whether you are looking to ease muscle soreness and chronic pain, sleep better, reduce anxiety, or if you just want to look and feel better, Whole-Body Cryotherapy (WBC) may be the answer for you. WBC is a non-medical health treatment that involves exposure to extremely low temperatures for a three-minute session. WBC can reduce inflammation, help manage pain, improve athletic performance and recovery, reduce the visible signs of aging, burn more than 500 calories, and help with insomnia and depression. That's why celebrities such as LeBron James, Tony Robbins, Derrick Hough, Jessica Alba and Jennifer Aniston, among a growing list of others, have praised the benefits.
While relatively new in the United States, WBC has been popular in Europe for many years, especially with elite soccer teams looking for a performance edge. Increasingly US collegiate and pro athletes are adding cryotherapy to their training programs. Several members of the Dallas Mavericks credit their 2011 NBA Championship to cryotherapy and Georgetown University has recently added WBC to its training center. In Delaware, local athletes, such as Jennifer Mouser, four-time starter and Captain of the UD club softball team, can't stop talking about it (see sidebar).
Participants in Cross-Fit, martial arts, spinning, running and weight lifting love WBC for reducing muscle soreness and getting them back to the gym more quickly. In a study entitled Clinical Relevance of Whole Body Cryotherapy, Alan G. Christianson, NMD concluded that, "Whole Body Cryotherapy has been documented to safely and quickly benefit chronic pain and inflammation. It also has an established role in benefitting athletic performance."
In addition to pain relief, WBC may also stimulate collagen production, improve skin tone, help with anxiety and depression, and improve sleep. And the endorphin rush experienced can provide an energy boost and overall feeling of well-being.
Still have questions? Here's what you need to know.
How does WBC work? Initially developed in the 1970s by a doctor for his patients with rheumatoid arthritis, WBC uses air cooled to -220°F to help your body heal itself. The sub-zero temperature stimulates a response in the body's regulatory functions. Blood rushes to your core, and when you exit the cryosauna, the oxygenated, nutrient-enriched blood flushes back out, clearing toxins while promoting cellular regeneration for faster healing.
Is it safe? Extreme cold has been used to reduce inflammation for centuries, and whole-body cryotherapy has been used safely for decades. A health inventory will be reviewed to ensure that you do not have any contraindications that would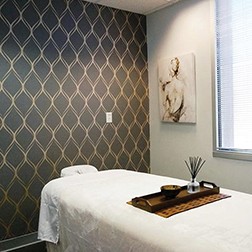 prevent you from experiencing cryotherapy.
What can I expect from my visit? After completing your intake form, you'll put on the robe, socks, and booties provided. Now you're ready to enter the cryosauna. Once in, an elevator lifts you so your head is above the chamber, and you'll exchange your robe for gloves. A staff member will remain with you, chatting and encouraging you until your 3 minutes are up. After the session, you can dress and get on with your day, or choose to indulge with a massage for the ultimate experience. Massage is the perfect complement to WBC, whether you are trying to release muscle tension, correct an imbalance, or just completely relax!
If you're thinking that a 3-minute WBC session may be for you, try a session at Peak Cryotherapy and Massage in Pike Creek for only $29. Packages and memberships are also available.
John and Ann DiStefano, co-owners of Peak Cryotherapy and Massage, are a brother and sister team who are excited to share the health benefits of cryotherapy with the community in which they were born and raised.
To learn more or to schedule an appointment, call 302-502-3160 or visit peakcyotherapy.net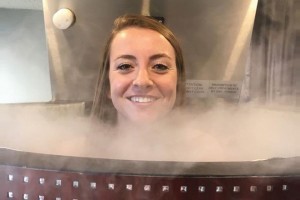 Testimonial
"In season or off season, I love coming to Peak for cryo. Whether I just finished with a hard workout, or I come in to relieve my daily aches and pains, I leave feeling great. When I pair it with my massages from Kate, I feel even better! Over the years, I've had multiple injuries, and no matter what is hurting, this helps me get back into the gym." – Jennifer Mouser – Captain of the UD club softball team.