The Extra Step
|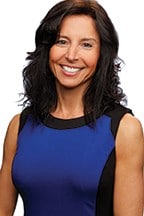 By Michele Reynolds, Owner
Shelly Sons Electrical Contracting, LLC
Every day we strive to be unique and bring something different to the table and we are always searching for what that "uniqueness" is. We rack our brains trying to answer this question. Low and behold you realize it's staring you right back in the mirror every day. You bring that uniqueness in every interaction that you have with your customers because you are the only one out in the world like you . . .
Over 21 years ago, Shelly Sons Electrical entered into the marketplace as a small electrical contractor offering a variety of services in the residential and light commercial sectors. As a direct result of quality and customer service, the company was able to sustain steady and managed growth built on referrals and repeat business through the ever-growing client base. While the residential and light commercial sectors were the original target market for Shelly Sons Electrical, it became apparent that market penetration into additional sectors would diversify the company and offer additional customer support. The expanded client base includes direct owners, construction management firms, as well as state and federal agencies. 
When Michele and her husband/business partner, Mike, formulated Shelly Sons years ago, the vision that was created in the beginning has ever so expanded today. Our focus is building relationships, listening to your needs, and understanding and appreciating the value of your time. Customers want to know that they are being taking care of and heard. We go the extra step. We have created a company that takes great pride in supporting, educating, and training our employees to carry out uncompromised quality and to exceed customer expectations. We are a full-service residential, commercial and industrial Contractor.
Specialties Include:
DESIGN/BUILD/INSTALLATION
Lighting Indoor/Outdoor
New Home Layout
Office Fit-Out
ACCESS/SURVEILLANCE SYSTEMS
VOICE/DATA/FIBER SYSTEMS
Cat 5 Phone/Data
RG-6 Cable TV Wiring
FIRE ALARM/LIFE SAFETY SYSTEMS
Fire Pumps/Controllers
Pull Stations/Horn Strobes
Nurse Calls
HIGH/MEDIUM VOLTAGE
Pole Line Installations
Pole Repair
Transformers 
24-HOUR EMERGENCY SERVICES   
WE SERVICE THE DELAWARE, PENNSYLVANIA AND MARYLAND AREA
RESIDENTIAL
New Homes
Renovations
Basements
Recessed lighting 
COMMERCIAL
Office Fit-out
Retail Fit-out
Parking Lot Lighting
Educational Institutions
INDUSTRIAL
Heat Tracing/Product Piping/Freeze Protection
Rectifiers/Cathodic Protection
Motor Connections
Transformers
Our Company is built on the following Principles:
Safety
Integrity
Dedication
Commitment
Mission Statement:
Committed to becoming the company recognized for its unsurpassed dedication to understanding the needs of our customers; whether large or small; delivering relevant solutions with uncompromised quality, honesty and integrity.  
For more information: 
www.shellysonselectrical.com  
We have recently moved our office. We are now located at 
818 Pencader Drive, Unit C, Newark, DE 19702.
Michele Reynolds is owner of Shelly Sons Electrical Contracting LLC, along with her husband/business partner, Mike Reynolds. They are very proud to be entering into their 21st year of business. With over 20 years of experience in the leadership field of the construction industry, Michele continues to utilize her knowledge and talents to make a difference in the lives of others.
Testimonials
"Very appreciative of the quality of workmanship on the project to date and management of it. Plus the guys are all nice personally. I believe you made a really good choice for electrical. Mike Reynolds covered all of the details and interacted well with K+P. Thanks." ~ F.R.
"We have been very happy with Tom and the work he has done, and we plan to use him/your company in the future if we ever need updates to our electric. Thank you." ~ C.B.
"Fabulous job! Installed ceiling fan in the living room where no existing fixture was. Scheduling was easy, the lady was so nice. The technician was courteous and did a fantastic job. I will definitely be calling them back, as well as referring them to family and friends." ~ D.P.
Shelly Sons were professional and knowledgeable. They have completed many electrical jobs for us and we have been pleased each time. I would highly recommend them! Thank You. – D.G.