Stop! You're Wearing Someone Else's Face!
|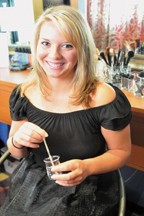 By Ashley Bizzarri, Owner of Customized Cosmetics by Ashley and Custom Blend Specialist
If you have the slightest inclination when you leave your house in the morning that you may be wearing the wrong shade of foundation, you probably are . . . and I can promise you that people will notice. Not just women who wear makeup, but your boss, your co-workers, people at the gym and everyone you pass on the street may be looking at you thinking, "her makeup is off".
Finding the right shade of foundation is tough. You can't always trust the salespeople at Sephora or Department stores to find the right shade for you (even with their high-tech color matching machines) because they are limited to the pre-packaged products corporate tells them to sell.
EVERY SINGLE PERSON HAS UNIQUE SKIN. Even the temperature of your skin can affect how color appears and everyone has unique undertones to consider as well.
Instead of spending more time and money buying new products and then throwing them away, book a consultation with Ashley and never waste another dime or minute on makeup. Ashley creates your perfect shade right in front of you to get your exact color match then addresses:
•  Coverage
•  Finish
•  Application
•  Setting (all-day staying power)
•  Skincare (oily, dry, combo, anti-aging)
•  SPF needs
•  Dark circles
•  Bags

Testimonials 
"Ashley is wonderful! I absolutely love the custom foundation and setting powder that she created for me!! If you're reading this, then I'm sure you've experienced "orange face" a time or hundred. Let's be honest, it sucks! Ashley is so precise with matching the color to your own skin tone! Another thing that I find not only professional, but friendly and welcoming, is that she will respond to any texts you have, and has no problem answering any questions at all. I plan on using this foundation/setting powder for my wedding. Peace out orange face!"  – Lindsay 
"Before I was introduced to Ashley, I felt like I had to settle for a foundation that hardly resembled my complexion. I often felt discouraged when shopping for foundations because my options were limited. When I had my consultation with Ashley she assured me that she would create the right shade for me. Ashley was patient, professional and knowledgeable. Now, I feel more confident and comfortable knowing I will have no harsh lines and a foundation that lets my natural beauty glow!"  ~ Sage
Call or text Ashley to book a consultation at 301-466-5625 or email her at [email protected]