Spring Has Sprung!
|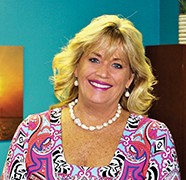 By Robyn S. Mooney, CarpeVITA Home Care
Now that winter is behind us, the flowers are beginning to bloom, and birds are starting to sing again. Spring is the season of rebirth, and it's a perfect time to get some spring cleaning done and enjoy the fresh air outside. No matter your age, there are plenty of ways to enjoy the warmth of spring.
Go for a walk at a local park or nature trail
Dine al fresco at a nice restaurant
Pack a picnic and enjoy the outdoors with a friend, family member or your home health aide
Ask a buddy to go fishing for a few hours

 

Purchase a bird feeder and enjoy watching all of the different kinds of birds up close
Did you know clutter can increase your stress levels? It's true! Getting organized is a great spring-cleaning chore. Take a few days and start going through the storage spaces in your home, clearing out some of the items you no longer need. Try to do one room or closet each day. Family members or your home health aide could help, and you can share memories as you go through your belongings. They can help you make some decisions about what to keep and what to donate, sell or throw away. Spring is the season of renewal, so get caught up in the fever and throw out the things you no longer have use for and re-organize your home! 
These spring-cleaning ideas also keep your safety in mind:
Check the Medicine Cabinet and safely dispose of old, expired medications. Make sure to store medicines in a cool, dry, dark place.
Clean Out Clutter because too much "stuff" could pose a fall risk. Maintaining a clear walk way into every room reduces the risk of falling.

 

Clean out the refrigerator, freezer and pantry of old and stale food items.
Have an Emergency Plan in Place, and write down important numbers or have them programmed into your phone. Know who to call in case of an emergency.
Never Try to Move Heavy Objects or Furniture or Use a Ladder on Your Own. Always ask for assistance before moving furniture, changing light bulbs, and any other regularly required maintenance in the home.
Use cordless cleaning tools and lightweight equipment for household chores.
Check Your Smoke Alarm System, Fire Extinguisher and Emergency Kit. When we set our clocks forward, it's a good time to run a test on the smoke detectors to ensure the batteries are functional or to replace them. Check the expiration date on fire extinguishers. Emergency kits should be checked for any items that need replacing.
Emergency Kits may include: a flashlight, spare batteries, thermometer, Band-Aids, scissors, tape, triple antibiotic ointment, wound care dressings, allergy and digestive medications, protein bars, a current medication list, a bottle of water, and names and phone numbers of family or friends to contact in an emergency.
CarpeVITA Home Care's personal care and companion services can include these spring time activities and so much more! 
CarpeVITA Home Care is a non-medical HHA-AO Agency with RN oversight of all clients and aides. CarpeVITA Home Care provides compassionate, best-of-class in home care to improve the quality of life of their clients by enabling them to stay in their own homes, which is where they want to be. After several years providing care for friends and family members, Robyn Mooney, the Founder and President, decided to build a Home Care Agency that would provide the same quality of care she had provided to her loved ones and treats every client, from pediatrics to geriatrics and their families, as if they were her own family. CarpeVITA Home Care is a women-owned, independent agency. At CarpeVITA Home Care, Robyn has built a high caliber, dedicated team of professionals and insists on upholding the highest standards of compassion, respect, dignity, kindness and confidentiality. CarpeVITA does not require a minimum number of hours per shift or per week. Flexibility is a cornerstone of our business. 
Enjoy LIFE!!! Leave the Care to Us
What our clients are saying about us: 
"On behalf of Mark E, I want to thank you, your staff and especially Tamika and Kelly for doing a superb job of taking care of Mark on the day of his son's wedding. I was extremely impressed with the kindness, caring and consideration that Tamika and Kelly had for Mark's needs and wishes. These 2 ladies arrived early (thank goodness), had Mark dressed in his wedding best and ready to depart on time, looking good. The feedback I received from Mark was very positive. Tamika and Kelly made sure Mark was fed well, got in the family pictures and ensured he had a good time. As for me, I had no emergency phone calls from anyone and am happy this event went off without a hitch. Thanks again for a job well done!"  ~ Richard H.