Social Media's Impact On Your PI Claim
|
Ever use Facebook, Instagram or Twitter?  Of course you have – social media has become ingrained into our daily lives.  And while these social sites provide many with a personal platform to connect with friends and provide personal details of our lives, what many do not realize is that this personal information can adversely affect your personal injury claim.
Just imagine the horror of being involved in an automobile or work accident that was not your fault, where you suffered pain and physical limitations, forcing you to file a lawsuit for compensation.  Now imagine having to provide the attorneys for the insurance company with all of your social media login information and passwords so its specialists can meticulously go through all of your personal social media postings and pictures – including the ones you thought you deleted.
Now imagine the attorney for the insurance company showing a jury all of these personal postings and pictures and being allowed to argue you clearly are not as hurt as you claim to be based on the postings and pictures found on your social media.
In order to prevent this from happening, the Personal Injury Group Attorneys of Morris James LLP suggest that you protect yourself by not posting any information regarding an accident you were involved in or of the injuries you sustained as a result of that accident, including pictures of physical activities or other information.
If you or a loved one suffers the unfortunate event of a motor vehicle accident or work related accident, the Personal Injury Group Attorneys at Morris James LLP will guide you through the process of obtaining the maximum compensation for your injuries to which you are entitled under the law. With six locations throughout the State of Delaware, we are available to serve you.
Visit our website for more information depersonalinjury.com
Download our phone app, available for iPhone and Android users, that provides access to the tools and information you will need in the event of an accident. The app features a Live Chat component, allowing you immediate contact with a live person 24 hours a day, 7 days a week. Locate our app by searching "Morris James" in iTunes or Google Play.

Susan D'Alonzo Ament is a partner with Morris James LLP and has practiced for 33 years representing personal injury victims. Over the years, Mrs. Ament has found that some women don't understand the crucial need to have adequate automobile insurance coverage in the event of a serious accident. Susan Ament educates women on these needs every day in her practice and in seminars that she presents throughout the year.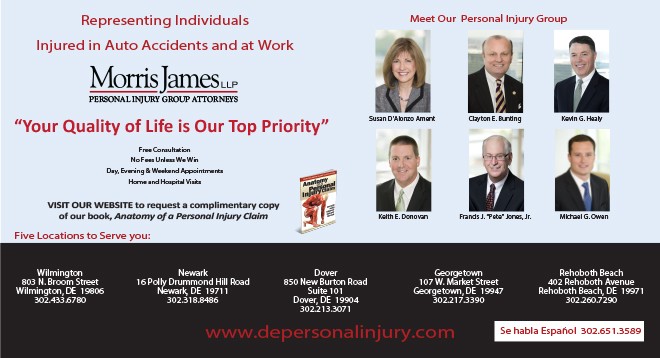 Wilmington   |   302.433.6780   |   803 N. Broom Street   |   Wilmington, DE  19806
Newark   |    302.318.8486 16    |   Polly Drummond Hill Road    |   Newark, DE  19711
Dover    |   302.213.3071 850    |   New Burton Road   |    Dover, DE  19904
Georgetown   |     302.217.3390   |     107 W. Market Street     |    Georgetown, DE  19947
Rehoboth Beach    |     302.260.7290   |      402 Rehoboth Avenue    |     Rehoboth Beach, DE  19971