SmartLipo®- The Quick & Permanent Solution To Unwanted Fat
|
Smartlipo is the safest, most effective, and most affordable procedure available today to sculpt bodies, tighten skin and give you the figure you desire. 
By Nadiv Shapira, MD, FACS, FACPh,
Medical Director, First State Med-Spa
What is SmartLipo?
Smartlipo Triplex® is a one-time, pain-free, mini-invasive, laser liposuction treatment. This procedure has revolutionized liposuction to become the leader in permanent fat removal. 
It's the only technology capable of both liquefying fat cells and permanently destroying them, while simultaneously tightening the skin, for much smoother results than traditional liposuction. 
How is Smartlipo Done?
Through a tiny incision about the size of a pen tip, a cannula is inserted under the skin and local anesthesia is given. A laser fiber is then inserted to deliver energy directly to the fat cells causing them to rupture, and at the same time, the under surface of the skin is regenerated and tightened. The liquefied fat is then gently removed. There is no limit to the amount of fat that can be removed in just a single procedure.
Smartlipo Triplex®: Offers Three Unique Laser Wavelengths
1064 nm: Minimizes bruising
1320 nm: Causes skin thickening and tightening
1440 nm: Disrupts fatty tissue
In the SmartLipo procedure, laser wavelengths are delivered in single or blended modes through an intelligent delivery system that enables the customization and blending of the energy levels, in order to achieve optimal patient outcomes.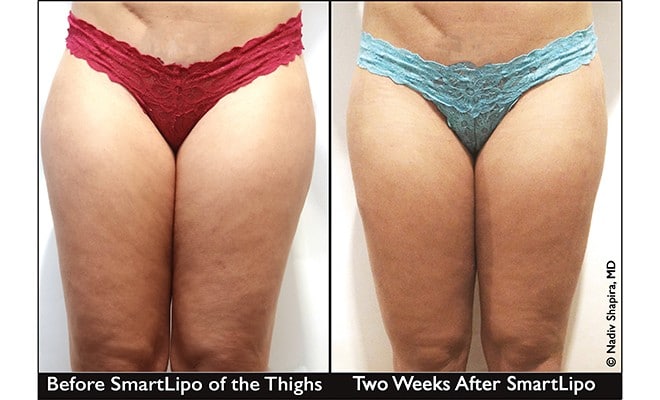 Common Treatment Sites
Abdomen
Flanks or "love handles"
Neck
Back, including "bra lines"
Thighs
Upper arms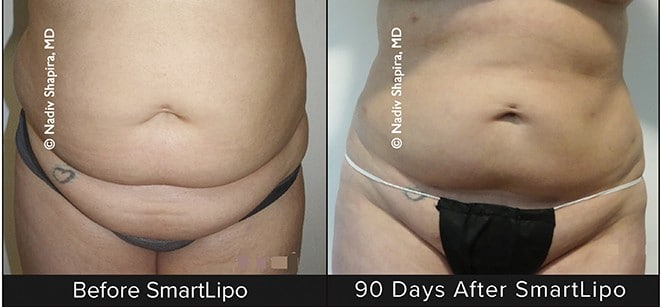 Why is Smartlipo Better than Conventional Liposuction?
Awake and Comfortable Smartlipo is done only with local anesthesia, so you are fully awake and comfortable. Traditional Liposuction requires general anesthesia.
In-Office Procedure: The Smartlipo procedure is done in our office, while traditional liposuction usually requires a hospital stay.
Very Little Downtime: You are back to your normal routine in one or two days after the Smartlipo procedure! Traditional liposuction requires much more recovery time. 
Tightens Skin Too:  Smartlipo removes fat, tightens skin, and regenerates collagen, the natural protein in our body that helps give skin strength and elasticity. Conventional liposuction often leaves behind loose skin and therefore, might require a Tummy Tuck at a later date.
Lower Cost: The investment in Smartlipo is significantly lower than traditional liposuction and tummy tuck surgery, which also includes hospital costs.
Little or No Pain: There is little or no pain involved with the Smartlipo procedure, unlike the painful healing process with traditional liposuction.
Safe: Smartlipo is less invasive and much safer than traditional liposuction.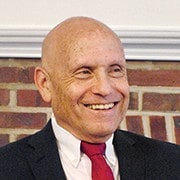 Dr. Nadiv Shapira, an expert in fat disorder disease, is one of a handful of surgeons in the U.S. that performs a specialized liposuction procedure for Lipedema. Dr. Shapira was a practicing cardiothoracic surgeon for over 20 years prior to founding First State Med-Spa.