Smart Way To Shop For An Engagement Ring 
|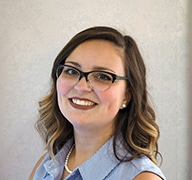 By Raigan Nickle
So, you're ready for him to pop the question. It's a decision you've both been discussing for a while and it's finally time to start shopping for an engagement ring. No pressure, but this might be the single most important purchase of your lives. It's easy to feel overwhelmed by all of the different ring options, but you can save a lot of stress by sending your beau to a jeweler with a game plan. Sit down together and go over the important details – here are our recommendations:
1. Set a budget
It's not the 1940s anymore, he doesn't have to spend two months' salary on the engagement ring – unless of course, you both decide it's financially feasible. Spend what you can and make choices to maximize your budget. When it comes to engagement rings, it's very important to have a starting budget. Engagement rings can range in price from $500 to hundreds of thousands of dollars. Without a budget, you might fall in love with a ring and realize it's three times more expensive than you expected.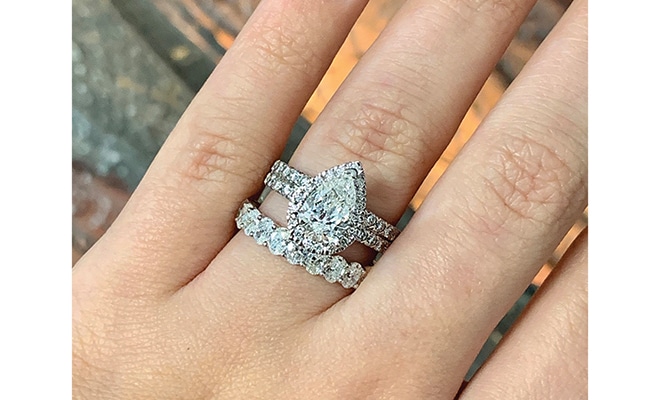 2. Choose a metal  
The next decision is easy – what color should your ring be?
Yellow gold is the classic look; it's the color most people think of when they picture gold and diamonds. White gold has seen a steady increase in popularity since the 1920s and makes diamonds pop. Rose gold is new and looks great on multiple skin tones. Platinum is known for its white-grey tone and solid heft.
This part isn't meant to be difficult – don't overthink it! The color doesn't affect the strength or shine of the ring. Just think of which color you'd like to wear the most!
3. Choose a look  
So, you've filled up your Pinterest boards and scoured Instagram for that one style that is 100% you – perfect! You might want a classic solitaire, or a halo, or something super intricate with lots of details and accent diamonds. No matter what style you like, send your beau those screenshots! Help him out and spare him from having to describe what you're looking for.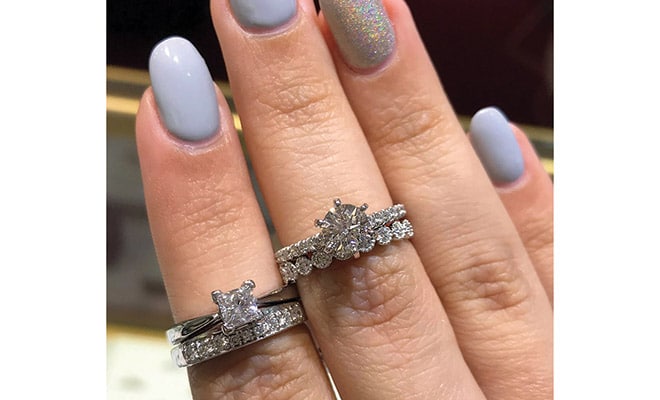 If you really want a one-of-a-kind engagement ring, consider having a custom piece made. Just remember custom pieces are made from scratch, so they'll take a little longer to manufacture.
4. Choose a diamond 
Okay, we're ready to talk about the most important part of the engagement ring – the diamond. Typically, the diamond is the last thing that will be discussed with your jeweler since it will take the most time. Here is where you decide on what is important about your diamond: the shape, the size, the clarity, and the color.
If you're not sure where to start, stop by your local jeweler and ask to learn about the 4 C's. This will give you the confidence to make an educated decision about your ideal diamond specifications before you start shopping. You can choose your diamond together or you can have him surprise you, but either way a diamond is an investment. Putting the effort into choosing the perfect stone can make all the difference.
Engagement ring shopping doesn't have to be overwhelming! Reduce some of the stress by giving yourself plenty of time to shop and by coming prepared. If your beau is shopping alone, he'll thank you for knowing exactly what you want! Your jeweler is there to make the process go smoothly and help you make smart decisions. We're always available to chat online or in-store if you have questions about popping the question. We're here to get you through the process in one piece and we'll help you through the other side – from the wedding bands and beyond!
Testimonials
"The staff is helpful and they have excellent knowledge of diamonds and all other jewelry.  I would suggest them  to anyone!"  ~ C. Lynn K.  
"I have nothing but good things to say about Sayers. My fiancé and I came in to look at engagement rings. Not only was the customer service amazing, but it was a very busy day."  ~ Amanda H.  
"Love this place! The entire staff was amazing and we have a great time every time we go in there." ~ Colleen C.  
302-653-9456
sayersjewelersandgemologists.com