Six Sustainable Happiness Skills
|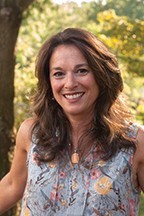 That Are Essential During Painful Transitions (and life in general)
By Regina DeAngelis, Esq.
Founder, Family Transitions Divorce Coaching & Mediation
Recent research by the University of California at Berkley has identified six sustainable happiness skills. The Greater Good Science Center at Berkley discovered that: 
"Mindfulness, human connection, positive outlook, purpose, generosity, and gratitude— can help set anyone on the path to sustainable happiness."1
This research arrived in my inbox with an email talking about how to use these "happiness skills" to help our teenagers become resilient and enable them to battle common struggles such as anxiety and depression. As I was reading it, I immediately thought of all of the adults I know who are dealing with immense anxiety and depression because they are facing a divorce or separation. The six happiness skills are, in fact, the basis of my practice as a divorce coach. The skills of mindfulness, human connection, positive outlook, purpose, generosity, and gratitude take practice, especially in times of conflict, but they are ESSENTIAL to persevering and bouncing back.  
Applying these skills to your life when you are in the midst of a divorce may seem a daunting task. I'm here to tell you that it is well worth the effort. Not only is developing these skills worth the effort, once practiced, like any skill, they become second nature and will make all aspects of your life easier. 
Even though the saying goes "whatever doesn't kill you makes you stronger," if you practice these happiness skills during your divorce, you won't only be stronger, you'll be invincible. You will have the confidence of knowing you can gracefully and successfully handle anything that life throws at you. You will have the confidence of knowing that, even though we all have hard times and tragedy, those things don't define us—they are simply part of the fabric of a bigger life. What defines you is how you RESPOND to hard times and tragedy. If you can be mindful of how you are feeling, maintain human connection, CHOOSE to have a positive outlook (this is a choice, not always a natural inclination), throw yourself into something that you feel gives you purpose, be generous to yourself and those around you, and be grateful for blessings, no matter how small, you will be defining yourself as someone who can be happy, even in the most trying of times.
One of my greatest personal satisfactions (and how I found my purpose after my own difficult divorce), is in helping people who are going through divorce develop the emotional intelligence skills they need to thrive during and after this difficult life transition. It literally brings tears to my eyes when I can see a client's attitude shift from fear and anxiety to positivity and gratitude, despite their challenging circumstances.  
If you need help, or know someone who does, please reach out! You can contact me at my website (ftdivorcecoaching.com) and via email ([email protected]), but you can also join Family Transitions' Facebook Page and closed Facebook Group. At Family Transitions on Facebook, you can get tips for remaining positive during this hard chapter, and connect with others who want to emerge into their new life stronger and better than they were before. You'll find you're not alone in choosing to develop "happiness skills" that will serve you long after your divorce is over.
1Source: The Greater Good Science Center at UC Berkeley The Greater Good Science Center at UC Berkeley studies the psychology, sociology, and neuroscience of well-being and teaches skills that foster a thriving, resilient, and compassionate society.
Regina DeAngelis was born and raised in Wilmington, Delaware. She is a graduate of Archmere Academy, George Washington University, and Widener University School of Law. After practicing family law for seventeen years, she could no longer ignore the toxic effects the divorce process had on all the parties involved, and transformed her practice from traditional family law to divorce coaching and mediation. In this capacity, she coaches clients through the divorce process, helping them to take control of their circumstances while lessening the adversarial nature of traditional divorce.  With her practice "Family Transitions Divorce Coaching & Mediation," she focuses on bringing positivity and hope to those going through the difficult transition of divorce.
Find Family Transitions on the web at FTDivorceCoaching.com, on Facebook at Family Transitions, or give Regina a call at 302-438-7734.