Seniors Stay Active With Adult Day Program
|
By Natalie Scott
When her twin sister passed away, Sylvia Davis felt lost and lonely; it was a tough adjustment. The pair were very active sharing their gift of music with their community. Her younger sister, Deborah Cooke, recognized Sylvia's need to remain active in the community and found Easterseals Adult Day Health Services. Not only does the program keep Sylvia engaged and social, but it provides Deborah with a much-needed break from caregiving.
"I wanted Sylvia to have something during the day to keep her busy. Easterseals Adult Day Program offers a lot of activities. I knew Sylvia would be interested in the activities and making friends in the program," Deborah says. "I feel very secure with her in the program and trust the staff who are all friendly. I never have to worry about her care. She is receiving the best care at Easterseals."
While Sylvia is enjoying activities like exercising, socializing, bingo, art projects and seminars, Deborah is able run errands and enjoy lunch with a friend. Caregiving is rewarding, but can be an exhausting job, especially when the caregiver does not get time to recharge. The Adult Day Program gives caregivers the opportunity to rejuvenate while their loved one is enjoying program activities.
"The Day Program means the world to me. It gives me the time to have a life of my own outside of caregiving. And Sylvia loves Easterseals," Deborah says.
A full-time nurse provides medical support including monitoring of blood pressure and blood sugar, coordinating with physician offices, and arranging appointments. The nurse acts as a liaison between participant families, case managers, and other health care providers. If needed, physical, occupational, and speech therapies also are available on site through Easterseals, and can be added to the individual's personal care plan. In addition, trained staff are able to help all participants with activities of daily living and personal needs.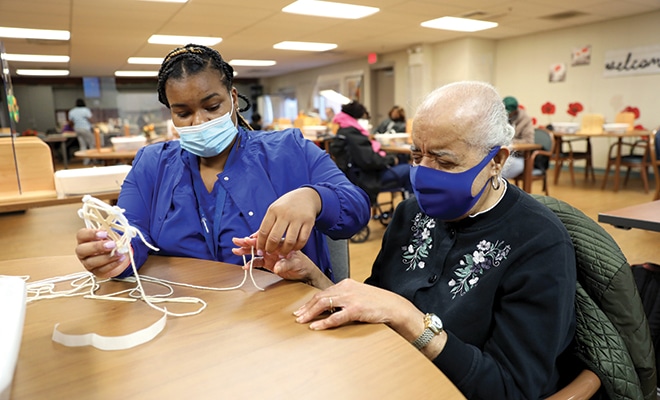 Deborah has also taken advantage of the many resources Easterseals Community Outreach Program offers caregivers to keep them connected.
"I appreciate the caregiver support groups and Caregiver Conference because it gives me a sense of camaraderie. As a caregiver, you think you are doing this by yourself, but with the support group you know you are not. They offer tips to help with different disabilities. It is nice to have friends who understand," Deborah says. "There is a big difference between being a caregiver and reading about it."
Like all Easterseals services, adult day care services are comprehensive and individualized to meet each client's needs, family-focused to meet each family member's concerns, and have the goal of enhanced independence. The Adult Day Care Program offers a break for family caregivers responsible for a relative who is unable to function independently, but does not require 24-hour nursing care.  For more information about Easterseals Adult Day Care Services contact us at 302-324-4444 or [email protected].  
Easterseals Kent County center is located at 100 Enterprise Place, Suite 1, Dover, DE 19904
Easterseals in New Castle County is located at 61 Corporate Circle, New Castle, DE 19720
Please visit our website and see all of our services for people of all ages and abilities: www.de.easterseals.com