Real-life Learning
|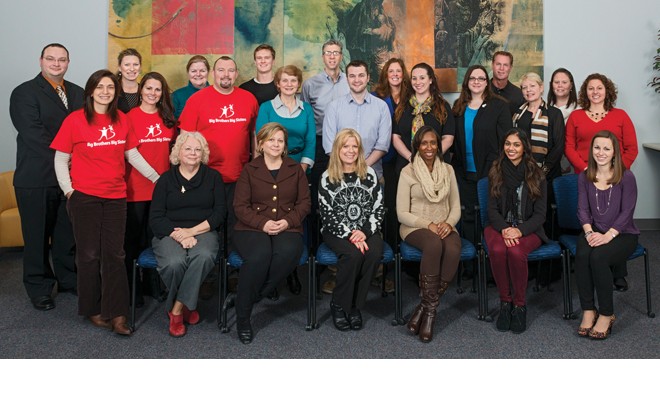 Social Media Graduates
By Nora Riehl Zelluk, web and communications manager for
Professional and Continuing Studies at the University of Delaware.
All of us learn better by doing. This principle prompted the instructors in the University of Delaware's Social Media Marketing Strategy Certificate to include a real life consulting project for an area nonprofit into the program.
The first time the certificate was offered, participants teamed up with Big Brothers Big Sisters of Delaware to fine-tune the organization's social media communication strategy. Since then, consulting projects have also been completed with Bellevue Community Center in Wilmington, and the dropout prevention program Communities In Schools of Delaware.
With its focus on how to develop a social media marketing campaign and improve an organization's social media presence, the program attracts a variety of professionals from the region. "For the students, the opportunity to work with a client is always a highlight," said Meredith Chapman, UD's director of digital communications, who serves as the program director and primary instructor.
"Working hands-on with Big Brothers Big Sisters of Delaware was a really great experience," commented Christine E. Serio, one of the first graduates of the UD certificate program and an external communications specialist for Blood Bank of Delmarva. "Not only did we get a chance to delve more deeply into such an important organization, but it was great to put into practice what we were learning. It's one thing to learn theories, strategies and techniques and apply them to hypothetical situations, but
it is much more beneficial to be working on an actual, real-life situation," added Serio.
"We were looking to better utilize social media to help us meet our two primary goals of recruiting volunteer mentors and raising much-needed funds," explained Mary Fox, executive director of Big Brothers Big Sisters of Delaware. "The members of the class really understood this and their proposals were all directly tied to these objectives."
"The proposals included very solid takeaways, some that could be easily implemented right away and others that could be effectively worked into a longer-range social media strategy plan. We received hours of professional consultation services that will really benefit our organization – what a valuable experience!" added Fox.
Offered by the University of Delaware's Division of Professional and Continuing Studies, the certificate program is seeking to partner with another nonprofit organization, willing to discuss its goals and business strategies with the program
participants, and at a developing stage in their social media presence.
For details, please contact Meredith Chapman at [email protected]
1-866-820-0238
For more information about the Social Media Marketing Strategy Certificate starting in February,
visit www.pcs.udel.edu/socialmedia, call 302-831-7600 or write to [email protected]