People In Profile June/July 2013
|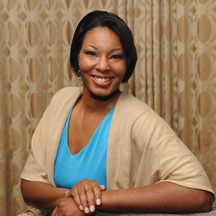 Christine Jenkins
Christine Jenkins, is passionate about selling and making people happy, which is why she is so suited to the hospitality profession.  Christine is a 2003 graduate of the University of  Delaware, where she was recruited to play basketball and was co-captain her senior year.  She helped her team achieve significant success winning the America East Conference Championship in 2001.
She graduated from UD with a Sociology Degree in 2003, but her involvement with the University didn't stop there.  She continues to volunteer with the Black Alumni Organization, UD Leadership Program and assists with Career Services for Athletes.
Christine found her way to the Hospitality Industry in 2007 where she helped to open a hotel in Glen Mills, PA. This experience led her to her next position ramping up another newly opened hotel in Newark, DE.  She received a regional sales award from Intercontinental Hotel Group for her successes there. In October of  2011, she joined the opening team of the Sheraton Wilmington South Hotel in New Castle, DE and is currently responsible for the Hotel's corporate account business. She is also a member of the Sheraton's newly assembled Community Outreach Committee that looks for ways the hotel staff can volunteer where the need is great. She also spends time working with Exceptional Care for Children and Delaware Food Bank.
When the Sheraton lets her go home, Christine will be spending time with her family including her dog Rocky (as in Balboa) which she and her husband adopted from the P.A.W.S. organization.  Christine also loves movies of all kinds, traveling to warm locations and singing Karaoke at the Sheraton Wilmington South's Happy Hours on Thursday nights (no, she's not ready to audition for American Idol).  Christine can be reached at christine.jenkins @sheratonwilmingtonsouth.com.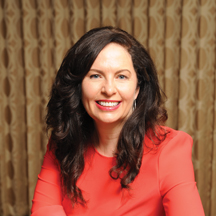 Elizabeth Douglass
Shop With Elizabeth is a business based on the belief that your unique style and shopping needs are of the utmost importance not just to how you look, but how you feel. Sole owner and operator — Elizabeth Douglass — is committed to meeting those needs however is best for you. Whether you need an outfit for an important event, a total closet and wardrobe makeover or just an hour or two of strategic style and shopping help, her goal is to help you comfortably and affordably change your look. And according to many of her clients, changing their looks has changed their lives.
Elizabeth got her start shopping and styling for others in 2006 when her then manager at a major global company asked her to take her daughter shopping. Her daughter was making the transition from a small Midwestern town to high school in a major East Coast city suburb. Despite not knowing the girl and being terrified of disappointing her boss, Elizabeth ran with the chance to make a lovely young woman feel good about herself and her new place in a new  world. The results were immediate. Outside one dressing room a young man talking to his girlfriend pointed to her and said: "Why can't you look like that?" And the next day in a hotel elevator wearing one of her new outfits, complete strangers told her how amazing she looked.
For several years then, Elizabeth volunteered her shopping and styling skills to a wide variety of women (and some men too) for free. Everyone she voluntarily worked with urged her to build a business and in 2012, she finally listened to them and began Shop With Elizabeth.
She currently provides services in Delaware, Southern and Central New Jersey and the Greater Philadelphia area. Shopping with Elizabeth always starts with a free phone or in-person consultation — with absolutely no obligation after that to use her services.
Contact Elizabeth at [email protected] and check out her client testimonials at http://shopwithelizabeth.vpweb.com/Testimonials.html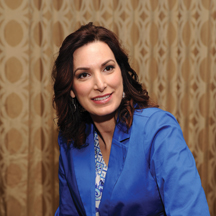 Erica Suppa
Erica Suppa is the owner of Fresh Faced Skin Care and a cancer research scientist at the University of Pennsylvania. Erica holds a Bachelor of Science degree from the University of Delaware and Master's education from Drexel University. She has worked in the healthcare industry for more than a decade.
As an esthetician, Erica specializes in advanced facial treatments and results-driven chemical peels that address the top three skin care issues for both men and women: acne, pigmentation and wrinkles. She offers a unique approach to skin care by utilizing her scientific knowledge of skin care ingredients and how they interact with the skin to achieve phenomenal, lasting results her clients have been searching for.
Clients at Erica's studios in both Wilmington and Historic New Castle, DE receive free consultations to determine the best customized treatment plan for keeping their skin healthy. Each client receives private, individual attention with Erica. She uses unique, professional products clinically proven to deliver gentle, yet highly effective results.
Erica is also involved in a groundbreaking study at UPENN focused on the treatment of leukemia through cellular therapy. Patients enrolled in the study receive genetically engineered versions of their own T cells. The procedure turns the body's own immune cells into weapons against cancerous tumors. So far, results have exceeded expectations.
Erica is a member of the Associated Skin Care Professionals and enjoys traveling to skin care conferences and seminars to learn about the latest in skin care and equipment. She prides herself in researching every aspect of her business in order to provide the best skin care treatments in Delaware. Erica is a native Delawarean, growing up in Bear, DE. She now resides in New Castle, DE with her husband, Carl and son, Andrew.
For an appointment or for additional information, call 302.689.3223 or visit www.freshfacedskincare.com.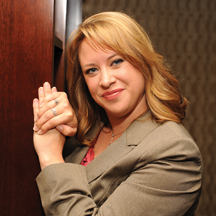 Heather A. Long
Heather A. Long is an Associate in the Newark office of Kimmel, Carter, Roman & Peltz, P.A., a Delaware personal injury and workers' compensation firm. Licensed since 2005, Ms. Long's practice is focused on assisting plaintiffs with workers' compensation, personal injury, nursing home negligence, medical malpractice, and premises liability claims.
Ms. Long has a proven track record of attaining favorable results for clients injured as a result of an accident or while on the job. Before she began representing injured plaintiffs, Ms. Long practiced personal injury defense for three years. Because of this experience, she understands how to negotiate with the companies you are up against. She will work diligently to get you the compensation you deserve. Additionally, Ms. Long is a former paramedic, an experience that gives her an edge when handling your injury claims. She knows what questions to ask your doctors, understands medical jargon, and can enter into negotiations armed with the information required to obtain the largest settlement possible for you. Ms. Long is also skilled in the courtroom and has experience arguing before a judge and in front of a jury.
Ms. Long received her B.F.A. with distinction from the University of Nebraska-Lincoln and her J.D. from Widener University School of Law. She is admitted to practice law in Delaware, the U.S. District Court for the District of Delaware, Pennsylvania, the U.S. Virgin Islands, New Jersey, and the U.S. District Court for the District of New Jersey. She is a member of the Delaware State Bar Association, Pennsylvania Bar Association, U.S. Virgin Islands Bar Association, the Delaware Trial Lawyers Association, Workers Injury Law Advocacy Group, and Women in the Law. Ms. Long is also an active Coach and Judge in the Delaware High School Mock Trial Program, and coaches the Salesianum Mock Trial Team.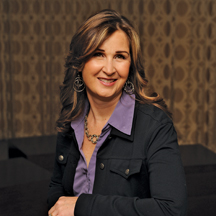 Melisa Ferriola
Melisa Ferriola began her career in make-up at the Pennsylvania State University where she earned her Bachelor of Arts Degree in Quantitative Business Analysis with an additional emphasis in theatre. Melisa studied and applied stage and special effects make-up for the university theatre company.
In 2006, after a 20-year corporate career in the Delaware banking industry, Melisa switched careers to pursue her life-long interest in makeup and beauty by opening Lasting Looks – a permanent cosmetics studio, lash bar and day spa located in Hockessin, Delaware.  The Lasting Looks mission starts with the desire to empower women to take charge of their appearance and to put their best image forward.  As owner and operator, Melisa personally ensures that every client receives private, exclusive care.  Her artistic skills and attention to detail show through in every service she provides.
Melisa also teaches classes in eyelash extension application privately and at area cosmetology schools, where she is frequently a guest lecturer encouraging young people in their pursuit of success in the beauty industry and the importance of empowering women to look and be their best.
Melisa is a licensed Aesthetician and Certified Permanent Cosmetic Artist.  Melisa resides in Newark, DE, with her husband and children.  She enjoys Piedmont Baseball and Softball, Girl Scouting with her daughter and a really good book. In addition to supporting numerous local charities, Melisa is a proud sponsor of this year's Miss Hockessin Pageant; sits on the Board of the Crazy Catwalk with J. Christian Studio, raising money and awareness for Supporting Kidds Center for Grieving Children and their Families; and co-sponsors the Women In Networking group offered through the New Castle County Chamber of Commerce.
Visit Lasting Looks online at www.lastinglooksforyou.com, on Facebook for tips and specials or in person at Hockessin Corners next to the Back Burner Restaurant and Jennifer's Bridal.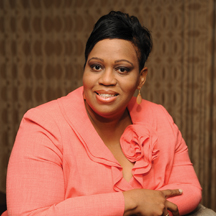 Tamme Hackett
Finding solutions for seniors is what Tamme Hackett does best.  In her current role as Community Relations Director at Foulk Manor South of Five Star Senior Living, Tamme dedicates each day to customizing viable senior living options for seniors.  In the sometimes daunting and overwhelming task of choosing a senior living community, Tamme's ability to connect with families and truly understand their needs has made her success at Foulk Manor South.
"I started my career journey in senior living 6 years ago and I haven't looked back," says Tamme who came from previous background in financial and mortgage sales.  "Helping seniors to transition into their new homes and playing such an integral role in their final decision to except and embrace an entirely new lifestyle is very rewarding work".    Tamme is passionate about being a resource for seniors and their families; many of whom are often are thrusted into the world of nursing care through an unanticipated health concern or a sudden inability to safely remain in their homes.  Throughout the year, Tamme is an invited speaker at seminars where she talks about a variety of topics ranging from "The Importance of Planning Ahead for Long-term Care" to "What to Ask About and Look For During Every Senior Living Tour."
Striving to go even further into the interworking of her industry, Tamme has recently obtained a State of Delaware Nursing Home Administrators Licensing.  "I am ecstatic about obtaining this licensing," she said.   "With the ever constant changes and evolution in Senior Living and Rehabilitation Nursing Care, I now desire to play an even greater role in the operational side of my field to assure that we are striving to be innovative in offering seniors quality services and meaningful experiences – this license gives me more leverage to do just that."
In her free time, Tamme enjoys spending family time with her husband Anthony and her two daughters Londyn and Milan.  Tamme's girls have grown up enjoying being a part of the quaint and family friendly atmosphere for which Foulk Manor South is best known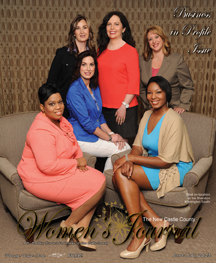 On The Cover… A special thank you to Sheraton Suites South for graciously allowing us to use their beautiful Presidential Suite for our Women In Profile photo shoot.  This was one of the best shoots I have done in years.  Having the use of this spacious suite where everything from hair and makeup, to the final shoot was able to be completed in one location was wonderful.
Hair and makeup were provided by J. Christian Hair Salon an award-winning, upscale salon located at 7465 Lancaster Pike, Hockessin, DE  19707; for more information call 302-325-2306. We can't thank J. and his crew enough.
Our Business In Profile for DE County was shot on location at the lovely Q Salon and Spa located at 110 Wilmington West Chester Pike, Chadds Ford, PA 19317, 610-358-6088. Thank you to Kim Trac and her crew for providing our location and also the hair and makeup for our DE County Shoot.
Roy McDowell of Royal Photography provided all photography work.  Royal Photography is located at 3646 Silverside Rd., Wilmington, DE  19810, for more information call 302-478-1809.
Without all of these wonderful people none of our photo shoots would be possible.  Thank you for your hard work and dedication.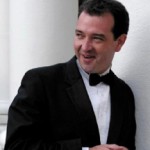 Roy McDowell
Royal Photography's owner, Roy McDowell, brings a wealth of experience, both creative and business, along with an unmatched ability to put people at ease, to every occasion he photographs.Over the past 18 years, Roy McDowell has captured "that" moment for more than 300 brides and grooms and preserved high school memories too numerous to count. Such exposure has led Roy to become one of the most recognizable photographers in Delaware. He creates a lasting impression, not only of an event, but of himself. The pride, precision, and passion he exudes has compelled brides-to-be to track down, "the photographer who took their senior portrait years before". Roy exhibits this same commitment and customer service when working with the many schools and businesses with whom he's managed contracts. "The consumer drives the product I provide; not the other way around". With the help and support of family, friends, and business associates, Roy McDowell strives to achieve his goal of providing an unforgettable experience with superior photographs, exceptional customer focus, and lasting relationships.
Roy McDowell
Owner of Royal Photography
302 438 1308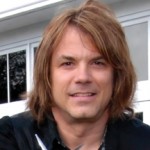 J. Christian
J. Christian is a Master Artist with more than 30 years experience in the beauty industry. Together with his wife Marcy, they own and operate J. Christian Studio, an upscale salon located in Hockessin, DE.  As an International Platform Artist and Master Educator for Sexy Hair Concepts, J. Christian travels here and abroad teaching other Stylists about hair fashion. He regularly teaches at the Institute of Courage, a hair academy established by Michael O'Rourke, founder of Sexy Hair Concepts located in the Topanga Canyon just outside Los Angeles as well as at the Paul Mitchell School in Delaware.
J. Christian, Owner of J. Christian Studio
7465 Lancaster Pike,
Hockessin, DE
302 235 2306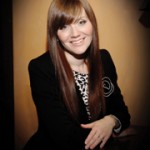 Leisa helped with the makeup for our photo shoot for the Women In Profile, and our attendees couldn't stop talking about what a great job she did.  Thank you Leisa!  This shoot was shot on location at the Sheraton South.  Leisa, as you will see on page 52, is a professional makeup artist that donated her materials and time to help make our women in profile look their very best.  Thank you Leisa for all your help.