Pathways To Success Profile
|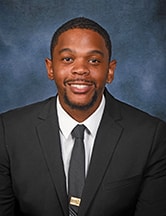 Jeremy Robinson, Pathways To Success 
Program Coordinator, Polytech High School
Jeremy Robinson was born in Seaford, Delaware and raised in Dover, Delaware. He's currently back living in the Seaford area. Prior to joining the Pathways to Success team, he served youth at the Western Sussex Boys & Girls Club and Children & Family First for more than 10 years. He is now the Pathways to Success Program Coordinator at Poly Tech High School.
When asked what he likes about his job, Mr. Robinson said: "I feel like I'm making a difference in the lives of the Pathways to Success youth. It takes time to develop trust, but once they know you are truly there to help them, they blossom and succeed."   
He delivers the consistent, authentic, respectful, empowerment (C.A.R.E.) model that the Pathways to Success program is based upon.
He is looking forward to the 2024 school year by growing the program at PolyTech by supporting more students and raising awareness about Pathways with Kent County residents and businesses. 
Mr. Robinson has a beautiful fiancé along with two lovely kids, ages five and two. He takes pride in being a family man and taking care of his responsibilities. Mr. Robinson loves sports, especially the Baltimore Ravens. He enjoys working out and values staying fit. He wouldn't mind becoming a trainer one day for youth.
For more information about Pathways to Success, go to www.pathways-2-success.org or call Sarah Gilmour at 302-381-1494.
302-858-4861