Easterseals Camp Fairlee Fun for All
|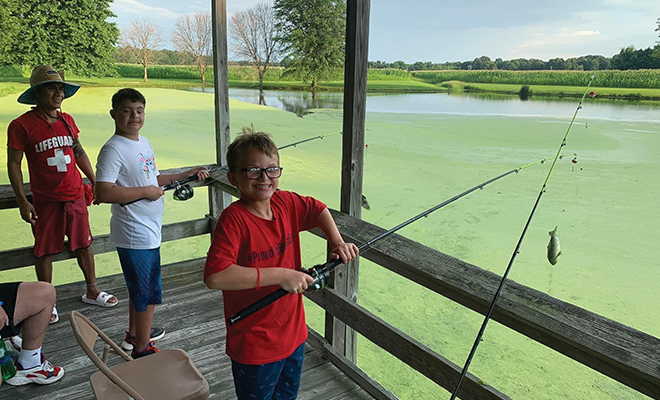 By Natalie Scott
For the Shuler family, Easterseals Camp Fairlee means something different to them all. To 34-year-old, Ryan, a week-long stay at Camp has been a tradition for 26 years. For his fifteen-year-old, twin brothers, Austin and Elijah, experiencing Camp Fairlee for the first time meant adventure and independence. For their parents, Kim and James, Camp Fairlee means respite and a chance to rejuvenate.
"Camp Fairlee gives us a break. We are able to re-energize so we are better when they come back from camp," Kim says. "This year we were able to go on day trips and get things done around the house we couldn't do with them here."
While his parents enjoyed respite, Elijah had his sights on other things, like good food. "The food and the activities were good. I liked fishing but not as much as the pool. Camp helped me to become more independent," Elijah says. "I had a great counselor. The cabins were very cozy. The zip line was cool. I did it twice!"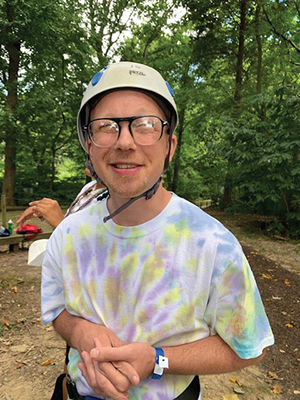 Easterseals Camp Fairlee is an unforgettable experience for people of all ages with disabilities. During a typical summer camp session, campers enjoy activities including horseback riding, walking nature trails, zip lining, swimming, canoeing, kayaking, arts & crafts, fishing and so much more. The boys, who have autism, enjoyed Camp's many activities, especially fishing since Elijah caught a really big fish.
"I loved the pool. I passed the swim test on the first try. I loved the sitting area where I was able to read my books. The slip and slide and canoeing were my favorites," Austin says. "I made a friend and we played basketball together. Camping has helped me to become more resourceful. It has helped me to be more prepared and organized."
Ryan, who loves telling everyone about Camp Fairlee and his experiences there, enjoys trying new things at camp like the rock wall and zip line. He also felt that camp helped him to become more independent. He enjoys meeting new friends and singing karaoke. "I had great staff and can't wait to go back to camp to spend time with my friends."
While campers rely on Camp Fairlee for adventure and independence in a nurturing and supportive environment,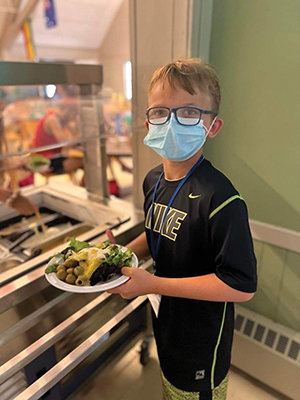 parents/caregivers who need respite care depend on Camp Fairlee for high quality, professional services. Each year camp counselors receive intensive training to ensure the health, safety and well-being of the campers.
"If you have a child with a disability, it is a wonderful experience. It is two-fold, they can meet new friends and get to do things they can't at home and parents get to regenerate and prepare for when they come home," Kim says. "The boys loved camp so much they were upset to leave and can't wait to go back next year."
Give your loved one an unforgettable experience and take a break from caregiving by taking advantage of Camp Fairlee's week-long-summer-camp experiences. Learn more about Camp Fairlee, which provides a typical residential camp experience for children and adults with disabilities, at www.CampFairlee.com or by calling 410-778-0566. 
Along with Camp Fairlee, Easterseals offers a range of services. Please visit their website to learn more about our services for people of all ages and abilities www.de.easterseals.com.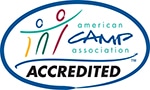 22242 Bay Shore Road, Chestertown, MD