Passion, Resilience, Family & Hard Work
|
-Lessons From The Old Country –
By Dina Vendetti
From Chamber Connections  Member News
"My father was ridiculously humble. He'd rather linger in the back of the room than be in the spotlight," remarked Wendy Pizzadili. "He was just a good man." "Pop was filled with passion," commented Kristin Garramone, "he never stopped teaching and learning." Born in Italy, Giovan Pietro "Pete" Pizzadili (1940) and Giuseppe "Pop" Garramone (1938) came to the United States in search of a better life. They met with challenge after challenge, learned all they could, and brought much to Central Delaware. They each lived out an amazing chapter of the American dream. As their earthly lives came to an end this past year, just months after Pete and his wife, Jean, celebrated their 50th wedding anniversary and Giuseppe marked his 82nd birthday, they left behind rich and powerful legacies that will live on.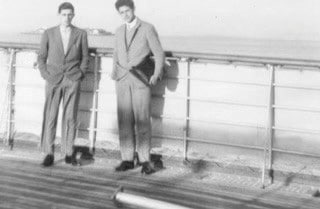 After World War II, Italy was left in ruins. The country's economy had collapsed. The land was filled with occupying forces. The government was in flux. The future was uncertain. A life once rich in tradition and celebration became hard and mundane. Many dreamed of a better life far away from the boot-shaped peninsula.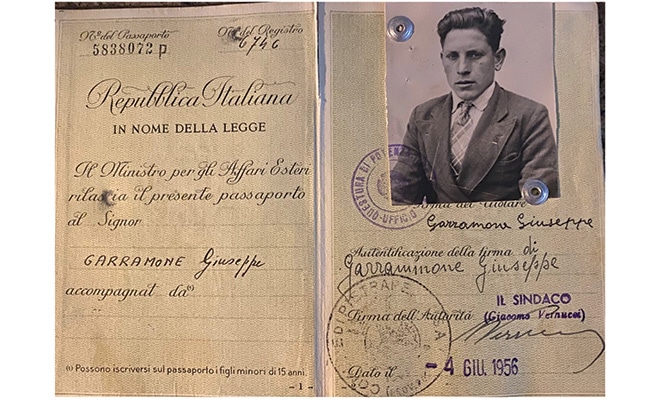 Originating from Pietrapertosa, a small village in south-central Italy, Giuseppe Garramone, a teenage Italian contadino (farmer), scraped and saved his money for two years to purchase passage to America. At age 18, he boarded a ship in the port of Naples bound for New York City. Upon arrival in the Big Apple, he was transported inland and "dumped off on the street" with $8.25 in his pocket.  
Pete Pizzadili came to the United States at age 16 with his parents and siblings. The family lived in Talla, Italy, a beautiful town in Tuscany, just 20 minutes from Florence. His father's brothers had immigrated after earning their American citizenship by working on the Panama Canal. They settled in Felton, Delaware, where they owned a chicken farm. Knowing that immigration was easier if the person arriving in the country had a sponsor and a job, they opened a deli so that Pete's dad would have a place to work. The family sailed aboard the infamous S.S. Andrea Doria, a ship that, on its return voyage, sank. "I knew I was destined to be here," Pete often said with a chuckle. 
Garramone went to work honing his culinary skills by watching and working with some of New York's professional chefs and cooking throughout the city's boroughs. His passion for food preparation and service that he'd originally learned from his mother, grew as he overcame many hurdles in the school of life. Knowing the $8.25 was not going to earn him the American dream, he worked hard making and saving his money. He also learned to speak English, a necessity for success in his new home country. With limited formal education opportunities and no computer skills, he found that mentorship under other professionals took him beyond education. He was known to point to his head and say, "My brain is my computer!"  
With a great propensity for learning languages, speaking 7 fluently, Pete Pizzadili joined the Army, trained in California, and was sent to Germany to use his skills in Special Forces. He earned two degrees in Business, one at Wesley College and the other at Delaware State University. Pete, too, developed an interest in food service in his early years. At the age of 12, during the war, he begged a local restauranteur for a job waiting tables. After much convincing, he was given two tables in the establishment. His grandmother made him a white shirt fashioned from a bed sheet and he went to work learning everything he could about the business, eventually working his way up to 12 tables!  
After his years in New York, Garramone, sometimes described as "a force to be reckoned with," received a job offer from a pizzeria in Newark, Delaware, where he continued learning and saving his money. He came to Dover and obtained his restaurant license in 1972. In 1973, Roma was opened as a pizzeria, housed in the center room of today's restaurant. Garramone insisted on Italian authenticity. He taught diners in Central Delaware about the use and the taste of figs, avocados, home-made sauces, and seasoned oil. He made wine and loved to share a glass of good Italian grappa with his patrons.  
With his finger always on the pulse of the community, Garramone was motivated by a need for an upscale Italian Restaurant. Roma was transformed into a white linen, special occasion destination. The footprint of the eatery was expanded first to the North with the Fontana di Teresa Dining Room, named after his mother, and then, to the South with the addition of the Sul Tempo ("Right on Time") Cocktail Lounge. Roma Italian Restaurant and Sul Tempo Cocktail Lounge was named the CDCC's 2018 Small Business of the Year. 
Pete and his brother, Tony, eventually bought the deli and began to branch out into catering. Pete also opened his iconic "Pete's Stand" at the Delaware State Fair. The stand, which began by offering fresh tomatoes and fresh dough, was in operation for 60 years! People flocked to the stand year after year – a visit to Pete's became part of their summer tradition.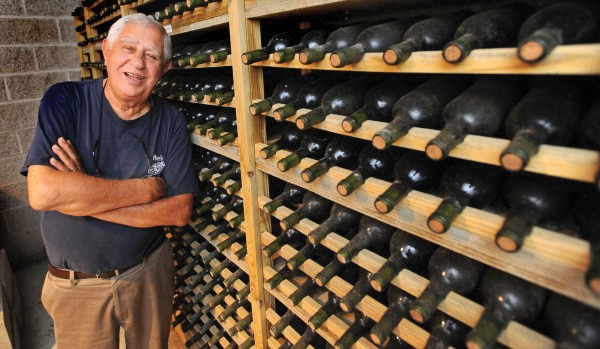 Eventually, to honor their father, a vineyard owner and winemaker in the Old Country, the Pizzadili brothers opened Pizzadili Vineyard & Winery. This was the fulfillment of their father's dream for his sons and the epitome of one of the life lessons he taught to his children. "My father taught me that family always comes first," remembered Wendy. Pizzadili's Deli, Catering, & Winery was named the CDCC's Small Business of the Year in 2017. 
Both Pete and "Pop" were grateful and passionate about living in America. Garramone called America "God's country," and lived out his gratitude by raising animals on a small farm. He was known to raise goats, lambs, ostrich, buffalo, and pigs. There is even a family story about a trip he once made to Maryland to bring back an emu in a cage he had fashioned in the back of his truck. Pete's way of showing his patriotism was to talk about his love for this country. When he was introduced, people would often remark "Oh, you must be Italian." His response was always the same: "I am an American!"  
At the passing of these two remarkable entrepreneurs, one can't help but think about the lessons they taught and the legacy they left behind. Pete learned that "hard work pays off" from his father. "He wanted to be just like him and taught us the same thing," daughter Wendy commented. "Work hard so that you can preserve your family." Kristin Garramone, daughter-in-law, remembered a similar lesson from "Pop." "The harder you work, the harder everyone sees that you work – their perception is your reality." Pete taught his children the importance of appreciating all that America has to offer. Giuseppe shared lessons about being prepared for the inevitable "rainy day."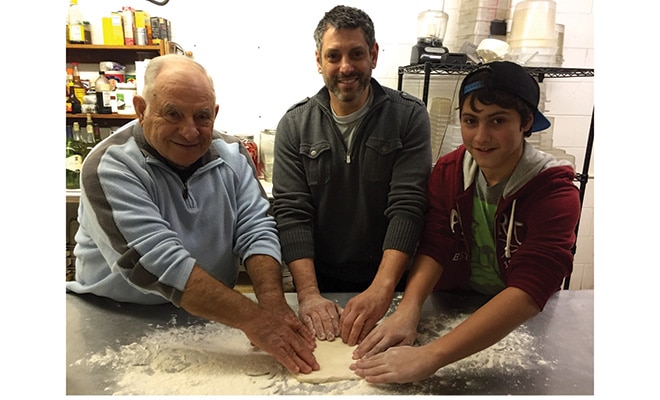 Both legacies are built on the foundation of hard work and doing things the right way. "He taught Joey and me to always do things right, even down to how you tie your apron string," Kristin shared. Garramone himself said it this way: "You're only as good as your last meal." The Pizzadili legacy is filled with hard work, putting family first, and strong patriotism to the country that has provided so much. Garramone will be remembered for building his own brand, for his mentorship, and his recipes, which will be passed down from generation to generation and strictly kept in the family.  
In reflecting on the lives of these two ingenious, courageous men, President John F. Kennedy's words ring true. "Everywhere, immigrants have enriched and strengthened the fabric of American life." The fingerprints they left on Central Delaware will remain as we remember their impact and learn to live by the lessons they taught about passion, resilience, family, and hard work. Pete's deli, vineyard, and winery will continue as his daughters, Angela and Wendy, take over the helm and add their special touches. Giuseppe turned the leadership of Roma over in 1999 to the capable hands of his son, Joe.  Joe and, daughter-in-law Kristin will continue to add their own twist to the lifelong traditions their father began. As for the legacy, Pete and Giuseppe left that to every one of us – to learn from, to tend, and to continue. And one day, their legacy will become part of ours and we will pass it on to those who come next.