Palpitations
|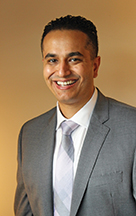 By John D. Shenouda, M.D., F.A.C.C.
We have all felt a sudden "extra beat" or our heart skipping. Most of the time we ignore it and move on with our day until it becomes more frequent or is associated with other symptoms. In fact, palpitations come in many different shapes and forms and are one of the most common reasons why a person seeks medical consultation with their primary care doctor or seeks consultation from a cardiologist. 
Palpitations may be a sign of fast heartbeats or slow heartbeats. People most often state that they experience palpitations as "extra beats," fluttering, or just an unpleasant feeling. These palpitations can be felt in the chest, in the neck, in the throat or sometimes even as pulsations in the head. 
Whenever we consider palpitations, we are talking about electrical issues concerning the heart. These electrical issues can originate in the top chambers of the heart or the bottom chambers of the heart. The location of where the palpitations come from along with the frequency of the palpitations will often help the cardiologist decide what kind of workup is needed. Palpitations can often be benign and part of normal cardiac conduction. One of the common things that we look for is atrial fibrillation or atrial flutter which most people know through TV commercials. The reason why we look for this is because these rhythms can cause blood clots in the top chamber of the heart. These blood clots can then go to the brain or other organs in the body and cause significant damage. That is why when we find these rhythms, and we often recommend blood thinners. Blood thinners are not recommended in every patient but will depend on a person's risk for developing a stroke.
You may be asking yourself, "when should I seek medical attention for palpitations?" It is always a good idea to start with your primary care doctor and mention any palpitations that are being experienced. This includes the frequency, strength, and duration of the episodes.
Not all palpitations are serious and that is the first important fact to understand. Premature atrial contractions or premature ventricular contractions are quite common. This happens without us feeling it throughout the day. This can even happen tens or hundreds of times without this having an impact on our hearts. Other palpitations that are sustained or feel like prolonged fluttering, along with an elevated heart rate above a hundred beats per minute, can sometimes be indicative of other underlying electrical heart problems.
These heart problems can range from primary electrical problems involving the heart to other structural heart problems that may cause electrical problems of the heart. Other issues that can cause palpitations include infections, thyroid issues, psychiatric disorders, drug use issues, coronary artery disease and sometimes congenital heart issues that people are born with.
Whenever somebody comes to the cardiology office, we always start with a similar work up. The first step is an in-depth history which includes a complete medical history, surgical history, social history, dietary intake, supplements, and overall functional capacity. While the patient is in the office, we will often do a 12 lead EKG which will help us understand if there's underlying abnormalities in the patient's resting EKG. 
After the office visit, we will get blood work to assess kidney function, electrolytes, blood count and thyroid issues. In addition, we will often do an echocardiogram of the heart to assess the overall structure of the heart. 
Lastly, we will do a monitor that can range anywhere from 24 hours to several weeks in order to catch this specific cause of the palpitations. The monitor that we give is often accompanied by a diary that is used to document the exact symptoms that are felt. Depending on the person's history and their symptoms we may also do a stress test or a CT scan of the heart arteries and chambers.
In summary, whenever some-one experiences palpitations that they are not used to, it is important to start with your primary care doctor and seek consultation with a cardiologist if there are concerning associated symptoms. 
Bio
Dr. Shenouda has been a member of Cardiology Physicians since June 2020. Dr. Shenouda obtained a bachelor's of science degree, Summa Cum Laude, from the New York Institute of technology in Long Island, New York. He then went on to do medical school at the University of Buffalo in Western New York. Upon completion of medical school, he did his residency, cardiovascular fellowship along with his structural heart and interventional fellowship at NYU Winthrop Hospital in Long Island.  
Dr. Shenouda is board certified in internal medicine, cardiovascular disease, echocardiography, vascular imaging, nuclear cardiology, and interventional cardiology.
Cardiogoly Physicians P.A.
Abby Medical Center     302-366-8600     One Centurian Drive, Suite 200, Newark, De 19713
Foulkstone Plaza     1401 Foulk Road, Suite 201, Wilmington, De 19803
For diagnostic scheduling please call 99 Heart (43278)
WWW.CARDIOCPPA.COM