Morris James LLP Welcomes New Personal Injury Attorney
|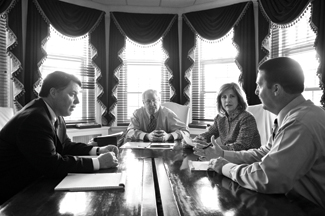 Partners (left to right): Kevin Healy, Pete Jones, Susan D'Alonzo Ament, Keith Donovan
The Morris James Personal Injury Group welcomes a new associate attorney, Michael G. Owen, to assist us with plaintiffs' personal injury cases, including automobile accidents and workmen's compensation.   Mike has experience representing injured victims before the Industrial Accident Board and in auto cases with another local firm, and he has spent several years doing insurance defense work for Liberty Mutual.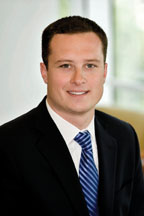 Mike indicates that what he likes best about plaintiffs' personal injury work is the ability to work on a variety of issues, overcoming the daily challenges associated with civil litigation, and the opportunity to help individuals that have been harmed and seriously injured.
He enjoys deep sea fishing, running, boating on the Chesapeake Bay and rooting for all of Philadelphia's professional sports teams including the Eagles, Phillies, Flyers and Sixers.
His philosophy about representing clients is to treat each client as an individual with their own issues and objectives rather than as a "case."  His goal is to listen to each client, understand their problems and expectations, and then provide the appropriate choices and options to facilitate the best possible resolution for each individual client.
Our entire Personal Injury group of attorneys are very excited to welcome such an experienced new team member who shares our guiding principle of being a compassionate listener and striving to achieve the best result possible for our clients.
The Delaware personal injury lawyers of Morris James LLP understand that being injured in an accident can be a frightening experience, especially when someone else's negligence caused your injuries. You may be facing medical bills, lost wages, and other significant expenses, all because of someone else's carelessness.  We frequently see victims who are injured because another driver was using a mobile device, disregarded a red light or stop sign, was distracted by passengers, speeding, or was otherwise inattentive.
At the Delaware Personal Injury Group of Morris James LLP, our compassionate attorneys understand how difficult it can be to live with an injury. That is why we have dedicated ourselves to getting our clients the money they and their families need and deserve.  If you have been injured in an accident, we will carefully review with you all insurance benefits to which you are entitled.
If you or a loved one is injured due to another person's negligent or reckless conduct, you need to know exactly what claims you can present to insurance companies under Delaware law.   Do not let your rights be taken advantage of.  Discussing your case with a dedicated Delaware personal injury attorney to become educated concerning your rights may be your first step towards securing justice and compensation.