Morris James LLP Welcomes New Personal Injury Attorney in Georgetown, Delaware
|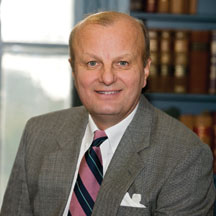 Morris James LLP and Wilson Halbrook & Bayard, P.A. have combined their law practices.  The six Wilson Halbrook & Bayard directors joined Morris James as partners on January 1, 2013.
As a result of this merger, The Morris James Personal Injury Group welcomes a new Partner, Clayton E. Bunting, to provide full services to our clients with plaintiff's personal injury cases, including automobile accidents and workmen's compensation.   Clayton represents clients involved in automobile accidents and personal injury cases. He additionally represents plaintiffs in workers' compensation matters, insurance matters and premises liability cases.
Mr. Bunting's Professional Affiliations include:
Delaware Today Magazine Top Personal Injury and Worker's Compensation Attorney by Peer Review 2010
Peer Review Pre-eminent A Rating by Martindale Hubbell
Delaware Trial Lawyers Association, Board of Governors, Former Member
American Association for Justice, Sustaining Member
Terry-Carey Inn of Court
Delaware Supreme Court, Board on Unauthorized Practice of Law, Member 1997-2000
Delaware State Bar Association
Sussex County Bar Association
National Moot Court Representative, 1975-76
Clayton Bunting's Community Affiliations are:
Kappa Alpha Order, Legal Consultant
Georgetown/Millsboro Rotary Club, Member and Past President
Delaware Community Foundation, Former Director
Sussex Pines Country Club, Inc., President
Sussex Pregnancy Care Center, Advisory Board
The Gideons International, Past Camp President and Cabinet Member, Lifetime Member
Chairman of Board of Elders of Peninsula Community Church (PCC)
Our entire Personal Injury Group of attorneys is very excited to welcome such an experienced new team member who shares our guiding principle of being a compassionate listener and striving to achieve the best result possible for our clients.
The Delaware Personal Injury Lawyers of Morris James LLP understand that being injured in an accident can be a frightening experience, especially when someone else's negligence caused your injuries. You may be facing medical bills, lost wages, and other significant expenses, all because of someone else's carelessness.  We frequently see victims who are injured because another driver was using a mobile device, disregarded a red light or stop sign, was distracted by passengers, was speeding, or was otherwise inattentive.
At the Delaware Personal Injury Group of Morris James LLP, our compassionate attorneys understand how difficult it can be to live with an injury. That is why we have dedicated ourselves to getting our clients the money they and their families need and deserve.  If you have been injured in an accident, we will carefully review with you all insurance benefits to which you are entitled.
If you or a loved one is injured due to another person's negligent or reckless conduct, you need to know exactly what claims you can present to insurance companies under Delaware law.   Do not let your rights be taken advantage of.  Discussing your case with a dedicated Delaware personal injury attorney to become educated concerning your rights may be your first step towards securing justice and compensation.
Susan D'Alonzo Ament is a partner with Morris James LLP and has practiced for 28 years representing personal injury victims. Over the years, Mrs. Ament has found that some women don't understand the crucial need to have adequate automobile insurance coverage in the event of a serious accident. Susan Ament educates women on these needs every day in her practice and in seminars that she presents throughout the year.