Make The Most Of Your Gray
|
By Christine D'Alonzo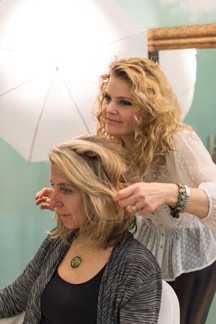 Gray is the most versatile color.
Why? Because it isn't actually gray, it's white. White hair will magnify and reflect the color of the strands around it. Stylists that don't understand the prismatic possibility of incorporating such a unique color into your look will dye over it. However, when you include this natural gift into a multi-tonal masterpiece you end up with wearable art full of dimensional shine. The opalescent quality of white hair is unmatched and offers a youthful glow when formulated properly by a trained color alchemist. What's more? Using natural gray in combination with a spectrum of complementing tones hides roots and regrowth which means you get more out of each hair appointment!
Your hair story should change with the seasons. After all, who likes a predictable story! Adventure in hair means daring to use your gray instead of hiding it like our grandmas did. It doesn't mean we are giving up our beauty and letting gray invade our garden of youth. It means we are harnessing the potential of this lustrous hue by carefully cultivating it in a creative way. After all, gardens always look prettier with more colors.
The process of using your natural white hair is simple. Your color alchemist will begin by evaluating your skin tone, hair texture, condition, and current color. They will consult with you the best plan to fulfill your fullest potential by establishing a program specific to your needs. Then, they will carefully select a pallet of many colors to create an iridescent yet natural effect. Artists at heart, we apply layers and layers of varying tones to create a rainbow-like effect that shimmers and shines in the light. Nothing dulls hair more than applying a single color all over. That's why we begin our process with a full pallet before moving on to the particular placement or, as we like to call it, the painting process. Your artist will decide which technique is best for your particular masterpiece based on the consultation conversation so you can relax and enjoy watching the beauty unfold.
Finally, the cut and style is the climax of the story. Color works best with a hair design that complements your individual style. There are thousands of shapes and fashions that will polish your look with unique flair.
When you discover the endless potential of your grays, you'll be sorry you ever covered them up! Gray is a gift that can be mastered and made to work to your advantage. Just because a stylist does not understand how to use it doesn't mean it should be dyed over! A common worry many people have is, "if I use my gray will it be too coarse?" The answer is no, of course not! Remember we are still layering and glazing it which keeps it smooth and shiny by sealing the cuticle. If you're hair is naturally coarse to begin with, we have many natural solutions to tame that mane. The most popular treatment is called keratin which is actually the compound that hair and nails are made of. By coating each strand in another layer of it's own protective compound, you can smooth and soften even the most brittle, broken, or unruly locks.
At Amelia Paris Salon, our creative team of talented artists can craft a magnificent, one of a kind look with hair of any color and texture. Don't be discouraged by stylists who are unfamiliar with the glorious potential of grays. Come in for a consultation to discover how you too can explore the prismatic possibilities of your natural colors. We don't want to cover up your natural self, we want to show you how to let it shine in its full brilliance. Welcome to the world of color alchemy!
Visit us today to meet your artist! For more information visit www.amelia-paris.com or call 610-558-4911.