Lymphedema: You May Have It And Not Know It
|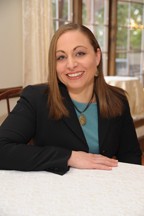 Article by Joanna Mikhail, DPT, ATC, CLT, Doctor of Physical Therapy, Certified Lymphedema Therapist
For years, Susan has been bothered by swollen legs.  Now the skin on her calves has become darker and hard, and in places it is cracking, oozing and scabbing.
Ten years ago, Jane received a radical mastectomy.  She recovered well, but recently she woke up to find that her hand and arm were swollen and heavy.
In the last year Barbara has suffered from bacterial cellulitis infections in her right leg.  Although antibiotics temporarily resolve the condition, it continues to reoccur, each time with increased pain and swelling.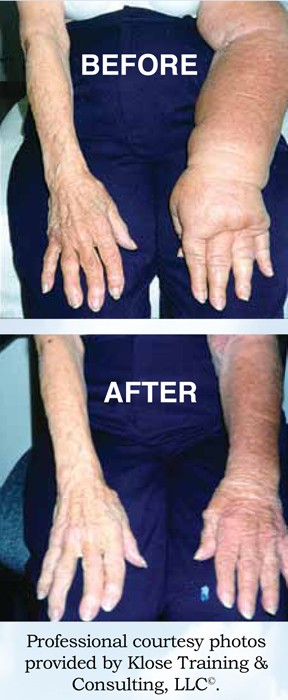 All three of these women are suffering from lymphedema, a common medical condition about which most people are unaware.
The lymphatic system consists of lymph nodes, lymph vessels, thymus gland, spleen, tonsils, and bone marrow. These organs and tissues work together to move lymphatic fluid through the body, and provide essential immune system functions.  When part of this transport system fails, lymphatic fluid accumulates in the affected area.  This condition is referred to as lymphedema.
Lymphedema can occur in the legs, arms, genitals, abdomen, trunk, head, or neck as a result of a number of medical conditions and diseases such as surgery, radiation, scarring, trauma, infection, malignant tumors, immobility, chronic venous insufficiency, or blood clots.  It can also be the result of a developmental abnormality, which generally will appear around puberty.
Lymphatic fluid is rich in protein.  When these proteins pool in any part of the body, they begin to layer in the skin. The skin can darken, harden, and eventually crack, allowing the fluid to seep out of the underlying tissues.  Protein is an excellent medium for bacterial and fungal growth, so infections are frequently problematic for a patient with lymphedema.
Lymphedema is progressive and catastrophic if left untreated.  Initially, the skin is soft without any fibrosis (hardening) but eventually becomes stiff and swelling no longer reduces fully with elevation.  The most severe form is elephantiasis, in which the limb loses its anatomical shape and infections are likely.
There is no cure for lymphedema, but it can be treated and managed.  At Lymphedema Clinics of America, we treat using Complete Decongestive Therapy.  Numerous studies have proven the effectiveness of this approach and it is now commonly the treatment of choice.
The initial goal of Complete Decongestive Therapy is to reduce the fluid in the affected area and soften the fibrosis.  Treatment provided at the clinic, consists of skin care, a massage technique (MLD) manual lymphatic drainage, bandaging and decongestive exercises.  Patients are then taught to support their treatment at home through daily self-massage, use of a pump, skin care, wearing of medical compression garments, and therapeutic exercises formulated to increase lymphatic flow through the body.
Although lymphedema is a serious condition with many physical and psychosocial consequences, Complete Decongestive Therapy improves the patient's quality of life.  Walking and other activities become easier, the risk of recurrent infections is reduced, and the quality of the skin is improved.
If you suspect that you or someone you care for may have lymphedema, call for an appointment at the Lymphedema Clinics of America. One of our certified lymphedema therapists will evaluate your swelling and formulate a plan of care that will be the most appropriate for you. Our friendly staff is waiting to help you through your recovery in a calming and caring environment.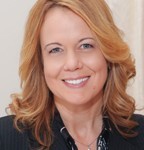 Caroline Logan, Founder, COO
As founder and COO of Lymphedema Clinics of America (LCOA), Caroline leveraged her public relations experience to open Delaware's first outpatient lymphedema clinic dedicated specifically to lymphedema and its complications. She was a key player in assisting the principles of Kirkwood Pharmacy and Biotek Remedys during the start up phase, and has built the pharmacy to a profitable entity. Caroline was successful in building a ready made compression stocking business for those with swelling and venous insufficiencies within Kirkwood Pharmacy. With her exposure to key physicians in the medical community, Caroline has identified the deficiency in the health care system with those who suffer with lymphedema. 
Caroline collaborated with Ian Mclean, former Executive Vice President of Exelon Corporation and former CEO of the Exelon Transmission Company to bring LCOA to fruition. The two partners are dedicated in bringing hope, healing and awareness for those suffering with lymphedema. Caroline and Ian's plans are to open their second clinic in the near future in Dover, DE.
Our mission….. is to enrich the lives of our patients by treating and restoring hope for those living with lymphedema. We strive to improve the lives of people we touch by understanding their condition. Our goal is to collaborate with others in the community to improve the support and awareness of lymphedema. We are dedicated to providing excellent care in a calm, relaxing environment that meets or exceeds the expectations of those we serve.
Open House:  Thursday, April 10th from 5 – 8  Hors d`oeuvres & wine to be served
LCOA is currently offering educational meetings within the medical community as they campaign for better awareness for lymphedema. Any physician office, cancer society, hospital or individuals who would like to learn more about what LCOA has to offer, can call the clinic and schedule an appointment for LCOA to come and speak about lymphedema. (302) 691-5167