Looking for a community of like-minded women to build and grow with while also giving back to those in need? WILDE is your answer.
|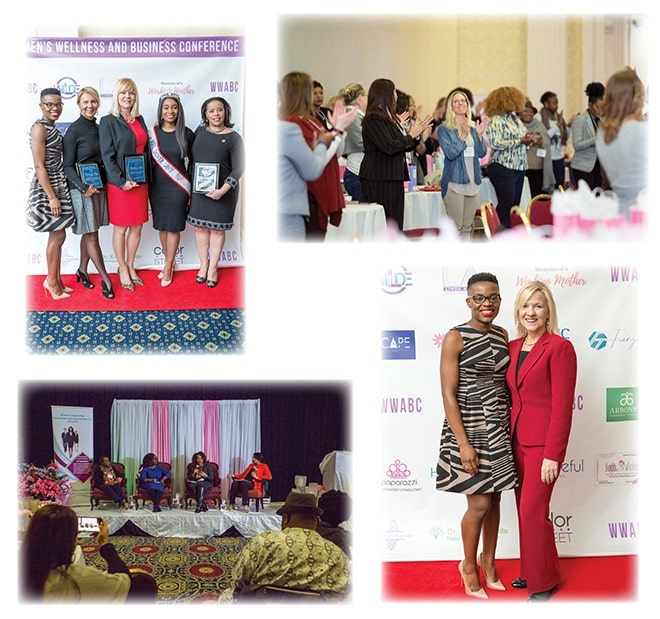 We invite you to join our membership.
Women in Leadership Development and Empowerment, Inc. (WILDE) is a 501 (c)3 public non-profit organization of professional women with a heart of service. We assist women, children and underserved communities through Leadership, Mentorship, Educational, and Community Service initiatives. 
Mission: Through our programs and initiatives, we equip women with access to the right education, skills and tools needed to excel both at home and work.
Vision: To continue developing opportunities where women are treated equally, feel valued, safe, and also have the right resources available to grow and evolve personally and professionally. 
Values:Integrity, Service, Leadership and Sisterhood
From medical missions in Africa, to mentoring in high schools and colleges, and organizing women's leadership conferences in the U.S., we would like to partner with you. It is also our desire that you will consider membership with WILDE.
On March 2, 2019, WILDE hosted the Women's Wellness and Business Conference for the first time in Delaware bringing together industry experts to provide right strategies, resources and execution plans for women to thrive personally and professionally.
Attendees of the conference were challenged by Delaware's Lt Governor Bethany Hall-Long to pursue their passions regardless of obstacles they may have encountered. Over 150 attendees of the conference pledged to do just that as well as take up her challenge to implement self-care, focus on total wellness and to live outside the box. 
According to Linda Arrey- Mbi Nkwenti -Author, TEDx Speaker, Certified Leadership Coach, Air Force Captain and CEO of WILDE, the one- day, three-session event exceeded all expectations.
 "Women left understanding the importance of focusing on their mental, physical, spiritual and financial wellness, and were also equipped with knowledge to succeed in all four areas," said Nkwenti. "There were sessions where women got up and moved to Zumba, learned how to walk by faith, write a book, manage their finances, enhance their businesses, and much more. It was a very fulfilling experience and we've received phenomenal feedback with attendees promising to bring at least one person to next year's event."
Nkwenti said many of the participants expressed how they were going to apply the lessons learned in the sessions to their personal and professional lives. 
The event took place during Women's History Month and Blood Clot Awareness Month, two campaigns that hit close to Nkwenti's heart. 
"As I was in the midst of planning this event, my sister, Agnes, died suddenly as a result of a Bilateral Pulmonary Embolism, commonly known as a blood clot," she said. "It was heartwarming for my parents to be presented with a memorial tribute in Agnes' honor, issued by Governor John Carney and Lt Governor Bethany Hall-Long to create more awareness on blood clots." 
Three community leaders were honored with the "Jessie Arrey-Mbi Leadership and Service Award" for their exceptional service and leadership. Honorees included: Stephanie Staats, who is the CEO of the YWCA Delaware, Inc; Erika Broadwater, who is the president of the National Association of African American in Human Resources and Pamela Rizzo who is the CEO of The Women's Journal.
"It brought me much joy to be with my mother and the Lt. Governor as we gave out awards to the honorees. It also reminded us that it is so important to acknowledge people while they are still alive, and to also live in fulfillment each day."
The event was emceed by Troy Farmer and Dr. Eunice Gwanmesia. Medical Aesthetician, Dr. Edith Delight debuted her new skincare line, X.CAPE, and also provided onsite skincare analysis and recommended treatment options. Eurykah Ndumu, CEO of Asheris Events Planning and Décor brought glamour to the stage, and entertainment was provided by Michelle Danette of Remnant Sounds. 
Speakers included Jasmine Womack, Nancy Joy Dozier, Kashawn Milligan, Keeley P. Mitchell, Jaya Jaya Myra, Nicolette Wilson, Eustacia Gibson, Andrea Watkins-Cropper, Lashawn Gee, Shade` Y. Adu, Brooke Miles, Jessica Smith Moyer and Sheneyra Wilson.
The Women's Wellness and Business Conference is scheduled to return to Delaware on March 14, 2020.  Email [email protected] for opportunities to collaborate or become a sponsor.