American Heart Association Announces
|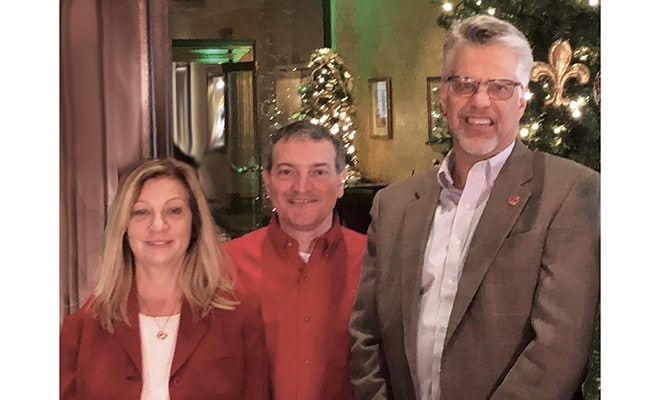 Joint-Chairs For Its 2019 Wilmington Heart Walk
 The Heart Walk will be held on the Riverfront in Wilmington on Sunday, September 8 and will support the American Heart Association, whose mission is to be a relentless force for a world of longer, healthier lives. Ralph G. DegliObizzi & Sons Executive Vice President, Mark DegliObizzi and his wife Kathie, along with, Todd Goodman, Associate General Counsel, Delmarva Power will serve as Joint Chairs of the 2019 Wilmington Heart Walk. 
The Wilmington Heart Walk is an opportunity for participants to walk in honor of those who suffer from heart disease and to raise funds for the advancement of research and treatment. Heart disease is our nation's #1 cause of death, claiming nearly a million American lives a year, more than all forms of cancer combined. Stroke is the #5 cause of death and a leading cause of long-term disability. But, around 80% of cardiac events can be prevented with education and prevention. The Heart Walk encourages Americans to make healthy choices including adding physical activities, like walking, to their daily routine.
"I am honored and privileged to lead the Wilmington Heart Walk this year, along with Mark and Kathie. It is an excellent way to demonstrate Delmarva Power's dedication and commitment to our community and to improve the health and wellbeing of all Delawareans," said Todd Goodman, who is also Chair of the Board of Directors for American Heart Association in DE. "The Heart Walk also represents a key way to encourage our employees and residents in our community to focus on heart-healthy nutrition and physical activity." 
Mark DegliObizzi has a personal connection to the American Heart Association. He underwent surgery in 2012 for a congenital heart defect, and counts himself amongst the thousands of survivors who participate in the Heart Walk. "Kathie and I are dedicated to the American Heart Association and its mission and we are honored to give back," said DegliObizzi. "There are so many companies from the Wilmington area and beyond that have joined us in supporting this great event and joined us in saving lives!"
"We are thrilled to have Mark, Kathie and Todd's leadership as Chairs of the 2019 Heart Walk," said David Morris, Executive Director, American Heart Association in Delaware. "With such respected and knowledgeable Chairs leading the way, we are confident we will achieve the goals for our Heart Walk, which will support the advancement of transformational research initiatives and educational programs in our local community."
The 2019 Wilmington Heart Walk will take place on Sunday, September 8th, beginning at Tubman Garrett Park on the Riverfront in Wilmington. Festivities begin at 8am and the walk kicks off at 9am. The event is expected to attract over 3,000 participants. This year's event revenue goal is $400,000. The Wilmington Heart Walk is sponsored by Christiana Care Health System, Delmarva Power, Nemours/Alfred I. duPont Hospital for Children, Encompass Health, DuPont, Ralph G. DegliObizzi & Sons, Highmark Delaware, WSFS Bank and more.  
For more information, please visit www.heart.org/wilmingtonwalk
About the American Heart Association and American Stroke Association: The American Heart Association and the American Stroke Association are devoted to being a relentless force for a world of longer, healthier lives. AHA funds innovative research, fights for stronger public health policies, and provides lifesaving tools and information to prevent and treat these diseases. The American Heart Association is the nation's oldest and largest voluntary organization dedicated to fighting heart disease and stroke. 
About Delmarva Power:
In 2018, Delmarva Power's parent company Exelon and its 34,000 employees gave more than $51 million to nonprofits. This community giving helped support more than 12,000 nonprofit organizations across 236 cities and 19 states and the District of Columbia. To learn more about Delmarva Power, visit The Source, Delmarva Power's online news room.
About Ralph G. DegliObizzi & Sons:
Ralph G. Degli Obizzi and Sons, a Wilmington-based mechanical contracting company, was founded in 1969 by Ralph G. DegliObizzi, Sr., and is now led by his five sons. The company has performed large scale contracting services at the University of Delaware; Christiana Care Health System; DuPont; Nemours; Hilton Christiana and the Winterthur Museum, and is the recipient of awards for excellence in construction.