Look Younger With Help From Dr. Kim & Dr. Wingate
|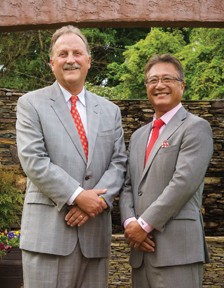 By Dr. Gary Wingate & Dr. Paul Kim
When you look good, you feel good. As we age, our faces change. Fine lines, wrinkles, sagging skin, and excess skin may occur as part of the aging process. Facial procedures such as eyelid surgeries, facelifts, or neck lifts are options to turn back the hands of time. Board-certified plastic surgeons, Paul Kim, MD and Gary Wingate, MD of Plastic & Reconstructive Surgery of Chester County offer a range of procedures to make you look years younger.
Rejuvenate the face and neck
Using precise, artistic surgical skills and techniques, Dr. Kim and Dr. Wingate can correct the signs of aging and give patients results that look natural. Facelifts and neck lifts are often to address one of the following issues:
Excess or sagging skin on the face or neck
Lines and wrinkles along the face or neck
"Turkey neck"
Loss of fat or facial volume
A tired, sad, or angry appearance due to deep wrinkles
Appearing older than you actually are
Depending on your needs, our surgeons can determine the most appropriate treatment to address your sagging or loose skin. Procedures can be customized for patients in their 30s who need to get rid of excess fat or patients in their 60s who want the firmer, more toned skin of youth. These procedures help patients restore their confidence, look natural, and feel younger.
Drs. Kim and Wingate use the Precision Tx laser from Cynosure in their innovative neck lift procedure. This laser is used to give patients a more defined neck and jawline without surgery. This allows for faster recovery, less pain, and smaller incisions. An additional benefit is that this new procedure is performed under local anesthesia while awake. The revolutionary procedure enhances and revitalizes the lower face and neck.
Look more awake and younger with eyelid surgery
Eyelid surgery, or blepharoplasty, rejuvenates the upper and/or lower eyelids. Loose skin causes fine lines, wrinkles, and sagging around the eyes. With an eyelid procedure, the loose skin is removed and fat deposits that cause bags are removed or repositioned. The muscles and tissues are tightened to create a refreshed appearance. Eyelid procedures may be done in the office while awake or in the surgery center under general anesthesia. For some patients, the eyelids can be treated with face or neck lift procedures.
An eyelid surgery helps:
Restore a more youthful appearance
Brighten tired eyes
Restore impaired vision
Dr. Kim and Dr. Wingate utilize traditional surgical techniques, Precision Tx, laser treatments, and cosmetic injectables to help patients achieve the best outcomes. Take years off your appearance with the help of Plastic & Reconstructive  Surgery of Chester County. Make an appointment today. Call 610-524-8244.
About Dr. Paul Kim
Dr. Paul Kim, a graduate of Columbia University, completed his medical training at the University of Massachusetts. After completing his residency in Plastic Surgery at Northwestern, he went on to complete a fellowship in Microvascular Surgery and Replantation at the Microsurgery Unit of St. Vincent's Hospital in Australia.
About Dr. Gary Wingate
Dr. Gary Wingate is a graduate of the University of Utah. He completed both his medical school training and his residency in Plastic Surgery at Northwestern.
Botox and collagen fillers available for patients at Allure MediSpa with Karyn Kim, CRNP, on Saturdays by appointment
Doctors' headshot by Shannon Adelson of Adelson Media, Inc.