Lady Lifters Is More Than A Gym. It's A Life Changing Journey To A New You!
|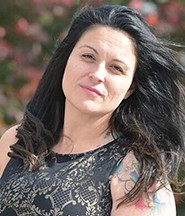 By Gigi Boyd, Owner and Founder of Lady Lifters, Personal Trainer & Instructor 
Lady lifters offers a judgement-free atmosphere where ladies of all ages, weight and experience can change their life. We are here to help with women who are walking into the gym for the first time to women who are looking to change their daily workout routines. No two classes are the same and the environment is very empowering and uplifting. We want every woman to walk out feeling successful, inspired and motivated. We are unlike typical gyms or fitness centers, we offer one on one and group support to all members. We are a team, women from all walks of life supporting each other! Find us on Facebook or www.ladyliftersgym.com.
They say that weight loss is 80% nutrition and 20% fitness but it's not, it's a 100% commitment to both. Your heart needs exercise daily and your body needs foods that help fuel it so that it will operate at its fullest potential. It is also a "mental" commitment, most people who walk into the gym have already taken the hardest step. A lot of women are intimidated, embarrassed or don't feel confident enough to join a gym. Once walking into the gym, many find themselves "lost" they are not sure what to do or where to start and many cannot afford the high prices of a personal trainer. Some start working out, feel panicked by their heart racing or shortness of breath and quit after their first week. The mental struggle is one of the hardest parts of exercise, no one starts running a mile thinking that this was the best decision ever but once they complete the mile they feel pride and of course they feel great because their endorphins are increased. Soreness also comes with a good workout. Many people do not understand soreness is a good thing so long as it's not pain from an injury. Most common soreness is lower back pain due to sitting for long periods of time or bad posture. With weight training you can strengthen these muscles. At Lady Lifters, we let beginners know all of this before we have them begin working out. We also provide a very friendly atmosphere inviting each new member in with a warm Lady Lifter welcome.
Many people believe that weight loss can happen over night, this is a myth started by companies selling diets and pills. Your body can only process on average 2 lbs per week of healthy weight loss. You can lose anywhere from 10-20 lbs in a couple of weeks IF you have been retaining water weight. However once those 10-20 lbs are lost many people immediate fall back into old habits which causes them to not only gain those 10-20 lbs back but end up gaining more weight because of poor lifestyle choices. The secret to long term success is to make better choices with food and to workout 3-4 times a week. Find a way to hold yourself accountable to your lifestyle, post food and workouts, take selfies, download a fitness app or find someone who you can share your journey with. Set goals not only for weight loss but for the rest of your life, make sure they are achievable. For example if you want to lose 30 lbs plan on giving yourself 15-20 weeks to reach that goal, allowing for "bad" weeks and/or plateaus. Weightloss is like a marathon, you cannot walk into the marathon thinking that you can run it in 10-15 mins, you will only make it a mile or two and then give up. Give yourself time, patience and a good long term plan. Once you lose the weight understand that you cannot go back to your previous lifestyle, continue going forward with the same new good habits that helped you shed the desired weight. Happy living!
Testimonials: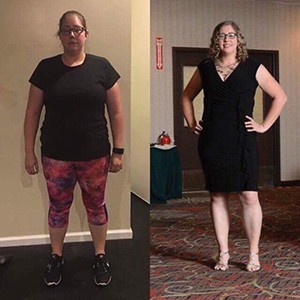 "My name is Lauren Walters, I am a proud Military wife, mother of twin 2 year old boys and have a Bachelors degree in Education, working on my Masters. Joining Lady Lifters has been one of the best choices I have made. Growing up I was always on the heavier side. By the time I graduated high school, I was 100 pounds over weight. I attempted to lose weight during college by eating low carb, but I would always gain the weight back. After giving birth to twin boys in July 2014, I continued to put on weight and hit my heaviest weight in October 2015. I finally had enough of being overweight and started losing weight in November 2015 by eating low carb again. From November 2015 to September 2016, I was able to lose 85 pounds.
I joined Lady Lifters in October 2016 with one of my friends. I had fallen off track with eating low carb and started gaining weight back. In November, I joined the holiday weight loss challenge at Lady Lifters. Gigi Boyd taught me how to lose weight the healthy way. By January 1st, I was able to lose 40 pounds and 40 inches. I never thought I would enjoy going to the gym and working out until I joined Lady Lifters. I am now a healthy mother and wife and able to do activities with the boys that I would not have been able to do before I lost weight, last year I was able to complete a 5k while pushing both of my sons in their stroller."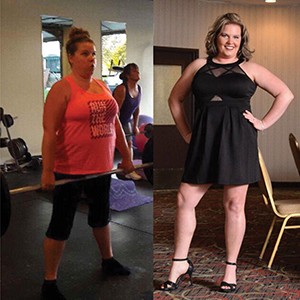 "My name is Brandy Shane Buzzuto, I'm a 37 year old full time working mother to my 5 year old daughter Kloe, wife, daughter, sister and friend. I started Lady Lifters in October 2016 desperate for a change. Like most women I found myself exhausted from taking care of others and when I looked in the mirror I didn't recognize the person looking back. In all my daily roles I got caught up in life and lost myself! I've always been focused on being the fixer for everyone else and never really took time to focus on me. When I did take a hard look at myself it was more than clear that my outside appearance no longer matched the inside and my inside was slowly drifting away too! I was ready for a change when I found Lady Lifters. I thought the change would be physical but it's been so much more for me! I've made friends, I can look at myself and smile now. I have a direction and for that I couldn't be more thankful! Being a part of Lady Lifters has changed that for me. I participated in the holiday weight loss challenge and to date I've lost 35lbs and counting. My confidence is soaring and with the help and encouragement of Gigi Boyd and my Lady Lifter family I know I will continue to meet goals and keep on the positive path of change in 2017!"
More reviews on our Facebook
Photos by B.F. Imagery