Knowing When It Is Time To Ask For Help
|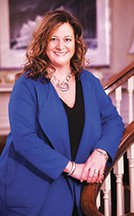 By Kristin Stetler Donovan, Owner, Age Advantage of Newark 
Here we are in 2017 with so many technological advancements. Everything seems to go faster and is expected to happen sooner. On the flip side, life expectancy has increased and no one wants to lose their independence any sooner. One would think that with all the technological advancements that there would be a cure for the diseases that plague our elderly. Memory loss is one of the most common issues that prevent seniors from remaining independent. Physical challenges also make it nearly impossible to continue to do the things they once did.
For the elderly suffering from memory loss is frightening. Fear or anxiety are often felt with memory loss, the loss of independence, the unknown, pain, death, or dying before life is settled. Depression is often experienced from loss of independence, loss of a loved one(s) or from lack of time to "right the wrongs", and from isolation. Cognitive deterioration is often accompanied with physical challenges such as: weakness of limbs, breathing difficulty, pain, memory loss, loss of sight, loss of hearing, dizziness, incontinence, diarrhea or constipation, sleeplessness or lethargy.
Although the elderly may experience some or all of these conditions associated with aging, it is in our nature to try to remain strong and independent, denying that we are unable to do the things we once could. Seniors with physical challenges may push themselves too hard or disregard health professional's orders, thus jeopardizing the healing process or their general safety. Falls are prevalent in seniors as a result of their determination to remain independent and continue to do everything as they always have, such as, carry the laundry basket full of clothes up a flight of stairs or walk downstairs carrying items versus holding onto the railing in order to ensure their safety.
Simple chores of laundry, light housekeeping and meal preparation seem much more difficult and present fall risks. Bathing, dressing and remembering to take medications becomes very difficult. Most seniors and their families aren't aware that there are options to remain independent without leaving your home. Help is only a phone call away. Caregivers can assist with all of the activities of daily living (ADLs): eating, bathing, dressing, toileting, transferring (walking) and continence, household chores and other related daily activities. Also socialization is so very important, often times the caregivers become part of the family and provide a ray of sunshine in what might ordinarily be another day at home alone.
Home modifications and assistive technology can also be recommended to improve the safety of seniors living independently. With the boom that we have experienced in terms of technology, there are so many things that can be done to provide a safer environment or facilitate daily living. Ramps, shower chairs, grab bars are just a few of the home modifications used to enhance living conditions. Common assistive technology goes beyond the services caregivers can provide. "Assistive technology", according to the Technology Related Assistance Act of 1988 [P.L.100-407], is any item, piece of equipment, or set of products that helps a person with a disability to increase or improve his/her functional capabilities.
If you or a loved one are struggling living alone just know that there are options rather than giving up your independence. The hardest part of getting some additional help is admitting that it is needed. If you would like to discuss care services available please call (302) 722-8240 and a staff member of the Age Advantage team will be happy to assist you.
Client Testimonials
"We cannot tell you how impressed we are with your agency's caregiver. She is doing a really great job . . . showering, clothes, all the past problem areas are being taken care of . . . she's formed a really great rapport with Mom and the staff at the community where mom resides. We are impressed!" – G.S.
This note of thanks is long overdue, but is still heartfelt. Thank you for the loving and attentive care which you gave my father. Thank you for accommodating last minute requests and our inconsistent schedule and always doing so with a gracious attitude! I so appreciate the support you gave me. You helped make it possible for us to care for my dad in his home. Thank you for caring about all of us! I also thank you for the beautiful flower basket which you sent in remembrance of my dad. The flowering plant was an azalea – absolutely gorgeous and special in meaning to me. Unbeknownst to you, my parents loved azaleas and had planted many, both at my childhood home and their home here in Delaware. Your gift brought sweet memories of them.​ ​Thank you for your service and condolences! With appreciation, K.M.
Caregiver Testimonial
Dear Ms. Kristin,
Ms. Kristin, from my heart, I am so thankful for your kindness not just to me, but to my family. I will never forget the day you walked out of your office and hired me on the spot. I will never forget your kindness ever. Ms. Kristin I will never, ever forget how great a soul you are. Love Always, C.H.