Kent County People in Profile Second Quarter 2017
|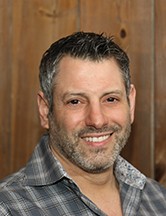 Joe Garramone Junior
Chef/Owner Joe Garramone began his career at the young age of 12, working for his father in the kitchen of Roma. Over the years he has worked his way up and ultimately taking over Roma when his father, Giuseppe retired 17 years ago. Chef Joe prides himself on consistent, well-executed dishes. "Guests have been coming here for over 40 years and have an expectation. My goal is to exceed their expectations every time they visit." Joe has elevated the Dover dining experience while still keeping the tradition his father created in 1973. Through the years, he has added his own signatures while still keeping the staples in place that started the business. In December of 2015, Joe along with fiancé Kristin developed a fresh twist to Roma, Sul Tempo. Sul Tempo Cocktail Lounge has already proven to be a risk worth taking. "Sul Tempo allows us to build our brand while maximizing space. Kristin and I worked night and day on this vision. Watching Sul Tempo develop, while elevating the dining experience at Roma has truly been my greatest accomplishment in this industry. When you find someone just as passionate in the experience, as well as the end result, the sky is the limit." Joe uses the space to support local fundraisers, nonprofits organizations and other local outreach programs. Recently, Joe has worked with Meals on Wheels Delaware, Heart Association, and Habitat for Humanity, just to name a few. "I have the opportunity to give back to the community that has supported our family business for years."  Dover has found a winning combination.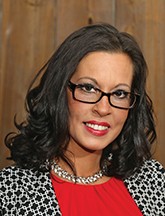 Kristin McGuigan
Kristin McGuigan's passion has always been hospitality. She is now the Director of Operations for Roma Italian Restaurant and Sul Tempo Cocktail Lounge. Kristin began her career in the hospitality industry at the age of 15. She was mentored by Chef Tom Hannum at the renowned Hotel DuPont. Starting in the commissary, she moved her way up through the DuPont kitchens and 3 years later entered the Culinary Program at Johnson and Wales in Rhode Island. After her time in Rhode Island she returned to Dupont and continued building her career. She decided that to fully understand and appreciate all aspects of the industry she had to touch all of the pulses. Kristin spent the next four years bartending, waitressing and managing local eateries. Though she loved what she was doing, she missed the kitchen hustle, so back to the kitchens she went. Kristin has run some of our state's staple upscale restaurants, including; Back Burner in Hockessin, 1717,  Dome (Platinum Dining Group), River Rock Kitchen and holding her last culinary title as chef at the Dupont Country Club. After leaving the kitchens Kristin has held titles of; Food and Beverage Manager, Director of Hospitality and also has traveled as a Regional Director of Food and Beverage. When fiancé Joe began discussing adding an upscale cocktail lounge to Roma, Kristin knew this was a winning combination. "We had a lot of work to do to get Sul Tempo opened while elevating the service in Roma. It has been by far the best, and most challenging experience of my life. Joe handles the food and I handle the service and operation. We get each other and know the challenges of the other's day to day.  Our goals and expectations are the same, and we push each other to make that happen. We are each other's biggest cheerleader, and to me, that is magic." Both Kristin and Joe are extremely active when it comes to giving back. Kristin is on the 2017 Sip and Savor Committee to support Meals on Wheels Delaware. The 2016 Heart Ball supporting the Heart Association was also another outlet that Kristin found she could help raise money and make a difference within the local community. "We have a venue that is perfect for helping to give back. We have to take advantage of every opportunity to help."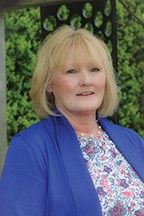 Dawn Walls-Sbriglia, LPN
Dawn Walls- Sbriglia is a native Delawarean with an unwavering commitment to service to strengthen our local communities through her volunteer work.
Over the past 20 years, Dawn's community service work has included volunteering with the Walk to End Alzheimer's where she sponsored two teams As a former member of the Hartly Volunteer Fire Company, she served as an EMT (Emergency Medical Technician). She, also, volunteered with the State of Delaware Office of the State Long-Term Care Ombudsman insuring and evaluating quality care.
Dawn is the Founder and Chief Executive Officer of Caring Hearts Home Care.In this role, she addresses the needs of seniors who want quality healthcare while remaining in their own homes. As a volunteer this past Christmas, Dawn extended her community outreach and adopted senior citizens (5 men and 5 women) in Central Delaware. She volunteered to bring personal hygiene items, household goods, clothes, hats and gloves to seniors who otherwise would not have received these much needed goods and services. Dawn is a Kent County Founder at the Fund for Women at the Delaware Community Foundation. The Fund for Women helps women and girls to overcome the many barriers that may stand in their way to success by providing grants to non-profit organizations. Through the power of collective giving, this unique network aims to improve the worth and potential of women and girls in Delaware by funding critical projects to meet their needs – from housing to healthcare, from career training to emergency food programs . . .  Dawn joins other founders embracing the vision:
"All women and girls in Delaware are empowered to achieve their full potential."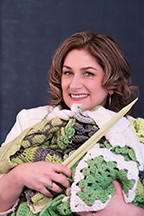 Marian (Mimi) Eastman 
Mimi is the Founder and President of Lyme Yarnbombs, Inc. A new 501c3 nonprofit charitable organization that uses yarn to raise Lyme disease awareness. Lyme Yarnbombs' mission is to educate, raise awareness and bring hope to Lyme patients suffering from chronic symptoms.  Delaware is among the top 14 states for the most Lyme diagnoses. Her organization shares facts from the International Lyme and Associated Diseases Society (ILADS). See ilads.org for more information about Lyme. ILADS Lyme guidelines are approved by the Institute of Medicine and listed in the National Guidelines Clearinghouse.
Yarnbombing is a form of street graffiti using yarn instead of paint. Lyme Yarnbombs provides events called Yarnbomb for Lyme! Since May is Lyme Disease Awareness month, at 10am on April 29 (rain date April 30) Newark has given them permission to give parking meters along Main Street lime green sweaters called yarnbombs.  Volunteers make a successful event by knitting, crocheting, installing or de-installing Lyme yarnbombs.  Most of them are from Delaware but some volunteers are mailing their hand made yarnbombs from Texas, Rhode Island, New York, Pennsylvania, Maryland, Illinois, Minnesota and even England!  Each meter will receive a Lyme yarnbomb and a weather proof name tag displaying a Lyme fact and logo of the business or name of person/s sponsoring that meter. Doylestown, PA and Schenectady, NY are having Yarnbomb for Lyme events in April too.
Volunteers are always welcome! Sponsors are needed to make Newark's event a success! ILADS, Royal Pest Solutions, Precision Arts, Inc., Christiana Flower and Gift Shoppe, Potstickers Asian Grill and Sushi Bar, Lyme Disease Association of Southeastern PA and Deer Park Tavern are event sponsors so far. Each parking meter on Main Street needs a sponsor. 'Sponsor-a-meter' for $50 each.  50% of parking meter proceeds will go to the International Lyme and Associated Diseases Education Foundation (ILADEF). Contact Mimi for more information or visit www.lymeyarnbombs.com.
Marian Eastman  President/Founder
Lyme Yarnbombs, Inc.
P.O. Box 416
Hockessin, DE 19707
[email protected]
Mimi's headshot by Shannon Adelson, of Adelson Media, Inc
Thanks To…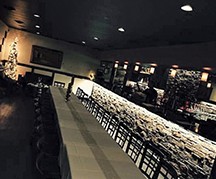 To Our Location
We would like to extend a special thank you to both Joe and Kristin, of Roma Italian Ristorante / Sul Tempo Cocktail Lounge for hosting our Profile Photo Shoot.  Roma is located at, 3 President Drive, Dover DE 19901.  Please make a point of going and enjoying this wonderful restaurant, and don't miss the beautiful new cocktail bar Sul Tempo.
To Our Photographer
Mike Baker is the founder of C.M.Baker Photography with over 25 years experience. His photography ventures have been quite diverse. Throughout the year you may find him shooting a wedding, a Quinceañera, in the pits of a NASCAR race at Dover Downs and now at front stage at the Firefly Festival or flying over doing aerials. Giving back to the community has always been an important part of it all.  Mike was awarded "Volunteer of the Year" from CDCC (Central Delaware Chamber of Commerce) in 2005, "Volunteer of the Year" from Kent County Tourism in 2010,"Chairman's Outstanding Partnership Award from CDCC in 2010 along with "Business Person of the Year" from CDCC in 2008.  Since 1997, Mike has been the "official" photographer for the KC Heart Ball and for the "Go Red" in Kent County since it's onset.  Some of the past and present organizations have been: MD Kidney Foundation, DE Breast Cancer Coalition, Various DE Fire Companies, Bayhealth Foundation, Beebe Hospital, Dover Air Force Base, Autism DE, Relay for Life, MS Bike to the Bay and the Amish Bike Tour, to name a few.
We would like to thank the owners of Roma Italian Ristorante/ Sul Tempo Cocktail Lounge, located at 3 President Drive, Dover, DE  19901 for hosting our profile photo shoot.  What a lovely restaurant and bar.  And I can personally say that the food is wonderful.  You taste the love that the owner Joe Garramone Jr. puts in to his food preparation, and Kristin McGuigan, Director of Operations has this fine restaurant running like a well-tuned engine.  What a great team.  For reservations or to book and event call 302-678-1041
I would also like to extend a huge thanks to Mike Baker owner of C.M. Baker Photography for photographing all of our attendees. None of our shoots would be possible without our partnership that we have with Mike. If you are looking for a professional photographer and all around great person to work with call Mike at 302-335-1500 or 302-242-6643.
We were honored to have our 4 participants as part of our photo shoot, and I hope that you will let them know you read their profiles in the Women's Journal.  Complete profiles on each of our participants can be found on Pages 26-28.