Is Your Child Experiencing Handwriting Difficulty?
|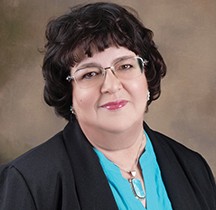 By Debra George, OTR/L
Handwriting, used by many people every day, is a valuable form of communication for the expression of ideas, conveying information, setting out thoughts and emotions, and countless other things that people do in their daily lives. Children should master the ability to write and harness this skill in order to succeed on many levels, and many students may graduate from high school and yet struggle to effectively and skillfully express themselves in handwritten form, especially in cursive.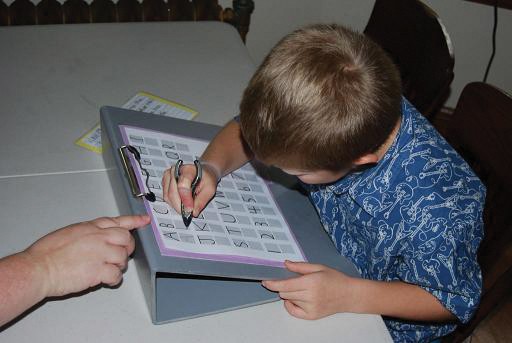 Like spelling, grammar, and phonics, handwriting is a support skill that helps build a strong foundation for student success. Many students are going through the school system with handwriting that is very difficult to read and hence fails to fulfill its intent to communicate with others. Teachers are often unable to read a student's writing and may even give them a lower grade or have them rewrite information for the sake of clarity. Sometimes a student's writing is so illegible that they may struggle to understand his/her own writing. This is a source of frustration for both the student and the teacher, and a cause for student's stress as well as potential low self-esteem.
Students are taught prewriting and handwriting (print) in kindergarten. Often, the teachers are faced with large classrooms with 25 or more students. Children are often taught in groups and may not have fully developed fine motor skills at a young age to be able to manipulate a pencil and draw various shapes such as horizontal lines, vertical lines, circles and intersecting lines in a group setting. A student is expected to hold a pencil correctly and write his/her name, but, if the child has weak hand muscles it is difficult to properly hold a pencil. If a student is unable to draw a diagonal line, they may not be able to accurately print the letter A. Habits, good or bad, are developed in kindergarten, such as pencil grip and proper letter formation. A good pencil grip and eye-hand coordination are necessary elements in good handwriting. As students progress through the grades it becomes more difficult for them to change the way they learned to grip a pencil or pen. It is noteworthy to consider that a student in the 3rd grade may not be able to change his or her chosen grip unless it is causing pain or results in writing too slow, since the student's grip has essentially been established at this point in time.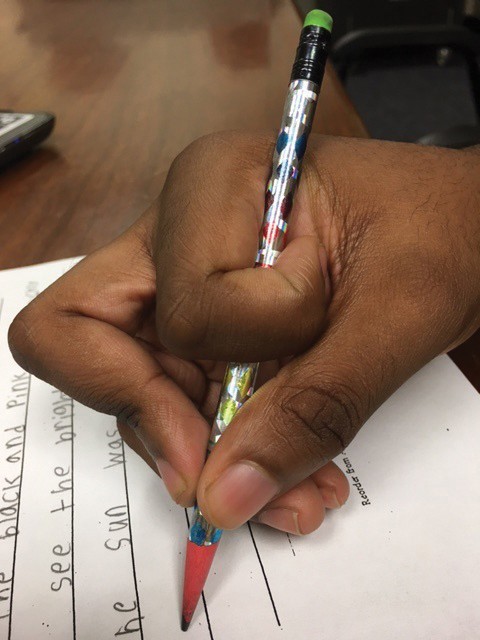 Cursive provides a natural consistent flow of bottom to top movement and at first, when the student is just learning cursive, they must write slowly to form the letters thus improving legibility. However, cursive is seldom taught thoroughly in the school settings.
Upper body strength and posture also play a significant role in developing good handwriting skills. Poor posture for any number of reasons can limit the development of fine motor skills. A student should be sitting in a 90-90-90 position, and the student's hips, knees and ankles should all be at 90 degree angles with the student's feet firmly touching the floor.
Students with a diagnosis of dysgraphia, i.e., a learning disability that affects handwriting and fine motor skills, may find that keyboarding skills are more beneficial for them once they are able to isolate all their fingers and move them individually. A parent may seek the advice of an assistive technologist to help with identifying and using a proper device to help a student. Use of an iPad device and a specific application that allows a student to take a picture of a worksheet, then type on the worksheet in the classroom or at home for homework, may be used to convey a more legible product for both the teacher and the student to read.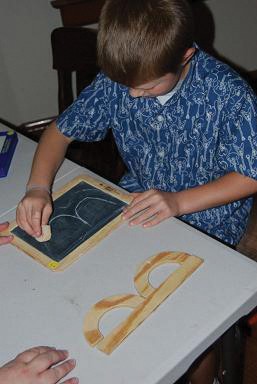 Some children have more difficulty with handwriting and require the expertise of a Registered Occupational Therapist with extensive experience in teachinghandwriting skills, providing an opportunity for a student needing more intensive assistance in developing the skills necessary for good handwriting.
Testimonials:  "W hat Aspect of this program was the most positive for you?"
"The confidence that my son has gained. At 17, he never thought he could learn cursive. Now that he can read and write cursive, he is more willing to try the things he has been fearing . . . like driving." – M.D.
"I will recommend Mrs. George to everyone I know." – M.A.
"My daughter started this program with negative feelings towards writing and finished the program with positive feelings about writing. We will be back!" – J.K.
"This program gave Megan and I fun and effective ideas to improve fine motor skills."  – D. P.
"I love Handwriting Clinic because Mrs. Debra has fun hand lessons but that's not all. Mrs. Debra has sketch magic. You will know what sketch magic is when you join.  There are cool gadgets like putty." – S.S.
"Thank you for teaching me handwriting.  I enjoyed your class very much."  Andrew
"Your are simply the BEST OT in the world and we are so lucky and grateful to have found you". M.B.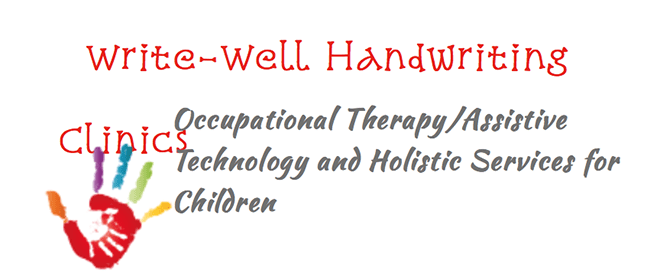 Write-Well Handwriting Clinics were founded in 2012 by Registered Occupational Therapist, Debra George now with over 30 years of experience working in the school setting and employment as an Assistive Technology Specialist. The Clinics are all held at the Golden Light Wellness Center located at 350 Lincoln Street in Oxford, PA. 
610-932-9511
www.write-wellhandwritingclinics.com 
facebook/WriteWellHandwritingClinicsandOTServices/
One-on-one classes are held all year round. New students receive a FREE 15 min screening & "meet and greet" prior to signing up for the classes.
The following programs are offered for students:
Print, cursive, keyboarding training
Formal testing and informal screenings
School-based occupational therapy testing and treatment
See It Right! Color overlay testing
Assistive technology consultations
Holistic children's programs include: Emotional Freedom Technique for children, aromatherapy consultations, stress relief consultations, infant massage instruction for parents (for babies birth to pre-crawling)