How To Have Beautiful Hair On Your Special Day
|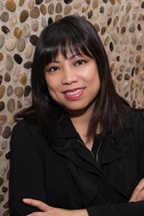 By Kim Trac
Most young girls dream of their wedding day from the time they start grade school.  Then they grow up, fall in love, and the plannaing starts.  The one item that many times gets forgotten is the hair, yes they often have a bridal hairstyle in mind, but let's face it — if it doesn't work with your wedding day weather, you may be in for a bad hair day. A better bet is to come up with a plan for your hair that will work with the weather that Mother Nature decides to bless you with.  Trust me you don't want to be crying the blues because your hair looks like a limp noodle, nor do you want to have a wild style from the 80's looking back at you in the photos that will be with you for the rest of your life, and don't forget you want the hair to fit with your wedding style.  It may sound crazy, but check the weather history for the month that you are planning to tie the knot.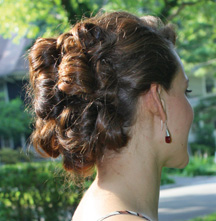 The weather will always be a factor on your wedding day style.  If you are planning to have your stylist come to the site where you are having everyone dress for the wedding, then you have to be certain that your hair stylist can work you in to his/her schedule.  Or if you are going to his/her salon with your entire wedding party, this also needs to be discussed in the very early stages.  You should visit your hair stylist even as early as a year before your wedding date to make certain that he/she can accommodate your time frame.
Talk to your stylist for their recommendation for your pre-wedding hair care. No matter what type of hair you have, do a deep conditioning treatment once a week to restore moisture. If your hair is oily, be careful to avoid your roots and condition only the length of your hair.  Try to avoid heat as much as possible on your hair.  And of course, trim, trim, trim — dry heat will only worsen the dull appearance of damaged or split ends.
If the weather is damp and humid, no matter what your natural hair texture is, you're going to need to work with what you've got. This is not the time or the place to try to make a curly mane stay straight — chances are you'll wind up with a total mess. Prep your locks by regularly using a frizz-fighting serum. Comb a few drops through soaking wet hair to be sure it gets distributed evenly.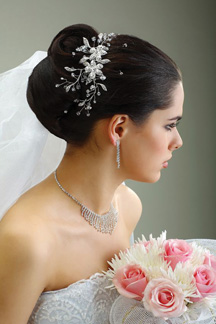 On your wedding day: The last time you wash your hair before the wedding don't rub — you'll rough up any broken or damaged hairs, increasing the chance of frizz. Your stylist should apply a de-frizzing serum.  And finish your dry style with a second application of frizz-fighter (pomade or gel works best). You might want to keep a little on hand throughout the wedding day for smoothing down any hair that may curl up.
As you create the schedule of your wedding day, make certain to schedule properly. From our experience, we recommend scheduling your hair appointment approximately seven hours before your ceremony if you will have formal posed portraits beforehand and four hours before your ceremony, if you are having your formals afterwards.
We Don't Do Bad Hair Days recommends the following: (Pre-Wedding Checklist)
6 Months Before – Experiment with different cuts and colors, find your look and begin a hair care routine that includes regular deep conditioning treatments and trims every 4–6 weeks.
4 Months Before – Schedule your hair and makeup bridal trial, reserve your wedding date and bridal party services on the salon's schedule.
2–3 Months Before – Collect photo inspiration of different hair and makeup styles you'd like to see at your bridal trial.
1 Month Before – Get your hair and makeup trial completed together.  This allows enough time before the wedding if you want to try a new style but is close enough to keep your look fresh.
2 Weeks Before – Get your final hair trim and deep conditioning treatment, touch up your color and/or highlights.
Day of – Receive your hair and make-up services. It is recommended that these be the only services you receive on your actual wedding day.
You will find the trends for 2013 versatile, interchangeable, and easily mixed and there is something for all hair types.
Q Salon & Spa
110 Wilmington West Chester Pike
Chadds Ford, PA 19317
610-358-6088
www.qsalonspa.com
Hours:Tues-Thurs 10am-9pm, Friday 10am-5pm, Saturday 8am-5pm