How Much Is That Doggy In The Window?
|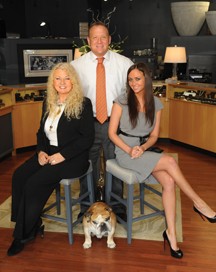 By Nick Dellaquila
Roberta Kozak, Nick Dellaquila, & Corey Grabowksi, Jewelry Exchange Of Delaware Family
Hey wait a minute . . . WHY is that doggy in the window of a jewelry store? Many of you who have visited us over the past ten years remember the friendly face that greeted you daily at our Greenville and on occasion in our Lewes location too. No, I am not talking about me, I am referring to Porky. Porky the English Bulldog patrolled the floors of the stores daily and was always eager to say hello, accept a treat (very appreciated) and on occasion was known to disarm the tentative visitor upon their first visit.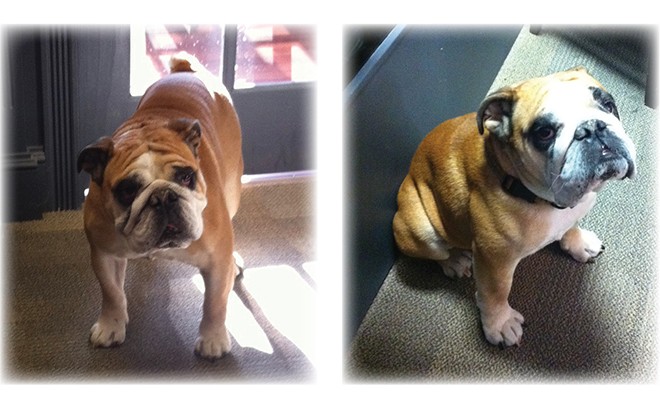 As a small family business, we have always strived to offer a relaxed atmosphere to visit. We have always offered a casual pressure free atmosphere that makes our clients feel at home and in many cases create lasting friendships. Our decision to add a Bulldog to the mix occurred simply out of necessity. I sort of inherited Porky when he was around 2 years old and was thrust into Bulldog ownership. At the time I was living in a condo and working equally between our store in Lewes and here in Greenville. Basically, out of a fear of leaving him alone all day or overnight I brought him to Lewes with me and into the store. The presence of pets, dogs in particular had become more and more common in small business and proved to be a positive boost to both morale and the customer experience. This was no different. He fast became a town favorite and even had visitors stopping to see him yearly. Originally my sister Corey wanted to take him in but at the time she was unable to due to her living situation. After a few years she bought a home and I would have been remiss to not let her take him in where he admittedly would be getting a nice upgrade in lifestyle. Porky carried on with a very pampered life with Corey and continued his daily work schedule in the Greenville store for the next 7 years as one of our most valued team and family members. Sadly, earlier this year Porky passed away at the age of 13 which for those of you who do not know equates to a very, very long life for a Bulldog. We truly believe that his long life was in part due to his dedication to his daily routine of looking forward to greeting each and every one of you (and gladly accepting treats).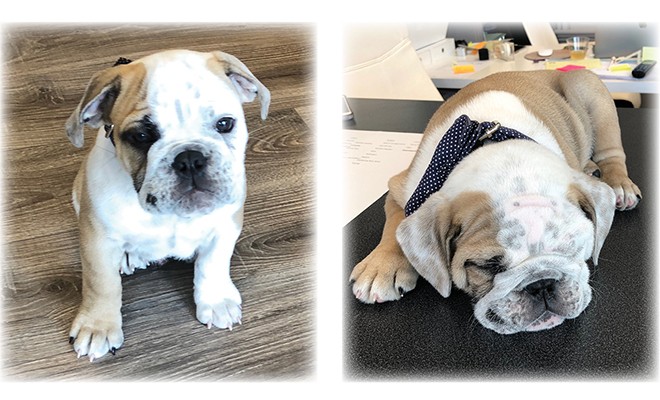 Say Hello to CHUNK . . .
With the passing of our beloved Porky it was tough to think of replacing him but it was equally as tough coming in every day without his familiar tail wagging. It was only a matter of time until the greeter position was again filled, again with a quirky lovable English Bulldog. CHUNK certainly has some big paws to fill and has even been reminded of that already by the vet . . . Next time you are in the area, stop in and get ready to meet Chunk. He is only a puppy so his greeting skills need a little work compared to Porky's but I am sure in time (and treats) he will come into his own and you will become fast friends with him too.