How Can I Invest My Money In Real Estate?
|
By Albert Miller, Owner, A&E Properties
Learn how a real estate development business can help you. 
Who are we?
We are A&E Properties of Delaware! We are a Real Estate Development + Investment company. We own and operate A&E Property Solutions, a real estate investment and rental property company as well as A&E Building Service, our home building and renovation company. 
What does real estate investment mean?
An investment with A&E is a private funding opportunity for you to put your money to work for you. We believe that there is a high value investing in real estate, so we only invest in real estate properties. Typical return rates are 12-15% depending on the Individual Investor. All of our funding interest is compounded monthly from the time we purchase the real estate, through renovation, then going back on the market and finally being sold again. You will get your funding back the day of settlement. After that you can use your earnings to reinvest!
Does A&E also Build & Flip Houses?
Yes! We love building custom homes for our clients and also have model homes that can be designed to fit your style. We currently have multiple properties available for customization! Besides custom building, we also love to flip houses that have been forgotten about and need some love! If you're interested in buying a house that needs to be flipped, we can do that too!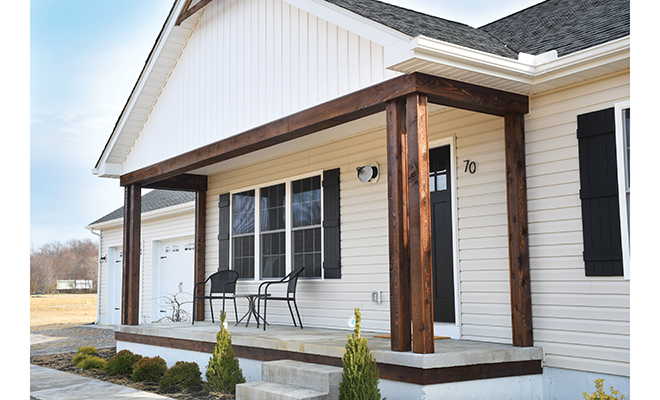 Interested in Working with Us?
We recommend heading to our website at aepropertiesde.com to learn more about investing or building with us. You can see all of our projects on Facebook or Instagram @aepropertiesde. If you have any questions, give us a call at 302-632-2445! 
About
A&E Properties is owned and operated by Albert & Elmina Miller. They reside in Dover, DE with their two wonderful daughters, Kayla and Ashlie. Over the years they have built their family on a strong foundation of faith, generosity, and integrity and they strive to incorporate these principles into all that they do.
Albert and Elmina Miller started this company back in 2007, but it wasn't until January of 2017 that Albert decided to take the leap of faith and go all in with the real estate business. He was raised in the Amish community in Dover, Delaware and at age twelve began working in the construction field with his family. By the time he turned sixteen he was a full-time bricklayer and from there continued in the masonry field for the next three years. After turning twenty, he started his own business framing houses for big developers throughout Delaware and Maryland's Eastern Shore. That same year, Albert & Elmina made the hard decision to leave the Amish community. This decision was tough but they remain forever grateful for the hard-working and committed foundation that they were raised in.
A&E Property Solutions is a real estate investment and rental property company and its sister company, A&E Building Service, is a home building and renovation company. Together, they make up A&E Properties, a full-service real estate development + investment company.
Albert looks forward too many years ahead of fulfilling A&E Properties' mission: "We build partnerships to create beautiful properties with integrity."
Testimonial
"Investing with A&E Properties has been a very positive & great experience. Albert and his team are doing a great job. I enjoy following their projects as they post them online and watching their company grow. It is very refreshing to see their professional approach and customer service from an investor's perspective. I am pleased with the return I've received on my investment and wish them continued success in the future."  ~ Richard C.