Groundbreaking Delaware's Newest School
|
By Lilian Miles
Public Information Officer
Appoquinimink School District
On November 15, Delaware's fastest-growing school system, the Appoquinimink School District, broke ground on a new education facility, Crystal Run Elementary School in Middletown. Crystal Run will be the ninth Elementary School in the ever-expanding Appoquinimink School District.
Approved in a 2019 referendum, Crystal Run Elementary is the first of four schools that will eventually call the campus home. Additional buildings, to be added in future referendums, will include an early childhood center, a middle school, and a high school.
A ground-breaking ceremony on site included the Superintendent and School Board; elected officials including Delaware Lt. Governor Bethany Hall-Long, New Castle County Executive Matt Meyer and State Senator Stephanie Hansen; local construction partners EDiS, Landmark Engineering and the architectural partnership ABHA I BSA+A; and students from the District's Construction Pathway who hope to one day have careers in a construction-related field.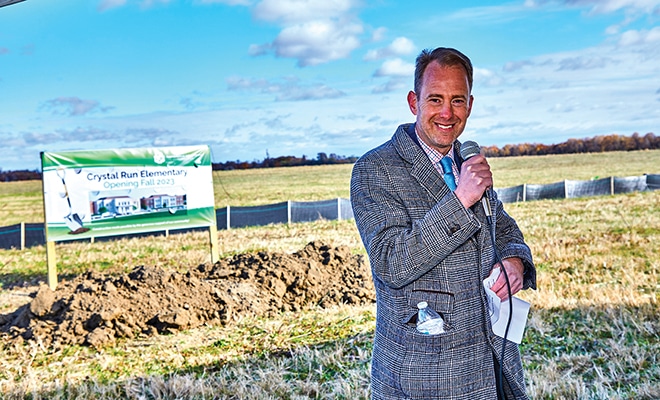 Appoquinimink School District Superintendent Matt Burrows is all smiles as he prepares to welcome elected officials and guests to the groundbreaking ceremony for Crystal Run Elementary. Located across the street from Summit Aviation Airport, Crystal Run Elementary will open in Fall 2023.
Dr. Matt Burrows, Appoquinimink Superintendent, expressed gratitude to the community for the support that made this project possible. "This is an exciting day," Burrows said. "We're thrilled to begin construction of our ninth and newest elementary school, which will serve families in the northwest and help prevent overcrowding at elementary schools across the District. When this state-of-the-art facility is completed (in Summer 2023), it will make a deep and lasting impact on generations of learners."
His enthusiasm was echoed by the guests present.
State Representative Sherae'a Moore, an ASD alumni whose district includes the new school, couldn't attend in person. Instead, she sent her congratulations, noting, "The Appoquinimink School District is in many ways the bedrock of our community, and its schools and educators are the key to our shared success and prosperity. Crystal Run Elementary and the schools that will join it here on the Summit Run Campus will ensure that legacy continues to grow for generations to come."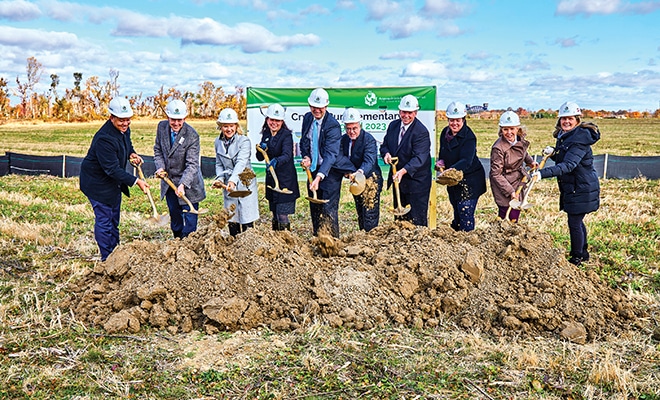 A host of well-wishers and elected officials joined Appoquinimink's Staff and Board as they broke ground on a new elementary school on Monday, November 15. Appoquinimink is the fastest-growing school district in Delaware. Pictured left to right: J. Francis, Office of U.S. Senator Chris Coons, Appoquinimink Superintendent Matt Burrows, Delaware Lt. Governor Bethany Hall-Long, School Board President Michelle Wall, New Castle County Executive Matt Meyer, School Board Member Richard Forsten, School Board Vice President Norm Abram, School Board Member Kelly Wright, State Senator Stephanie Hansen, School Board Member Shawn Rohe.
About the new school
The design of the 87,000 square foot, energy-efficient school was influenced by ASD's Lorewood Grove Elementary (opened in 2019). It features a two-story plan with 35 classrooms, a STEM room, library media center, combination gym/cafeteria, playground, and collaborative spaces for instruction.
Funding for the new school was part of a $74.8 million capital construction request approved by voters in December 2019. That referendum established money to: 1) Acquire land on Summit Bridge Road in Middletown for a new Summit Campus; 2) Construct a new school – Crystal Run Elementary – at the Summit Campus; 3) Add a new PK-K facility in the heart of Middletown – the Brick Mill Early Childhood Center; 4) Replace the worn-out roof and HVAC system at Middletown High; and 5) Replace the depleted turf fields at Middletown and Appoquinimink High Schools.*
Recognizing the impact rapid growth (32% since 2012) has had on the Appoquinimink School District, the State of Delaware has agreed to pay more than three-quarters (76%) of the costs associated with of land acquisition and new school construction. The remaining 24% has been funded locally through the sale of bonds.*
The community is encouraged to follow the construction progress through the District's website.
*Items 4 and 5 above: Roof & HVAC replacement at MHS, and a turf field replenishment project – were funded 100% locally. Other capital projects represented a 76/24 split with the State of Delaware funding the majority portion.
For more information visit www.apposchooldistrict.com or call 302-376-4101.