Fresh Ideas For Hard To Cover Sliding Doors!
|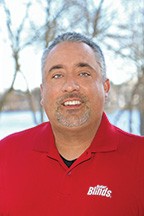 By Joe Zohlmann
Often while on an in-home consultation, the topic of handling the sliding door comes up. It's always accompanied with some sort of joke, or look of bewilderment. I usually look forward to figuring out my customer's way of articulating their concern. To paraphrase, it generally goes like this. "I need to cover this—I HATE VERTICAL BLINDS." Of course, I need only remember back to my first apartment to understand why. Cheap vertical blinds are everywhere. Their top treatments are either bent up and trying to fall, or already placed in that closet, behind the water heater. The vertical louvers are seldom part of a complete set. They like to break and fall, and usually there is tape or unmatched colors mixed in for good measure. The good news- the custom blinds industry has you covered with more modern and beautiful options!
Vertical Honeycomb Shades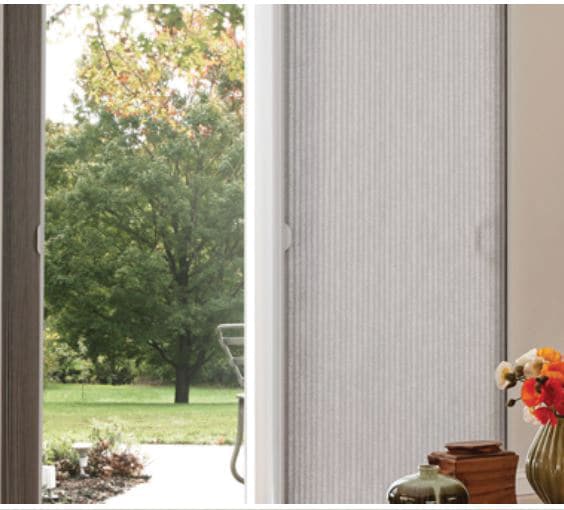 Honeycomb shades are quite popular these days, so why not for sliders? Several manufacturers make honeycombs that are rotated on their side, and anchored to the stack side, and make a solid option for this application. Not only are these available in many colors and textures, but they are some of the most insulative coverings available. When you want to use the door, simply slide the shade into the closed position. You want it half open- no problem. Generally, magnets are used to help in the fully closed position.
Shutters
Shutters are one of the hottest products in the window covering industry, thanks in part to a myriad of home improvement shows that seem to always drop in shutters as one of the final touches. Shutters are also a great insulator and are extremely easy to use. If you have kids or pets that are prone to a little rough housing, these are a nice hearty choice.
Sheer Shades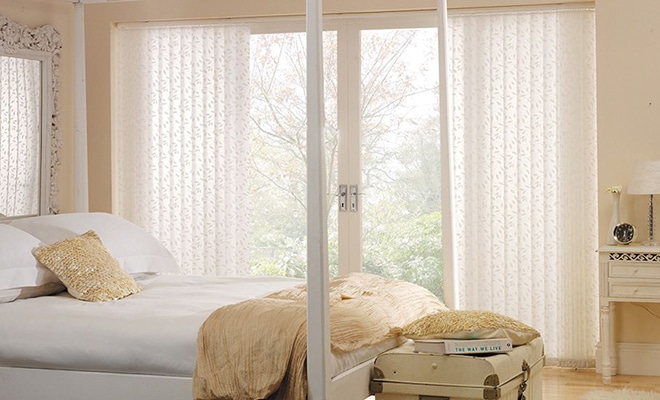 Another trendy approach comprises multiple layers of sheer fabric, arrayed in a varying degree of light blocking and privacy choices. Essentially, when the vanes are opened, you can see right through the sheer backing. When you want privacy, close the vanes and you're all set. These are a fairly expensive choice but are certainly unique looking and beautiful.
Natural Woven Wood Drapes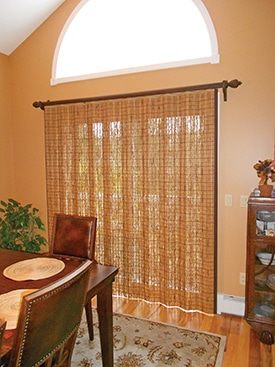 If you are a big fan of a natural look, several manufacturers market woven shades that are turned for use in vertical applications. Generally cordless and extremely light, these can be optioned with base bamboo materials that are cost competitive to custom vertical blinds. If you want to add darkening or higher levels of privacy, linings can be applied to the back.
"Old School" Vertical Blinds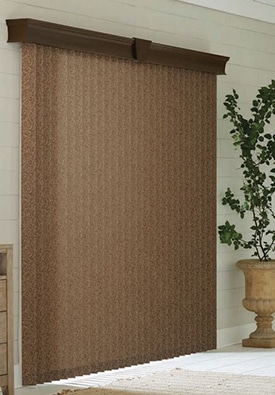 Yes, you're reading this correctly. These are still made! As a provider of many different window treatments, I want to go on the record to say that vertical blinds are a great product. If you skip the dollar store version, you will find a smooth, effective, and long-lasting covering for a large glass door. No other treatment combines versatility, ease of use, and affordability quite like this venerable leader. Modern vertical blinds are available in high-end vinyls and fabrics. For a contemporary look, we recommend outfitting your vertical blind with a stained wood valance, which can easily be matched to flooring, cabinetry, etc.
As always, we recommend consulting with professionals to ensure your product is right for your application. This will also help improve the finished look and long-term reliability of your new treatment. Also, do make sure your seller offers you some sort of warranty for this or any window covering. Not only is this good insurance in case of damage or faulty components, but custom blind retailers are not looking to warranty something that will fall apart.