Flower Girl Shopping Made Easy
|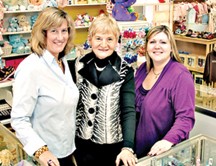 By Carol Harvey
At Hansel & Gretel we pride ourselves on our beautiful dresses for all occasions and this dress is one of our favorites.  All flower girls are adorable just like all brides are beautiful and we want them to feel special. That's why we carry a large selection of dresses to choose from. This dress is by Sweetie Pie and it's in a lovely shade of ivory. It is true there are many shades of ivory from cream to off white but they should all blend pretty well.  Often a bride's gown is in what we call "diamond white".  Not really white but not as cream colored as ivory.  In that case we suggest ivory for the flower girl because diamond white does not look good with a flower girl in a stark white dress.
What makes this dress so special is the puckered over skirt that can be accented with a colored sash and snap on roses or can be worn all one color.  It comes in white and ivory and the sash and rosettes come in 12 colors – white, ivory, black, brown, café, blue, lilac, red, mint, pink, royal, turquoise, and eggplant.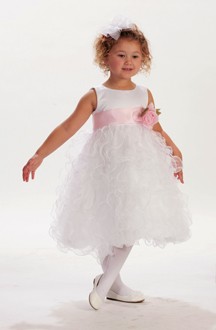 When our flower girl, Isabella, tried this dress on you could tell she felt special and was also comfortable in this dress – very important for a three-year-old model.  All our dresses are lined so there is no scratching, they are tea length so there is no tripping, and they have the crinoline built in so you don't have to add anything extra.
Our newest addition to our communion and flower girl selection this spring will be dresses by Joan Calabrese for Mon Cheri, they will be stunning.
Carol Harvey, who has owned Hansel & Gretel for the last 12 years, always buys with quality in mind.  "We look for the best quality at the best price and want children to be comfortable and look appropriate in our clothes," she says.  Many people have told us "I can always tell if a child is wearing clothes from Hansel & Gretel – they get so many compliments."  Carol feels it's good for a child's self esteem to look good.  She feels they are only children for such a short time and will have the rest of their lives to wear "grown up clothes."
We're here to help you be confident and stress free on this most special of all days so – come see us!