Eyelash Extensions for Your Honeymoon!
|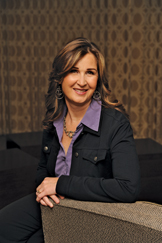 Enjoy the Freedom
By Melisa A. Ferriola, CPCP
Your Wedding Day is THE day!  You plan and prepare everything from the venue to the visitor's book.  And the next day you shed the elegance and rush to the airport for a romantic get-away.  Why not take some elegance with you?  No, not your gown!  Your eyelashes!
Eyelash Extensions will give you that flirty, glamourous look you had on your big day and last throughout your honeymoon.  The extensions themselves are perfectly polished polyester points that come in a variety of thicknesses, colors and degrees of curl.  Extensions are applied one lash at a time with care and precision using special bonding agents for a completely natural look.  The result is thicker, longer eyelashes that are safe in the shower, while swimming, sleeping or exercising.  Perfect for all your honeymoon plans!
While making your hair, nail and makeup plans for your big day, consider eyelash extensions.  Just as you wouldn't wear press-on nails for your wedding day, why would you use strip lashes on this most important day.  False eyelashes look fake, are hard to apply and may disastrously fall off at the most inopportune moment!  The solution will not only last you through your special day, but will go with you on your entire honeymoon!  Eyelash Extensions.
And don't forget the rest of your bridal party and the special Moms.  Each "lashscape" is designed specifically the individual – suiting facial features, lifestyle and the occasion.  The right combination of length, thickness and curl is needed to achieve a custom look.  The Bride may seek a dramatic look, but the bridal Moms may want lashes that restore a youthful vibrancy without looking overdone.  And shouldn't the entire bridal party look their best – each deserves custom, waterproof lashes for the big day.
Returning from the honeymoon, you may find you want to have the convenience of lashes all the time.  Your natural lash turns over every 60 to 90 days and a new extension is applied to keep your lavish look fresh.  These one hour Refining Applications are recommended every 2 to 4 weeks.  So when you return from the honeymoon, schedule your refining application and continue your fabulous look.
Whether you want lashes for your wedding day and honeymoon, or an every-day look to restore lashes of your youth, Lasting Looks has the professional, perfected technique, applied by a licensed, certified and experienced Eyelash Extension Specialist. Safe and affordable, trust your eyes to Lasting Looks! www.LastingLooksForYou.com
Bride saves 50% when 3 Demi-sets are purchased in her party! That's up to $110 in savings!


Who would benefit from eyelash extensions?
The Blushing Bride and bridal party, for a joyful celebration;
The Business Professional, for a polished image;
The Mature Retiree, to bring back the lashes of her youth;
The 20-Something, for a glamorous night on the town;
The Fitness Enthusiast, for looking great while working hard;
The Natural Blond, for dark, dramatic lashes

Profile
Lasting Looks is a unique day spa in Hockessin Corner – next to the Back Burner Restaurant and Jennifer's Bridal.  Our mission starts with the desire to empower women to take charge of their appearance and to put their best image forward.  Our staff of estheticians can help meet all your skincare needs, as well as our unique services like eyelash extensions and permanent cosmetics.