Easterseals In-Home Services Fills The Gap For Senior Citizens
|
By Natalie Scott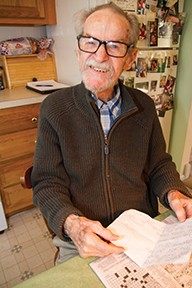 When Holly's husband became gravely ill, she knew she could no longer care for both him and her 96-year-old father, Bill, on her own. She knew she needed help to meet her father's growing needs, especially since he lives in his own home. Easterseals In-Home Services filled the gap for the whole family.
"Easterseals was there to pick up the pieces. I don't know how we would have gotten through the year without Easterseals. They are a wonderful support system," Holly says. "With In-Home Services, I know my dad is safe and is in his own environment."
Despite being 96 years old, Bill's love for bowling has not faded. In fact, he still bowls three times a week and is on a league. However, he recently lost his license and was no longer able to get to the bowling alley, the grocery store or doctor's appointments. In-Home Services makes sure he never misses a game
. . . or an appointment.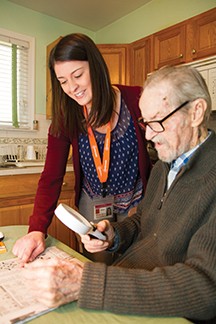 "Where would I be without In-Home Services? I'd be stuck here all day. I can't walk anywhere. I wouldn't get to bowling and would have to rely on my daughter for everything," Bill says. "In-Home Services is good for people like me, especially now that I can't drive."
According to the National Alliance for Caregiving, there are more than 66 million family caregivers, like Holly, in the U.S. – nearly 40% of the U.S. adult population. One of the greatest needs of these caregivers is respite or a temporary relief from their caregiving duties.
That is where Easterseals In-Home Services steps in. The program serves the elderly, persons with dementia or Alzheimer's disease and persons with disabilities who need support to remain safely in their homes. In-Home Services helps families by providing assistance with meal planning and preparation, dressing, light housekeeping, laundry, personal care needs, companionship, transportation to appointments and more.
Holly is able to take care of her own house and responsibilities knowing her father is being cared for and his transportation needs are being met.
"It's hard for seniors to give up their independence," Holly says. "I can rest easy and not be concerned because a caregiver is with my dad, especially while he bowls. They understand him and cater to his needs. Brittany is his buddy and they have fun together."
Aside from bowling, Bill loves sports, crossword puzzles, reading the paper, visiting with family and telling his stories. He was paired with two Easterseals "caring partners" who are with him three days a week. Brittany helps him two days a week running errands, taking him to appointments and housekeeping, while Alyssa is with him one day a week to take him to bowling.
"My dad is happy with In-Home Services and he deserves to be happy and age with as much dignity as possible. The services are exceeding my expectations," Holly says. "I did not know about the services until I needed them and now that I have them, I encourage anybody in my situation to get them even if it just starts with once a week. You have to take care of yourself as the caregiver and take that first step."
Because each person's needs are different, Easterseals offers a free, confidential, in-home evaluation involving all concerned family members. This meeting establishes an individual plan of care as well as addresses: routines, health needs, cost of services and transportation requirements. A suitable caring partner is paired based on the needs of the person. All caring partners are employees of Easterseals, undergo thorough background checks, are bonded, insured and have current First Aid/CPR training.
For more information about Easterseals In-Home Services program, contact Kate Antisavage at 302-221-2060 or [email protected].
Along with In-Home Services, Easterseals offers a range of services, including children's therapies, assistive technology, recreational camping, day programs for adults with physical or intellectual disabilities and respite services for caregivers. For more information contact 1-800-677-3800 or visit www.de.easterseals.com.